Mera jul? Javisst, en perfekt tid att pyssla julkort på tycker jag. I december så är det så mycket annat att göra inför julen.
I think it is a perfect time of the year to create Christmas cards. I December there will be so many Christmas preparations.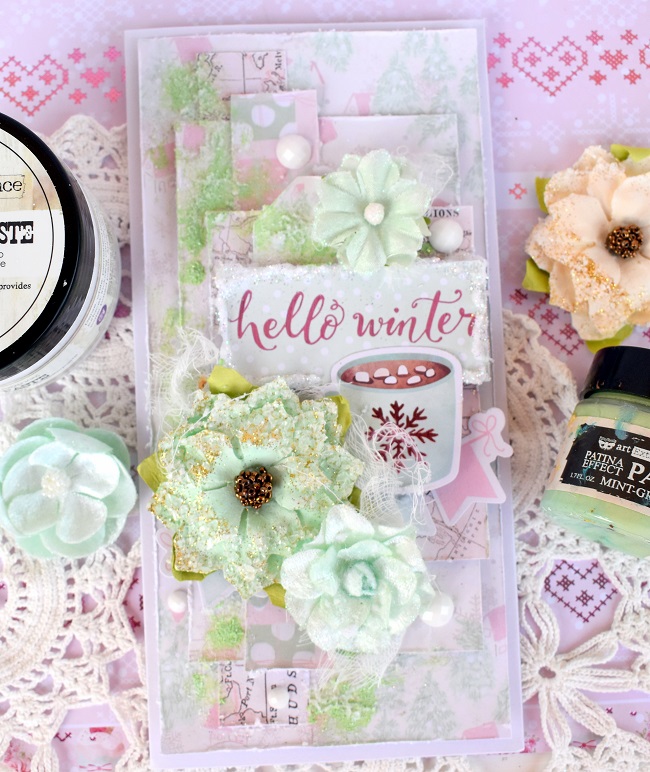 Här har jag försökt att fånga Santa Babys lite mintfärgade toner genom att måla/dutta lite av den mintfärgade patina pasten.
Here I have tried to catch some of the Santa Babys minty tones, by paint little bit here and there of the minty patina paste.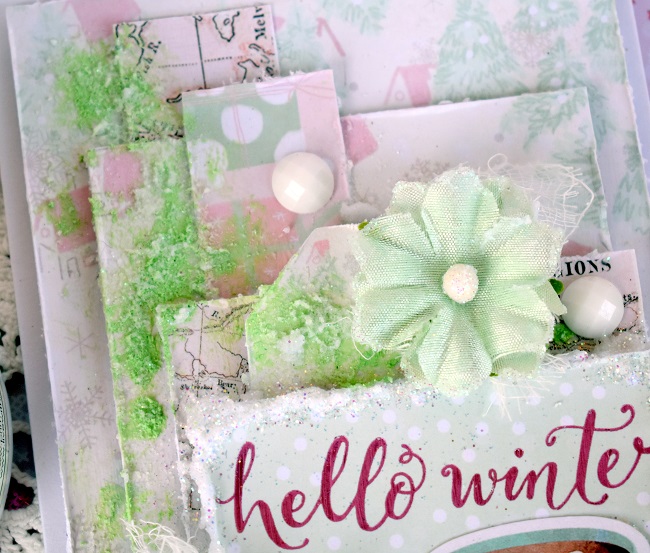 I Santa Baby finns det helt underbara blommor och dessa med glitter, pärlor och små flakes är helt underbara.
I the Santa Babys collection there are so many beautiful flowers. These have texture and glitter on them.
Material:
Prima Say It In Crystals Adhesive Embellishments – Santa Baby
Prima Chipboard Stickers 6X12 2/Pkg – Santa Baby
Prima Santa Baby Double-Sided Cardstock 12X12 – Pretty Little Christmas
Prima Santa Baby Mulberry Paper Flowers 4/Pkg – Snowkissed
Prima Finnabair Art Extravagance Patina Effect Paste 250ml – Mint Green
Prima Finnabair Art Extravagance Snowflake Paste 118ml
Prima Ephemera Cardstock Die-Cuts 61/Pkg – Santa Baby
Prima Finnabair Art Extravagance Glitter 6g 6/Pkg – Ebony & Ivory
Prima Santa Baby Fabric Flowers 12/Pkg – Frosted Mint
xo Katja