Idag jag har två ATC kort, med lite av varje från två kollektioner-Georgia Blues och Midnight Garden. Mindre bitar av tickets och blommor som ligger lager på lager.
Today two ATC Cards, with paperscraps, tickets and flowers.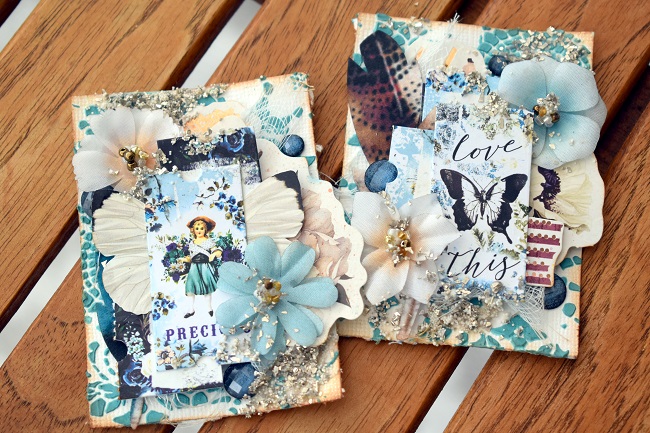 Till bakgrunden har jag blandat modelingpaste och mica powder. Detta för att få en paste som blir lite turkosgrön.
To the background I have mixed modelingpaste and mica powder. I have this to recevied a teal- green color to use in the stencil
Material:
Prima Finnabair Art Basics Modeling Paste 236ml – Opaque Matte
Prima Finnabair Art Ingredients Mica Powder Set 7g 6/Pkg – Serenity
Prima Midnight Garden Fabric Flowers 12/Pkg – Dark Romance
Prima Say It In Crystals Adhesive Embellishments – Georgia Blues
Prima Die-Cut Paper Tickets 36/Pkg – Georgia Blues
Prima Finnabair Art Basics Soft Matte Gel 250ml – Transparent Matte
Prima Finnabair Stencil 6X9 – Ornate Lace
xoxo Katja