This is so much fun and joy for me! Playing with bright colors, you can't be other then happy when you work with them!
I've ran over this "technique" for a background several times now, so I thought I would implant this into my art journal.
The Impasto paints from Prima cover great and are a bit thicker than normal acrylic colors, so it's a great feeling smearing them around with your fingers (ok, I'll admit – I use gloves… lol).
Det här är så mycket glädje och skoj för mig! Att leka med dessa härligt skarpa färger kan liksom inte göra en annan än glad!
Jag har sprungit över den här "tekniken" att göra en bakgrund nu ett par gånger, så jag tänkte att jag skulle försöka få in den även i min art journal.
Impastofärgerna från prima täcker bra och är lite tjockare än vanlig akryfärg, så det blir en härlig känsla att smeta runt dom med fingrarna (ok, jag erkänner, jag använder handskar…).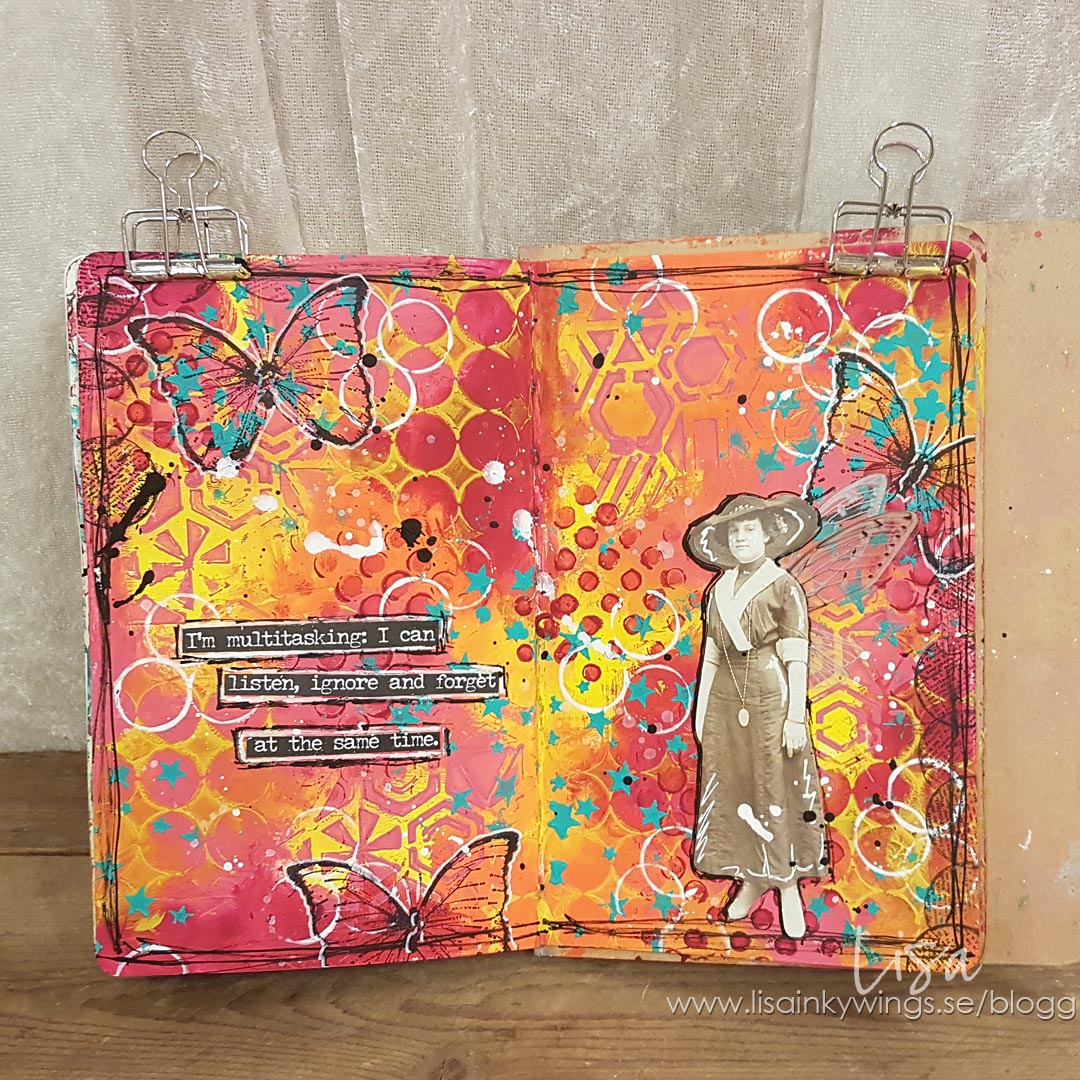 Below I have some step by step photos of the process.
Här nedan följer några steg för steg-bilder från skapandet.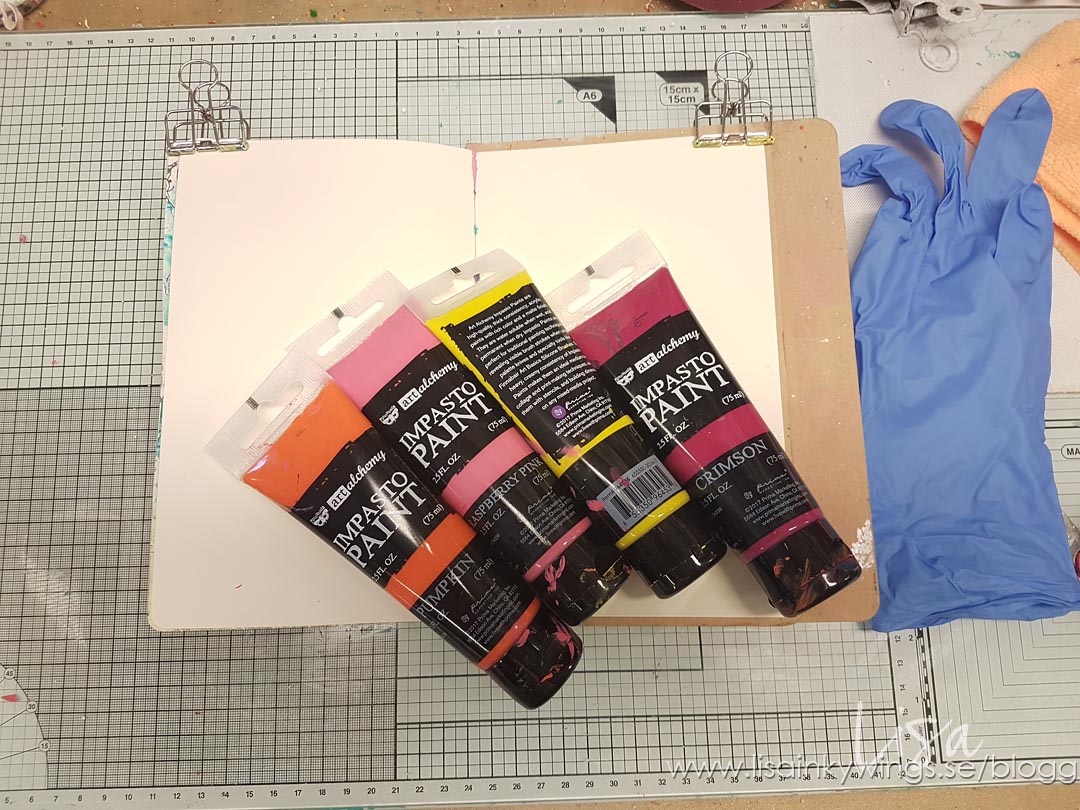 Background is made with these lovely four colors.
Bakgrunden är gjord med dessa fyra härliga färger.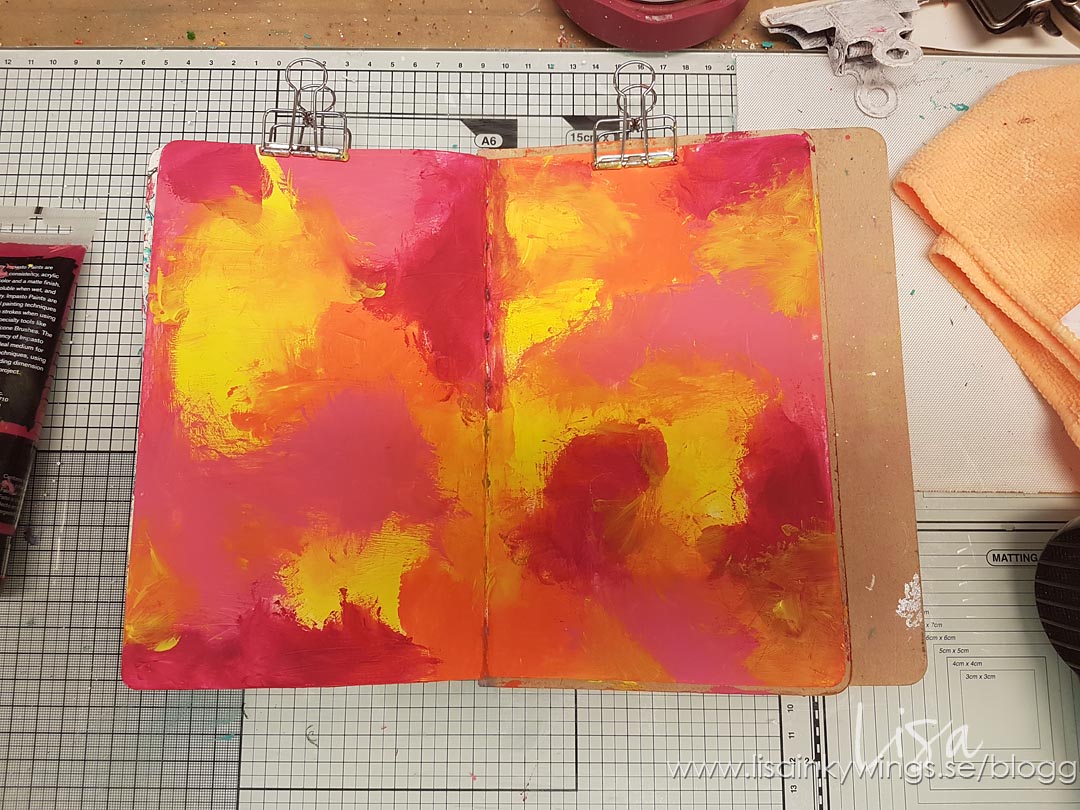 Smearing them out in big spots overlapping each other – totally random.
Smeta ut färgerna i stora fläckar som överlappar varandra – lite huller om buller.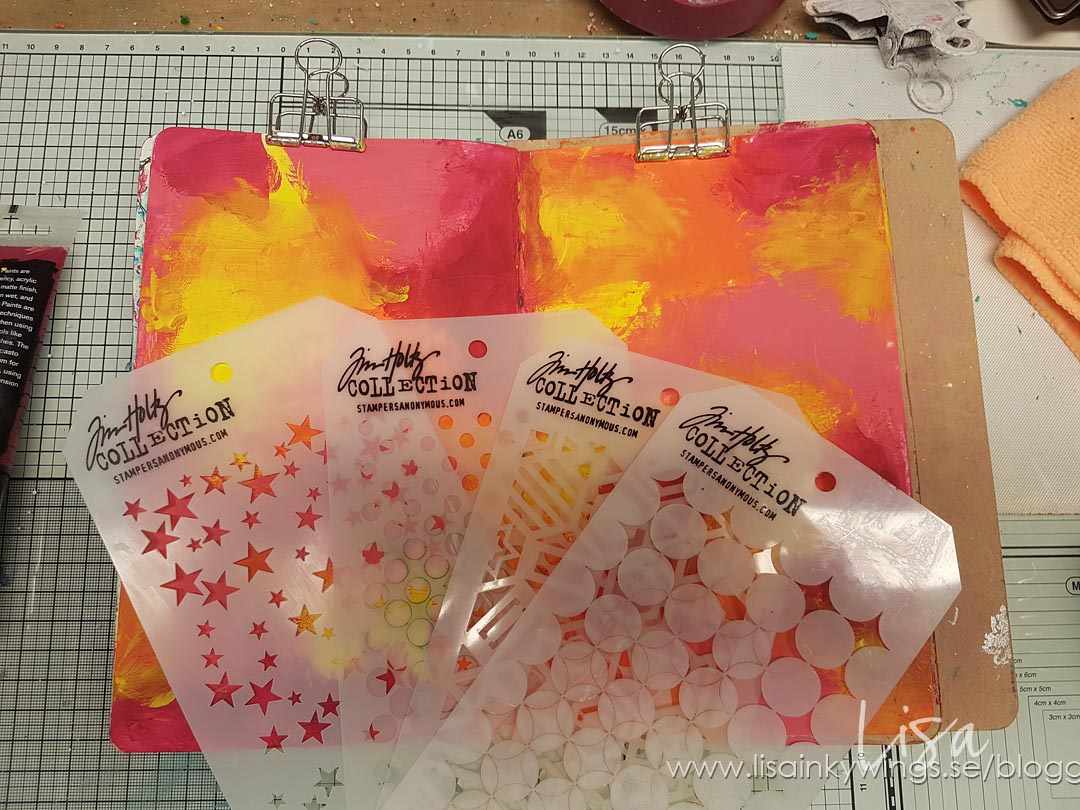 Get some structure with stencils.
Dark colors on light spot and vice versa.
Fixa lite struktur med hjälp av stenciler.
Mörk färg på ljus fläck och vice versa.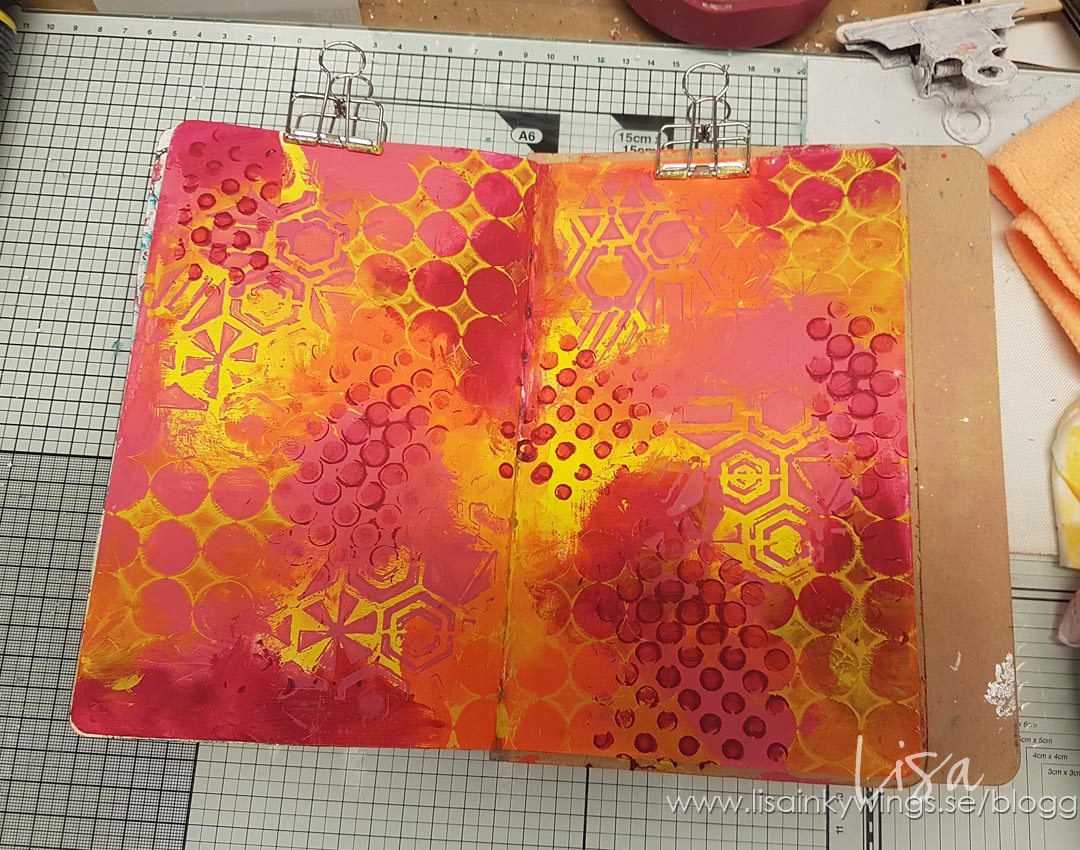 Fill the background with structure.
Fyll bakgrunden med struktur.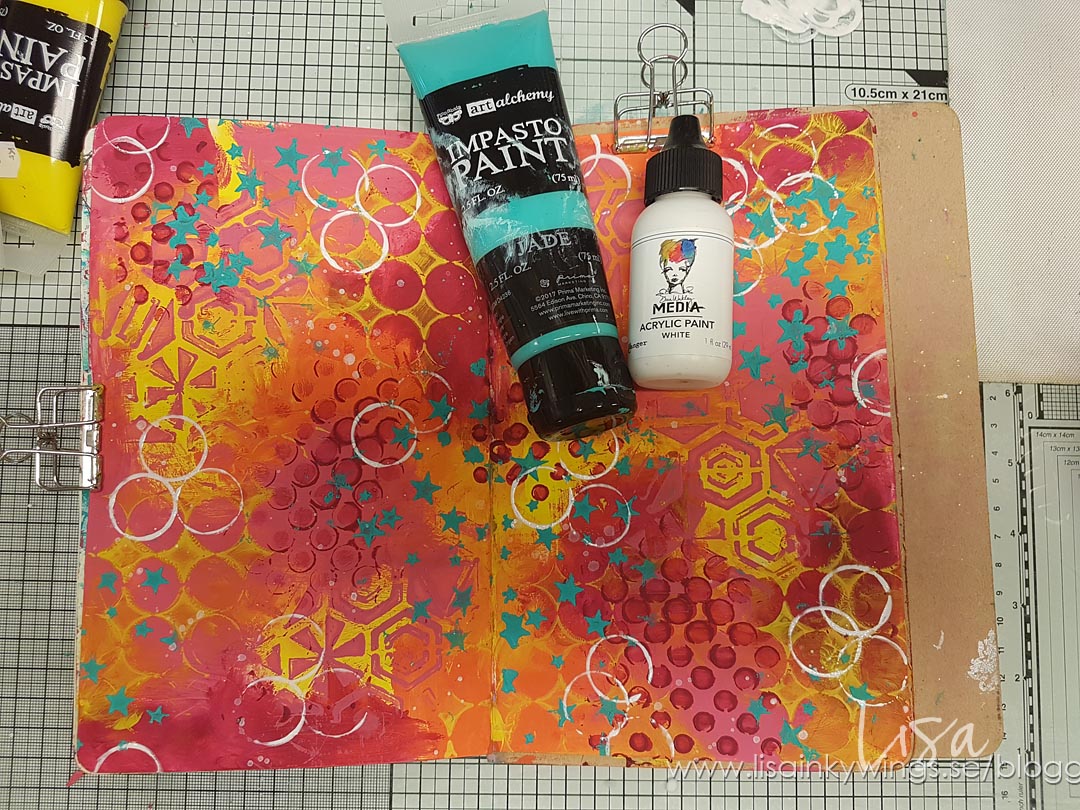 Use a color from the opposite side of the color wheel to add some more structure. Here I've also used some white. Then I added the image as a focal pint and the words. A black pen is used to frame it all.
Använd en färg som är på motsatta sidan av färgcirkeln för att tillföra ännu mer struktur. Jag har även tillfört lite vitt. Till sist satte jag dit motivet som en fokuspunkt och texten. En svart penna ramar in helheten.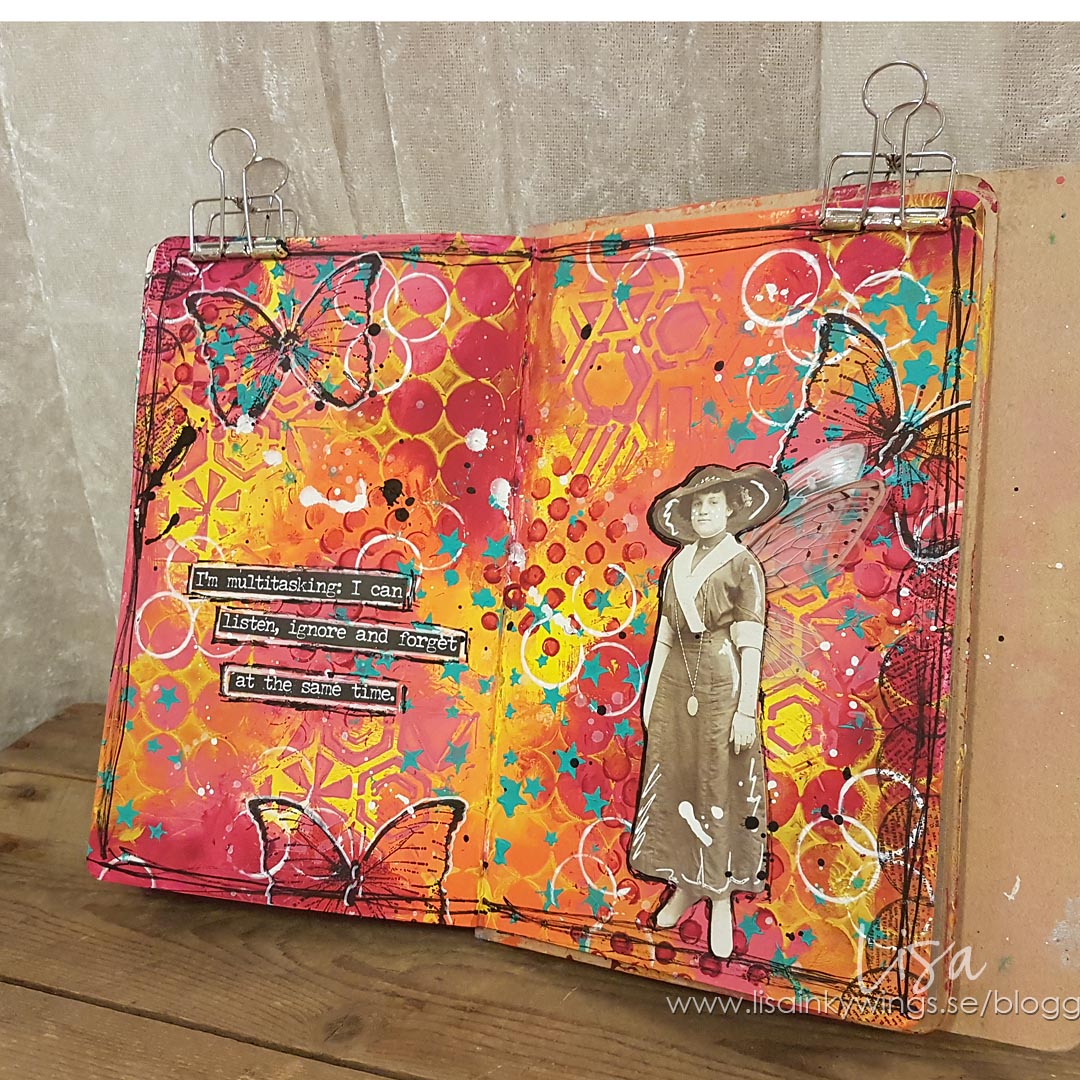 With this I've just made my last page in this art journal! WOW! I started it in September last year in a class for Vicky Papaioannou here in Sweden, and now, less than a year later it's full! *Happy Dance*
Och med det så har jag precis fyllt min första art journal! WOW! Jag påbörjade den i September förra året på en kurs för Vicky Papaioannou här i Sverige, och nu, mindre än ett år senare så är den alltså full! *Glädjeskutt*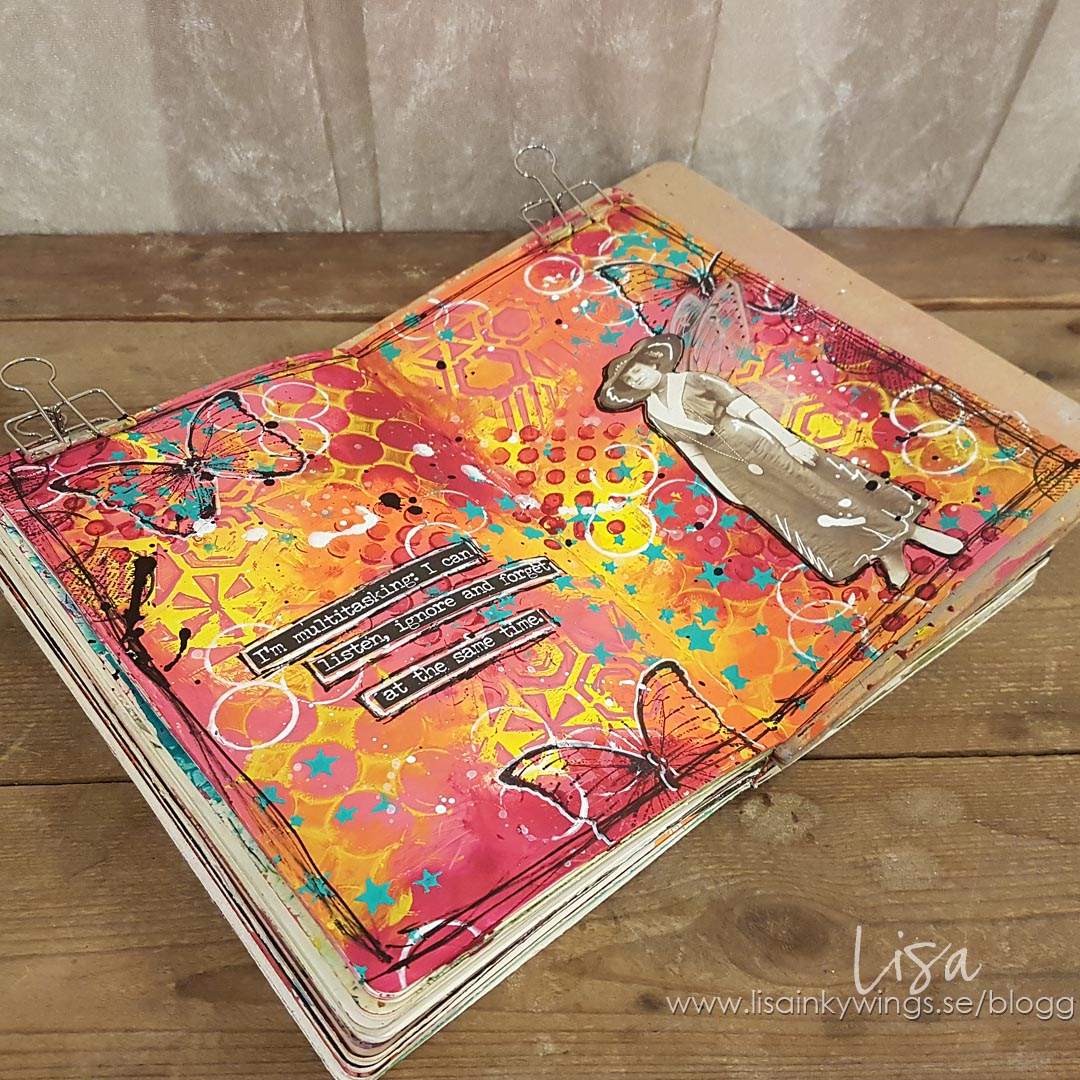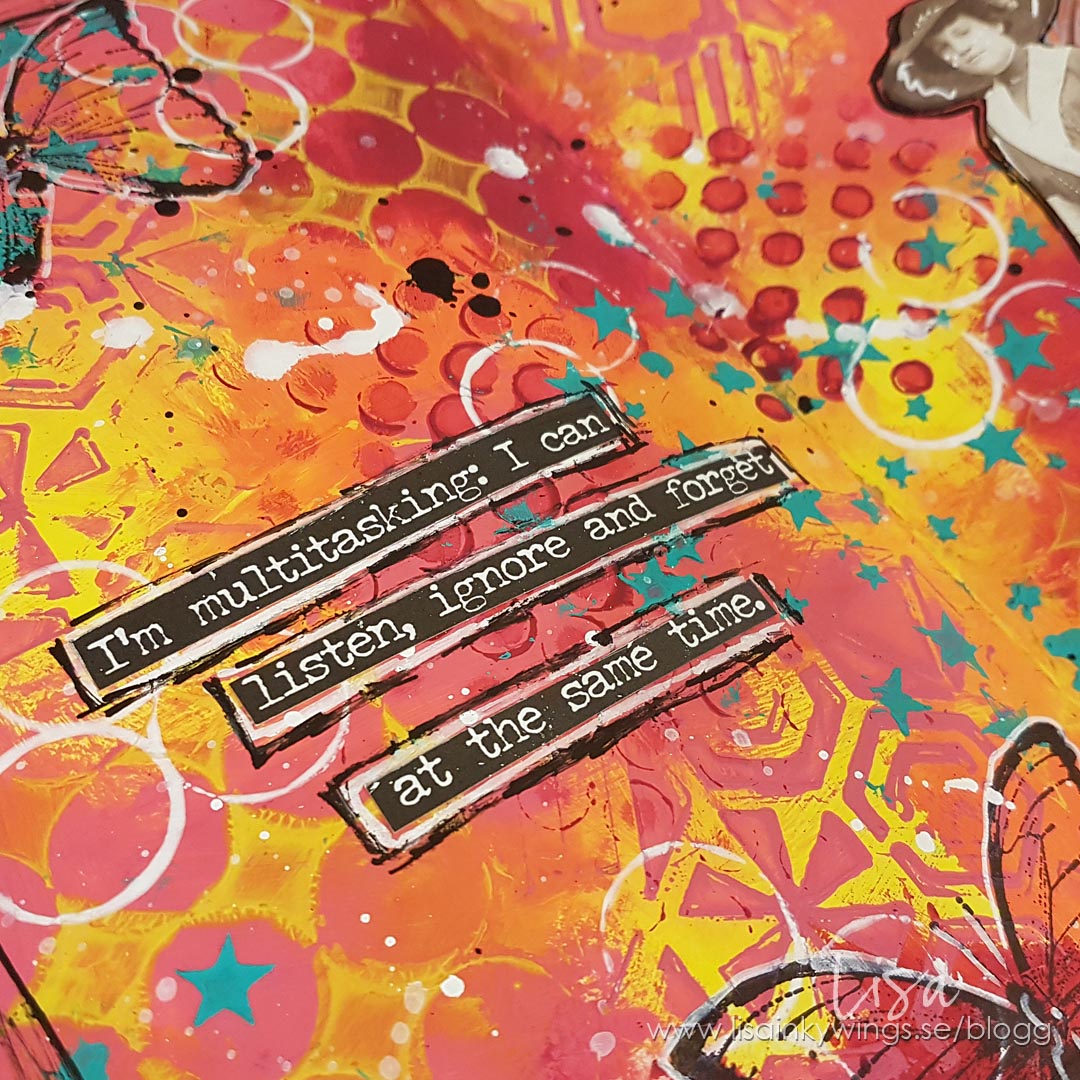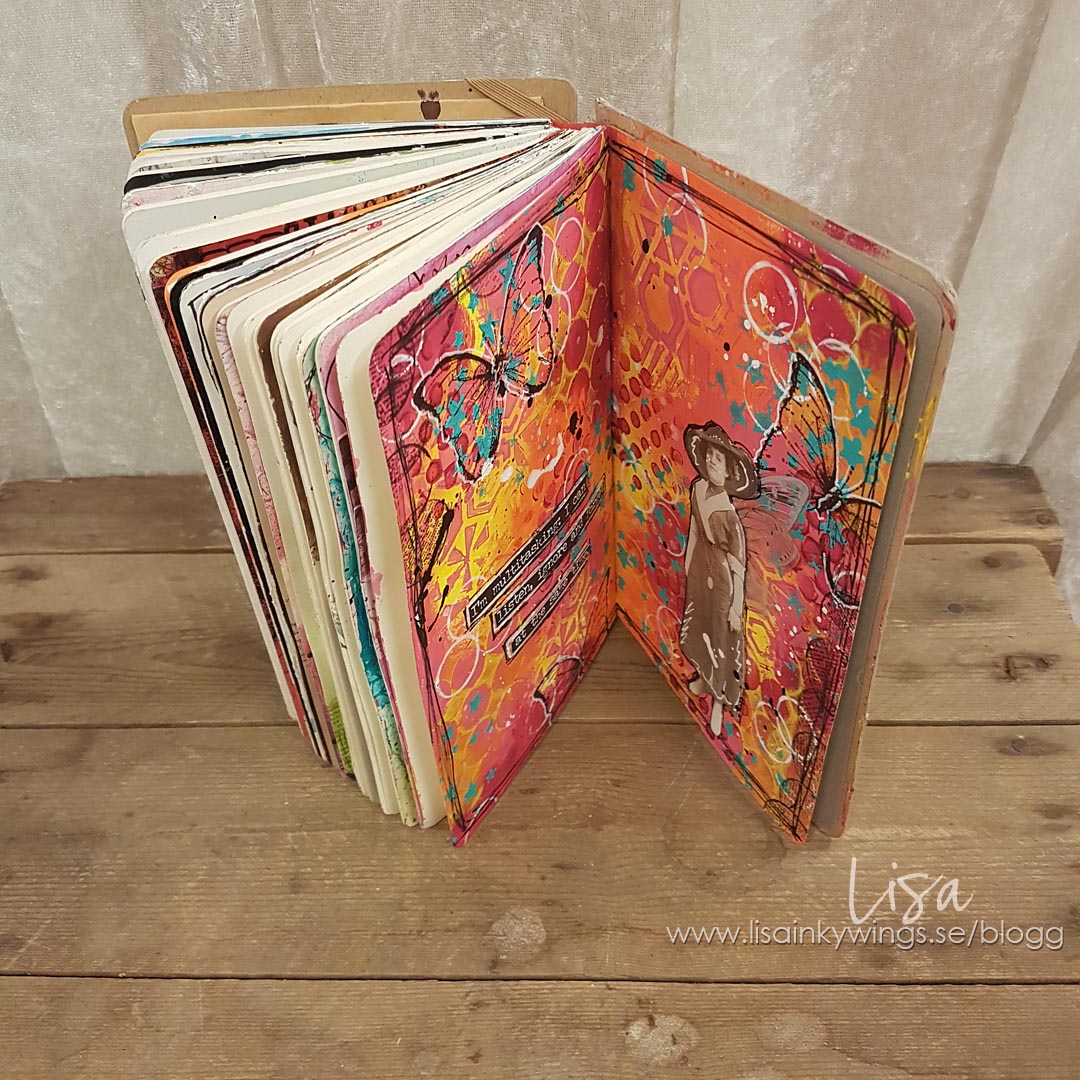 Material Used:
Prima Finnabair Art Alchemy Impasto Paint 75ml – Jade
Prima Finnabair Art Alchemy Impasto Paint 75ml – Crimson
Prima Finnabair Art Alchemy Impasto Paint 75ml – Raspberry Pink
Prima Finnabair Art Alchemy Impasto Paint 75ml – Pumpkin
Prima Finnabair Art Alchemy Impasto Paint 75ml – Lemon Peel
Dina Wakley Acrylic Paint 29ml – White
Tim Holtz Layered Stencil 4.125X8.5 – Patchwork Hex
Tim Holtz Layered Stencil 4.125X8.5 – Shifter Burst
Tim Holtz Layered Stencil 4.125X8.5 – Gradient Dot
Tim Holtz Layered Stencil 4.125X8.5 – Falling Stars
Tim Holtz Idea-0logy Paper Dolls Die-Cuts 107/Pkg – Vintage Black & White
Prima Finnabair Cling Stamps 6X7.5 – Don´t Forget To Fly
Tim Holtz Idea-Ology Transparent Acetate Wings 72/Pkg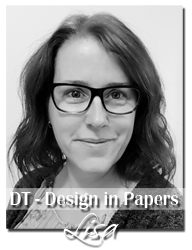 Hugs Lisa