Hej!
Det finns helt underbara mustiga löv från Prima och dessa har jag dekorerat med på min tag som är gjord på acetat plast. Denna kommer från en ram. För att kunna måla min plast, så har penslat på clear gesso.
There are so many lovely fabric leaves from Prima. Here I have used them, on my tag on plastic. The plastic comes from a frame. To make it possible to paint on my tag I have first paint clear gesso on it.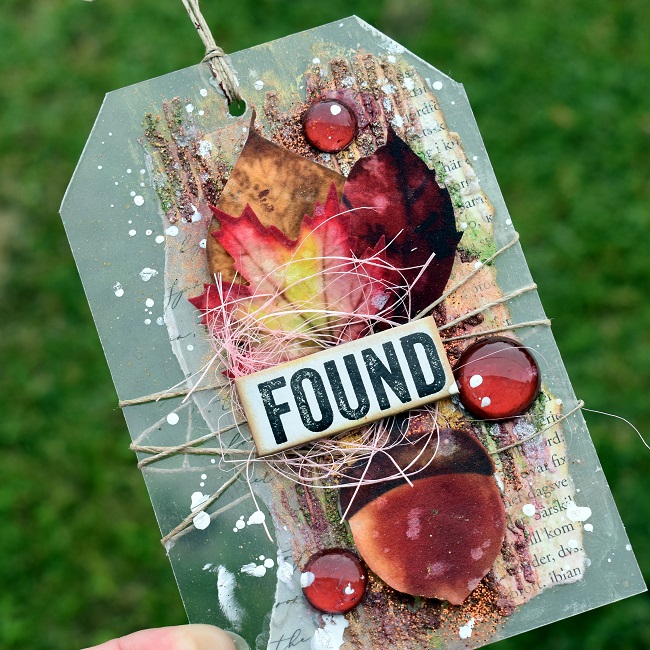 I botten har jag lite textur och Snowflake paste ger en härligt lite lätt sandig yta. Färgat in med acrylfärg och även strösslat på lite glitter som ger en läckert skimmer.
On my tag I have created texture with Snowflake paste that gives almost like a sandy effect. I have colored with acrylic paint and also some glitter that gives some shimmer effect.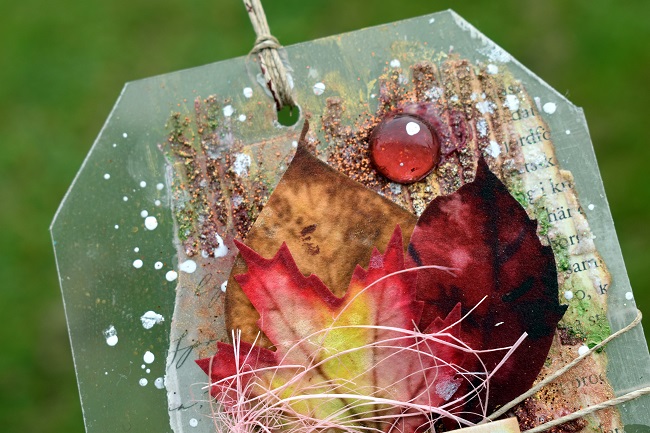 Dessa Art Melange Pebbles för extra detaljer är helt underbara och kan användas på så många olika slags projekt.
These Art Melange Pebbles are lovely and you can use them on so many projects.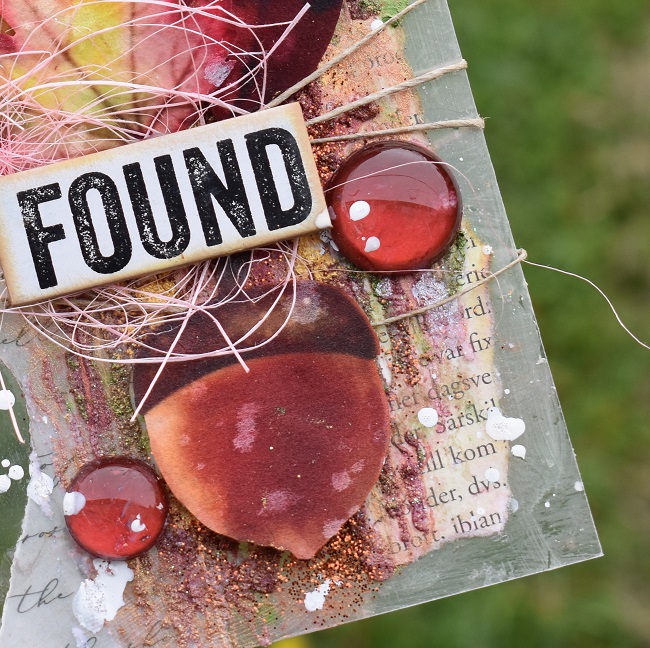 Material:
Prima Printed Fabric Leaf Embellishments 12/Pkg – Fall Pine
Prima Finnabair Art Basics Heavy Gesso 250ml – White
Prima Finnabair Art Extravagance Snowflake Paste 118ml
Prima Finnabair Art Basics 3D Matte Gel 236ml – Transparent
Prima Finnabair Art Alchemy Acrylic Paint 50ml – Metallique Red Wine
Prima Finnabair Art Alchemy Acrylic Paint 50ml – Metallique Steampunk Copper
Prima Finnabair Art Extravagance Glitter 6g 6/Pkg – Luminous
Prima Finnabair Art Basics Gesso 250ml – Clear
Prima Finnabair Art Ingredients Melange Art Pebbles 46/Pkg
Tim Holtz Idea-0logy Chipboard Quote Chips 58/Pkg – Word & Phrases
xoxo Katja