Hej,
Idag är jag tillbaka med en art journal uppslag där jag har använt mig av Tim Holtz nya Blueprint stämplar. Här har jag använt mig av vinsetet. När jag såg dessa fick jag genast idén om att göra detta uppslaget, då jag såg en vingård, med rader av vinklasar framför mig.
En ut av mina stora inspiratörer när det gäller art journal uppslag är
Vicky Papaioannou, och detta uppslag är absolut inget undantag.
Hi,
Today I´m back with an art journal layout were I´ve used Tim Holtz new Blueprint stamps. This is the wineset. When I first saw theese, I just knew I had to do this art journal layout, be3cause I saw a winyard.
 One of my great inspirations when it comes to art journals is Vicky Papaioannou, and this spread is no exception.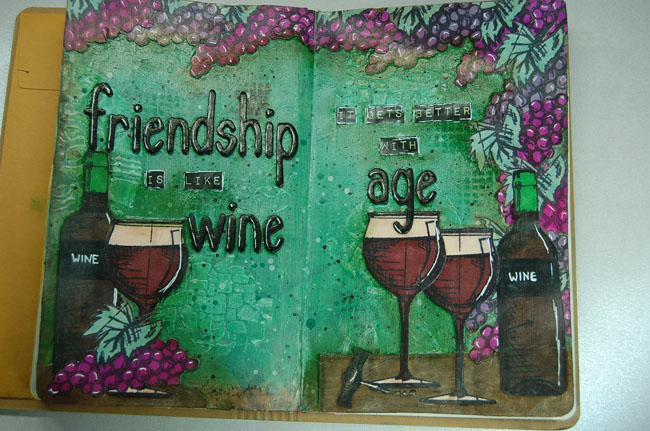 Jag har stämplat upp en massa vindruvor, glas, flaskor och korkskruv, som jag har färglagt med Spectrum Noir Markers och en klippt ut. Borden som sakerna står på har jag målat på frihand och färglagt med Spectrum.
I´ve stamped a lot of grapes, glasses, bottles and a corkscrew, that I´ve coloured with my Spectrum Noir Markers and the cut out. The tables that the bottles and wineglasses are one, I drawed on my own and coloured up with Spectrum.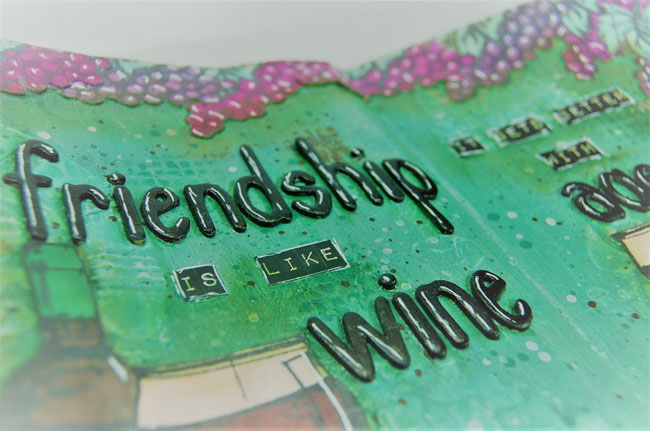 Bakgrunden är målad med Impasto paint, designat Finnabair, utgett av Prima Marketing. Alla prickarna har jag skvätt med en pensel, där jag har blandat ut impasto painten med vatten för att få en mer flytande konsistens.
The background are made with Impasto Paint from Finnabair/Prima Marketing. All the splashes are also made with Impasto paint, I´ve just blended it with water to make it more liquid.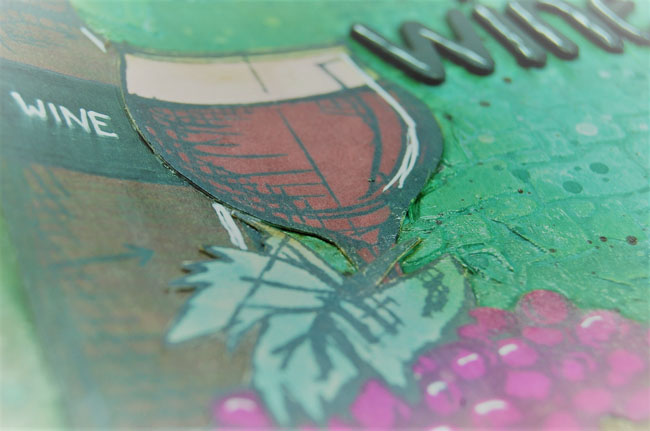 De svarta chipboard bokstäverna var från början i kraft, men för att få dem att passa uppslaget mer, så målade jag dem svarta med impasto paint.
Väl mött nästa vecka.
The black chipboardletters was originally kraft, but I painted them with Impasto paint to fit the project.
See you next week.
Materiallista:
Tim Holtz Cling Stamps 7X8.5 – Wine Blueprint
Prima Finnabair Art Alchemy Impasto Paint
Prima Finnabair Art Basics Heavy Gesso 250ml – White
Spectrum Noir Markers
Prima Finnabair Art Basics Soft Matte Gel 250ml – Transparent Matte