It's time for a challenge here at the DiP-blog. We have a lovely happy colored Mood Board with lots of summer vibes for you to get inspired by. And the whole DiP-team will share projects inspired by this Mood Board here at the blog.
Get inspired by the Mood Board in any way and share it in any social media and be sure to tag it #DIPMoodboardChallenge . Also be sure to tell us what from the photo inspired you when you share it. You have from today June 11th until June 24th to play along, your entry must be new and made for this challenge.
Be sure to join in and play along with us, we would love to see what you come up with!
Upload and tag your project, Layout, PL,Card, DIY, Travelers Notebook or anything with:
#DIPMoodboardChallenge
Good Luck!
Det är dags för en utmaning här i DiP-bloggen. Vi har en härligt färgglad Moodboard med en massa sommar känsla för dig att inspireras utav. Och hela Dip-teamet kommer att dela med sig av sina projekt, inspirerade av Moodboarden, här på bloggen.
Låt dig inspireras av Moodboarden på något sätt och dela det med oss via sociala medier och tagga det #DIPMoodboardChallenge. Berätta gärna vad från bilden som du blivit inspirerad utav när du skickar in ditt bidrag. Du har från och med idag 11 Juni till och med den 24 Juni på dig att vara med i tävlingen, ditt bidrag ska vara nytt och skapat för den här utmaningen. Hoppas du hänger med oss och utmanas, vi ser verkligen framemot att se vad du kommer att skapa!
Ladda upp ditt bidrag, Layout, PL, Card, DIY, Travelers Notebook eller vad du vill göra och märk det med:
#DIPMoodboardChallenge
Lycka till!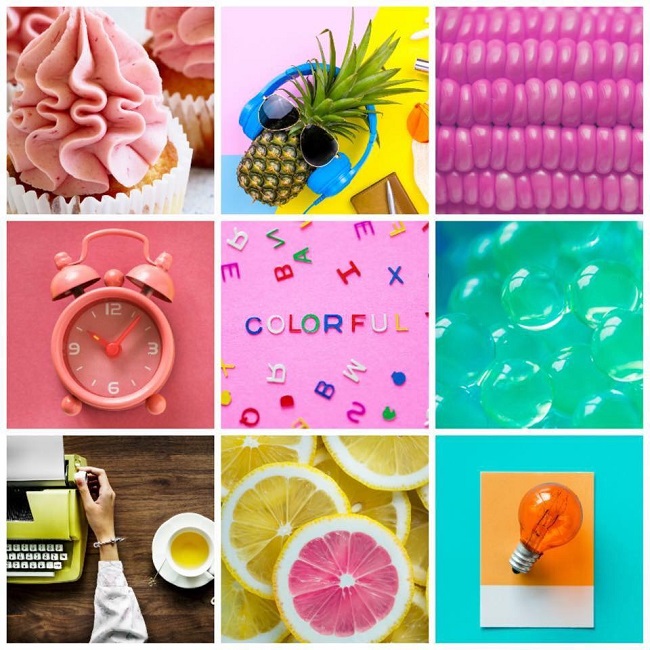 I was inspired by the grid, the colors and the summer feeling in this moodboard. And… the typewriter! Do you see the soft words in the background? I've worked with stamps from Stampendous, Ink Pads from Prima, Clear Stamps from InkyWings and Acrylic Paint from Finnabair.
Jag blev inspirerad av rutorna, färgerna och den somriga känslan i moodboarden. Och… skrivmaskinen! Ser du dom bleka orden i bakgrunden? Jag har använt mig av stämplar från Stampendous, Stämpeldynor från Prima, Clearstamps från InkyWings och Akrylfärger från Finnabair.

For the background I've used a Monoprinting Plate and Prima Philosophy ink. I've made one little square at a time and not cover up the whole plate. The flower is stamped in the ink on the plate to lift some color OFF the plate. Repeated with all the different colors in the background. At last some flowers stamped direct on background.
Bakgrunden är gjord med en Monoprinting Plate där jag haft på lite av Primas Philosophy Ink och sedan rollat ut till en liten fyrkant. Jag har alltså inte använt mig av hela ytan på Monoprint-plattan. I fyrkanten med färg har jag sedan stämplat blommorna (utan bläck, så att stämpeln istället plockar bort färg från monoprint-plattan och lämnar ett ljust avtryck) och därefter stämplat med hela plattan i min Art Journal. Detta är upprepat flera gånger med olika färger.
Några extra blommor är stämplade ovanpå bakgrunden med samma stämpeldynor som användes med monoprintplattan.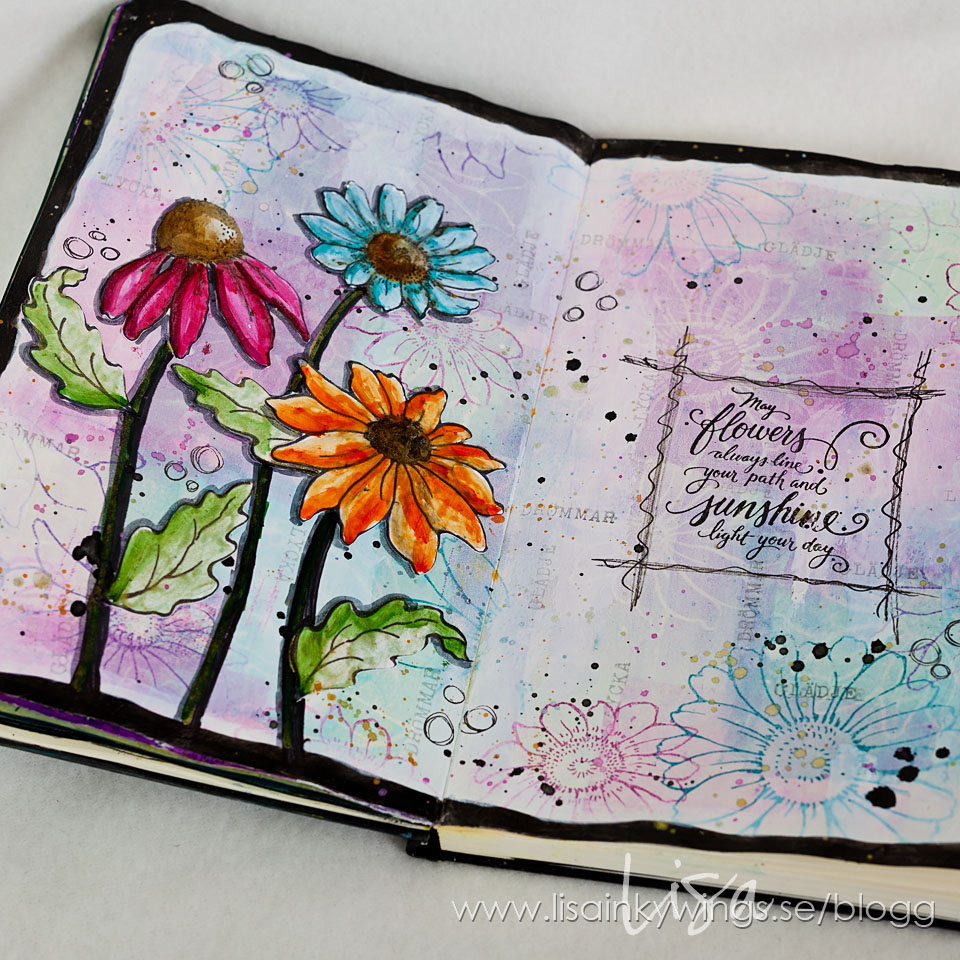 The same flowers are then stamped on Sheena Douglass Stamping Card Paper and cut out. They are glued into art journal with soft Matt medium and also covered with that medium. Finally I colored the flowers with Finnabair Art Alchemy paint diluted with a few drops of water.
Blommorna från Stampendous är även stämplade på Sheena Douglass Stamping Card Paper med vattenfast bläck och sedan urklippta och dessa har jag fäst med Matt gel medium samt penslat på det även på ovansidan på blommorna. Dessa är sedan färglagda med Finnabairs Art Alchemy Paint i olika färger. Man kan blanda ut färgen med lite vatten för att få en något tunnare koncistens.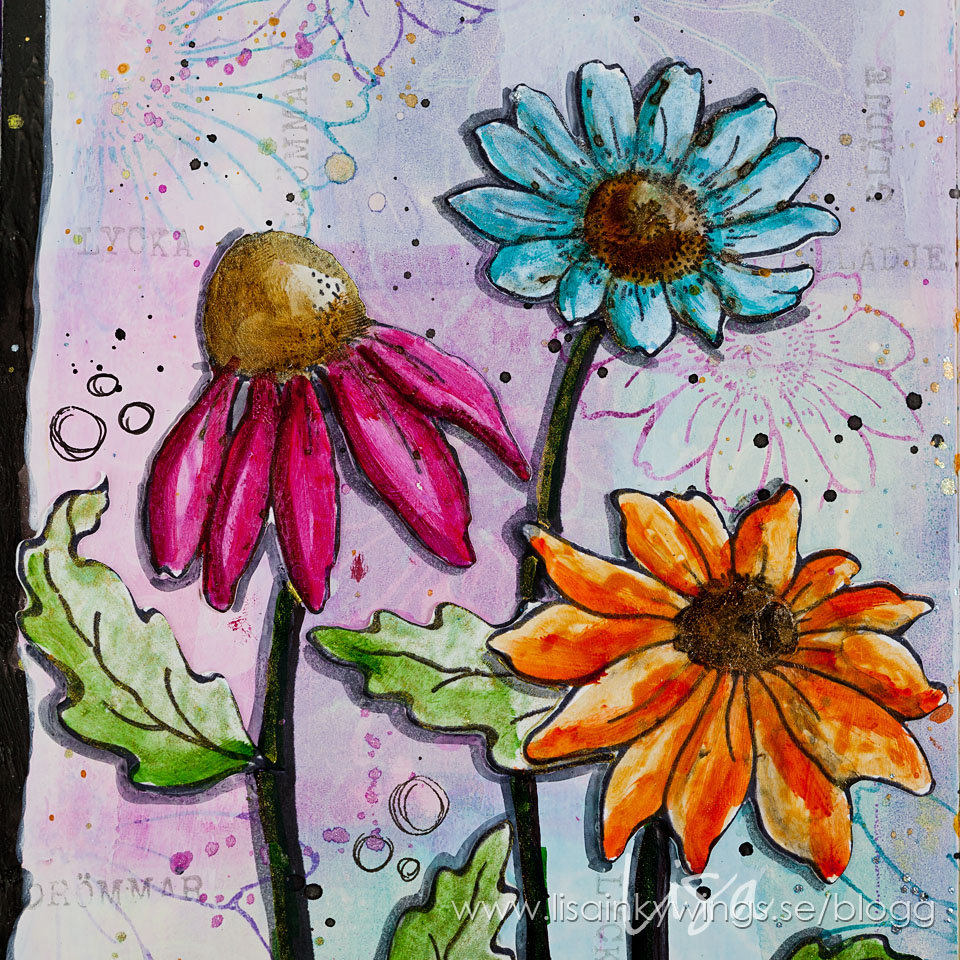 Splatter is made with all the different colors used on the spread. Edges are black acrylic paint.
Stänken på uppslaget är gjort med alla de olika färgerna jag använt mig av. Kanten är målad med svart akrylfärg.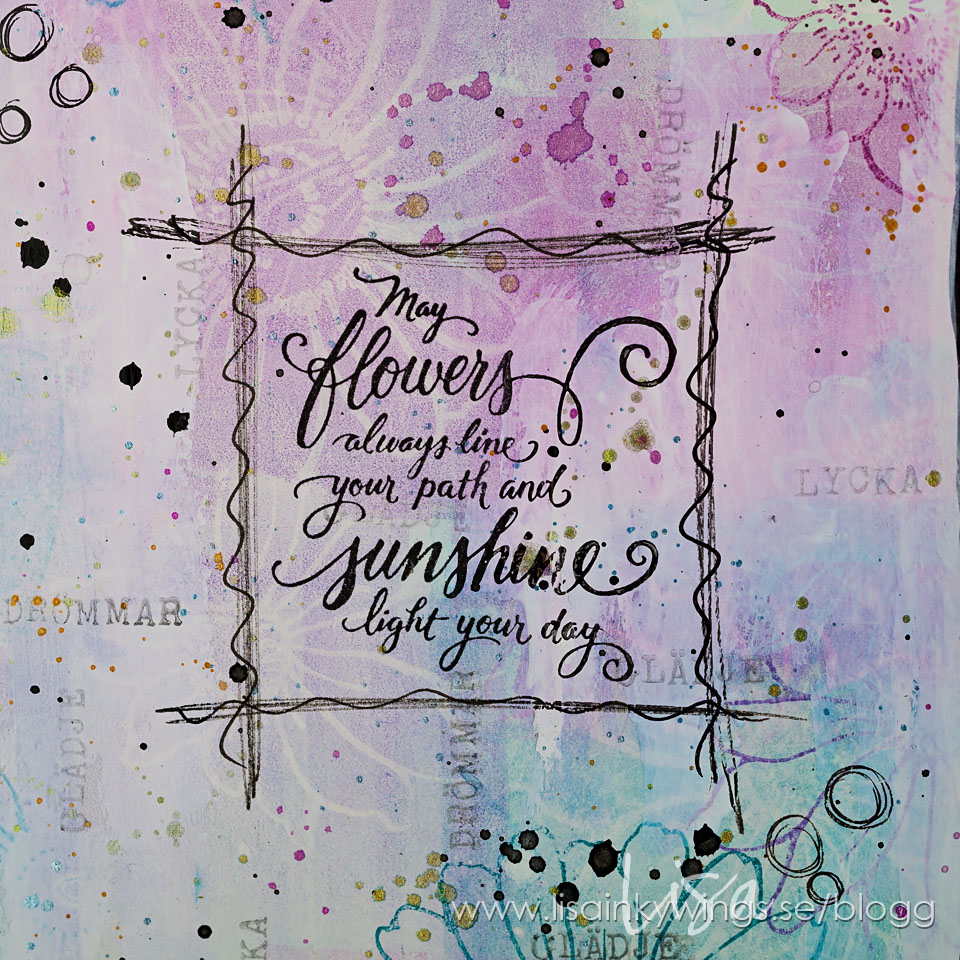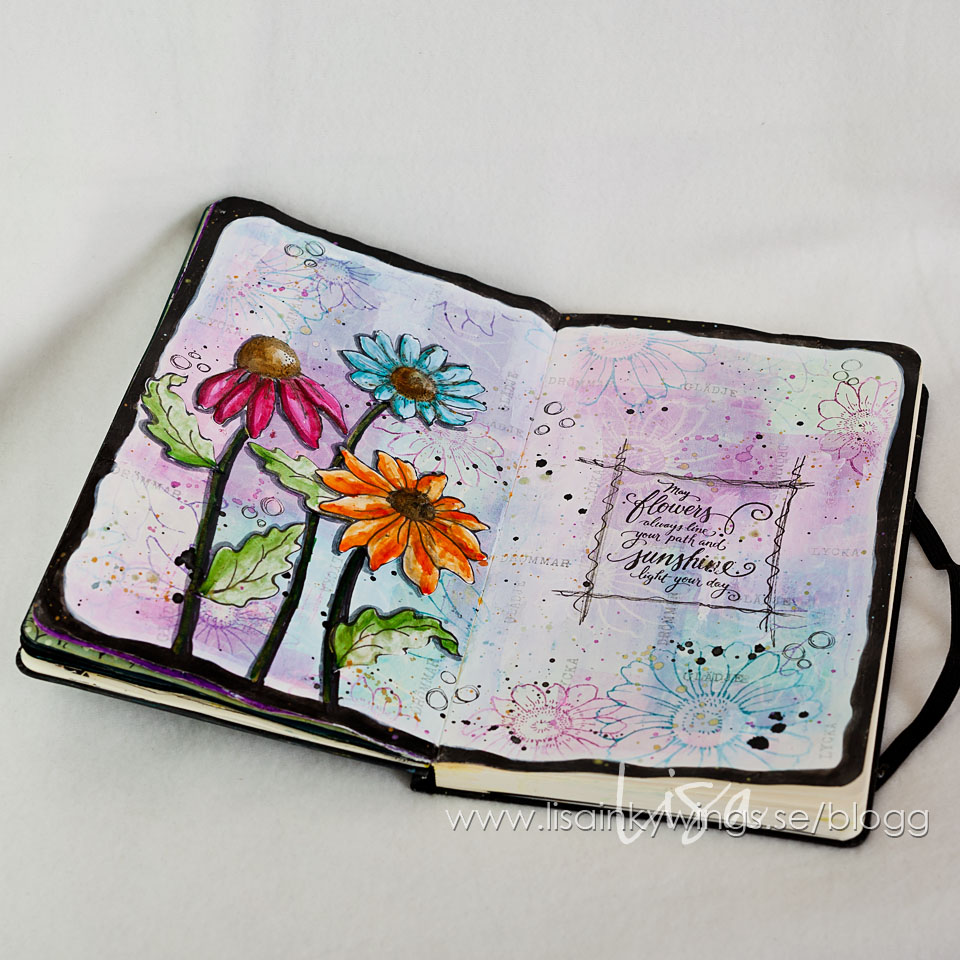 Material:
Stampendous Cling Stamp W/Template 5×8 – Coneflower
Stampendous Frans Cling Stamps & Stencil 5X7 – Daisy Mix
Prima Color Philosophy Dye Ink Pad – Bora Bora
Prima Color Philosophy Dye Ink Pad – Private Lagoon
Prima Color Philosophy Dye Ink Pad – Hot Lips
Prima Color Philosophy Dye Ink Pad – Amethyst
Prima Finnabair Art Alchemy Acrylic Paint 50ml – Metallique Gold Amber
Prima Finnabair Art Alchemy Acrylic Paint 50ml – Fairy Wings
Prima Finnabair Art Alchemy Acrylic Paint 50ml – Pink Blush
Prima Finnabair Art Alchemy Acrylic Paint 50ml – Magical Pond
VersaFine Ink Pad Onyx Black
Stampendous Creative Palette Monoprinting Plate 8.5X11
Sheena Douglass White Stamping Card Paper A4 – Pack of 60
Prima Finnabair Art Basics Soft Matte Gel 250ml – Transparent Matte
InkyWings Motivstämplar Clear Stamps – Skrivmaskin
Kram / Hugs Lisa