Hej,
Idag är det dags för april månads planner uppslag.
Denna gången har jag färglagt månadstaben med Primas vattenfärger. Fantastiska färger att arbeta med.
Hello,
Today it´s time for april´s planner spread.
 This time I´ve coloured up the monthly tab with watercolours from Prima.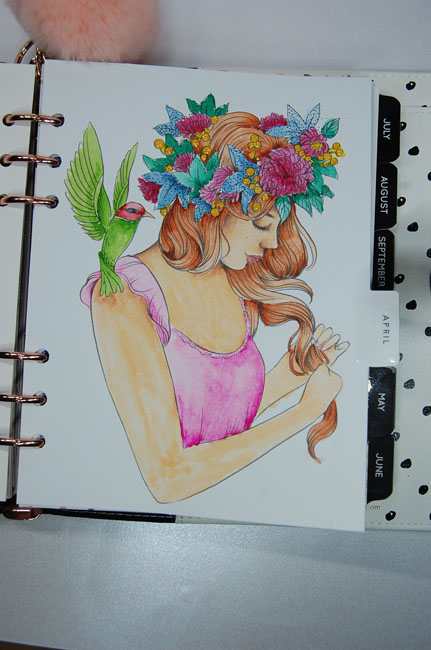 Vecka 14 blev blå, dekorationerna kommer uteslutande från Prima.
Week number 14 Went blue. Here, all the decorations are from Prima.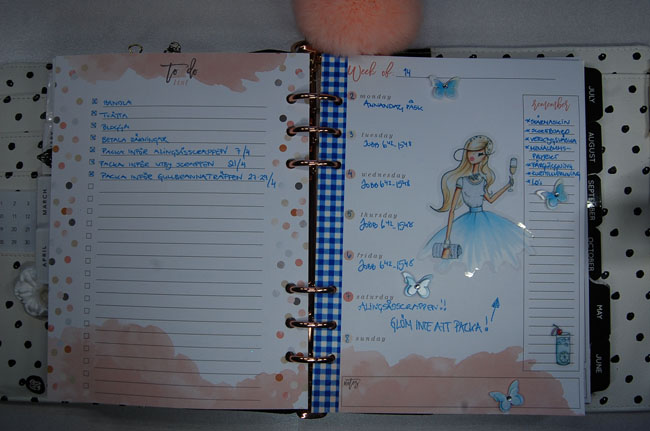 Uppslaget med vecka 15 och 16 blev rosa. För vem älskar inte rosa. Även på detta uppslaget kommer det mesta ut av dekorationerna ifrån Prima.
The spread with week 15 and 16 Went pink. Because, who doesen´t love pink. Also on this spread most of the decorations are from Prima.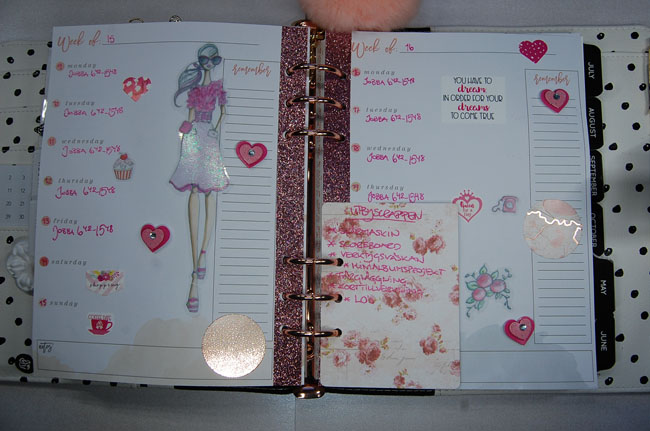 Sen blev det lila, denna fantastiska färg. Här har jag använt dekorationer från Prima och Simple Stories.
The next one is Purple, a fantastic colour. The decorations are from Prima and Simple Stories.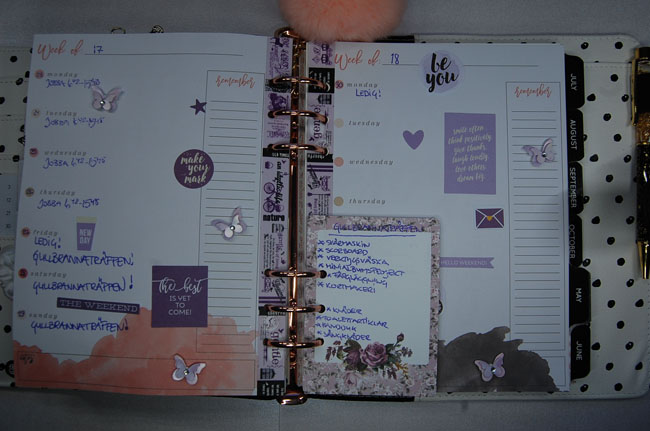 Jag håller fortfarande fast vid min tanke om att ha en specifik färg per uppslag.
I still keep to the thought to have one colour per spread.
Materiallista:
Prima My Prima A5 Planner White W/Black Dots -Breathe
Prima Josefina Planner Stickers 2/Pkg – Diamond Girl
Prima Josefina Planner Stickers 2/Pkg – Tea Time
Prima Travelers Journal Flowers – Loving Hearts
Prima My Prima Planner Mini Plannerflies 24/Pkg – Pastel
Prima My Prima Planner Coloring Tabbed Dividers 12/Pkg – Princess
Prima My Prima Planner Monthly Tab Stickers 2/Pkg
Simple Stories Carpe Diem A5 Stickers 12/Pkg -Bliss
Kaisercraft Gel Pens 48/Pkg – Pastel, Glitter, Metallic & Neon
Prima Confections Watercolor Pans