Idag är det dags för februari månads planner inlägg. Jag fortsätter att hålla mig till en färg per uppslag, då det för tillfället tilltalar mitt öga väldigt väl. Jag tycker att det blir snyggt och stilrent.
Då det är Alla Hjärtans Dag i februari så valde jag att färglägga blommorna röda på månadsbladet.
Today it´s time for the planner spread for February. I still choose to have one colour per spread, because at the time, it´s very appeeling for my Eyes. I Think it´s very Clean and simple.
Since it´s Valentines Day in February, I choosed to colour the flowers red on the monthly sheet.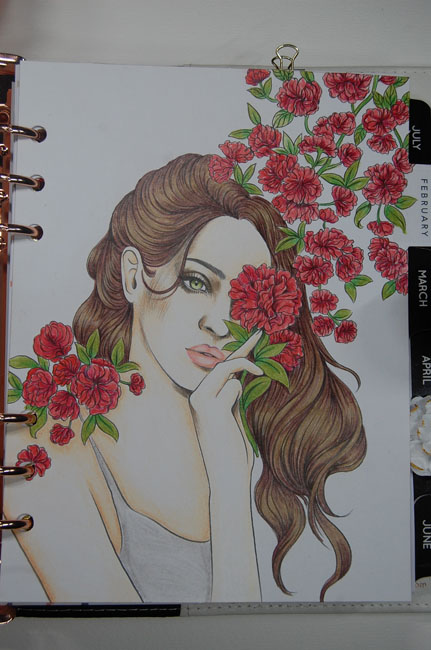 Vecka 5 och 6 så är det guld som gäller. Här har jag använt mycket dekorationer från Prima Marketing.
Week 5 and 6 it´s all about gold. Most of the decorationes that I´ve used are from Prima Marketing.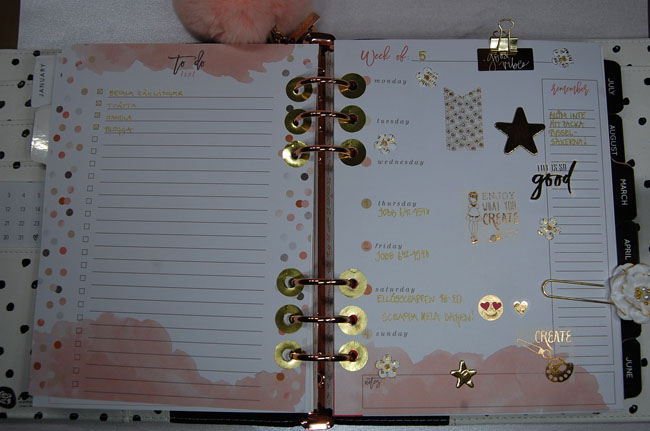 Alla Hjärtans Dag infaller ju vecka 7, den 14 februari, så för mig var ju dessa två veckornas uppslag givet. Det var ju bara tvunget att vara rött.
Valentines Day comes in week 7, Februuary 14th, so for me, this spread had to be red.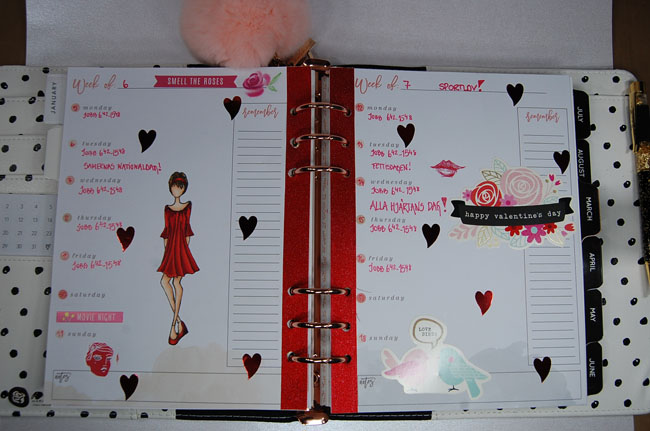 Det sista uppslaget för denna gången är vecka 8 och 9, och det blev i bruna/beiga toner, då jag valt att hylla den ädla drycken kaffe. Washitejpen och enamelstickern är från Doodlebug och kaffemuggarna från Prima Marketing.
The last spread for this week is week 8 and 9, and I choose Brown/beige tones, celebrate the wonderful taste and colour of coffee. The washi and the enamel sticker are from Doodlebug, and the coffeemugs are from Prima Marketing.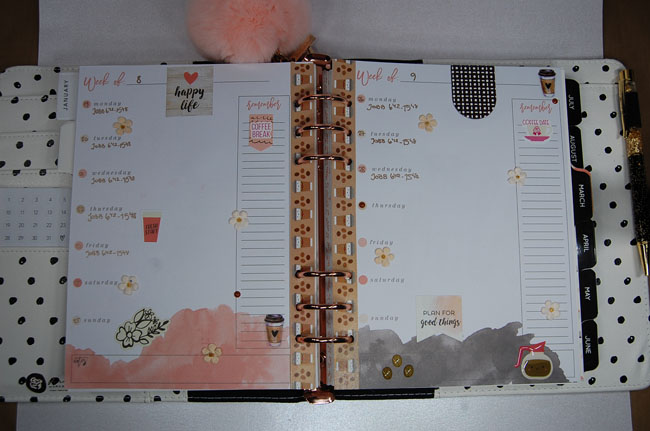 Tack för denna gång.
Thanks for this time.
Materiallista:
Prima My Prima A5 Planner White W/Black Dots -Breathe
Prima Planner Flowers 100/Pkg – Maya
Prima Puffy Stickers – Amber Moon
Prima My Prima Planner Coloring Tabbed Dividers 12/Pkg – Princess
Prima My Prima Planner Monthly Tab Stickers 2/Pkg
Prima My Prima Planner Hole Reinforcer Stickers
Prima My Prima Planner Flower Paper Clips 1.5inch 4/Pkg – Gold Nougat
Doodlebug Sprinkles Adhesive Glossy Enamel Shapes – Cream & Sugar Latte Love
Doodlebug Washi Tape 15mmX12yd – Coffee Break