It's fun to use The Distress Oxide Sprays from Ranger in the art journal too. When I use them I start with a layer of gesso, and in this case I used clear. When the gesso was dry I sprayed pretty heavy with the two colors of spray and let them blend a bit together. At the edges of the color I sprayed some water to blend out a bit more. It also gives the matt oxide look of the background. Since it's much wet media it start pooling in the middle, so you have to be pretty quick drying with your het gun or with some paper. I do both, and try to dry it with heat more then I take off the page.
Some structure is given by splashing the same two colors and let dry + splashing plain water to have the bleched dots. Figures are just stenciled in and some random stamping are made in the background.
Det är riktigt skoj att leka med Distress Oxide Sprays från Ranger i Art journalen. När jag gör så här med sprayerna, börjar jag ofta med ett lager gesso, och i det här fallet blev det clear. När Gesson har torkat sprayar jag på rätt rikligt med ett par färger och låter dom blandas lite. I kanterna av färgen sprayar jag vatten för att få det att flyta ut lite mer åt kanterna. Det blir rätt blött och rinnigt så man får vara snabb med att torka bakgrunden med hjälp av embossingfön och lite papper. Jag försöker göra båda, men mest med värme för att inte ta bort allt för mkt färg från sidan.
Mer struktur genom att stänka samma två färger ovanpå bakgrunden, samt även vanligt vatten som bleker ur lite. Figurerna är en stencil och jag har stöpplat färg från en stämpeldyna och även stämplat lite planlöst på bakgrunden.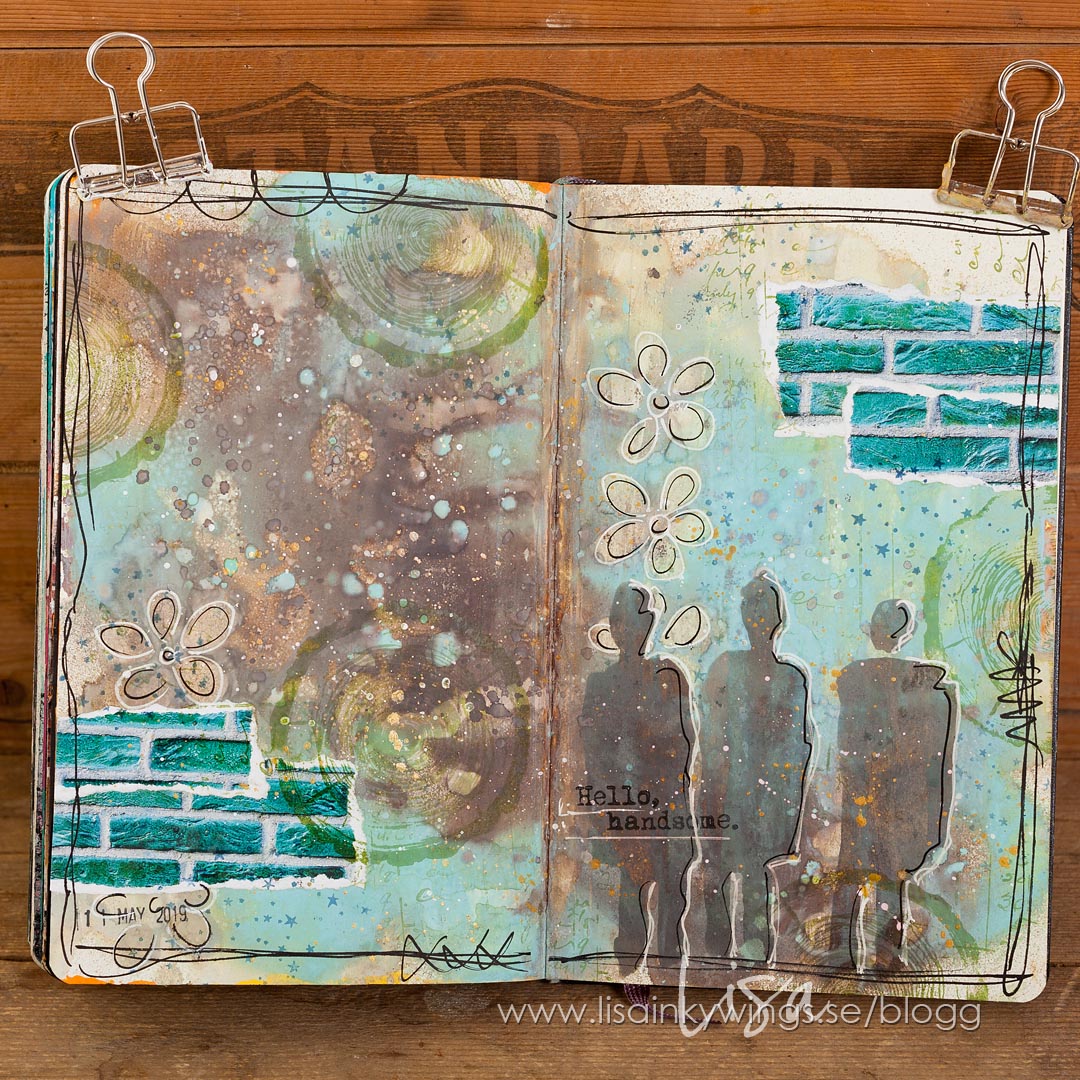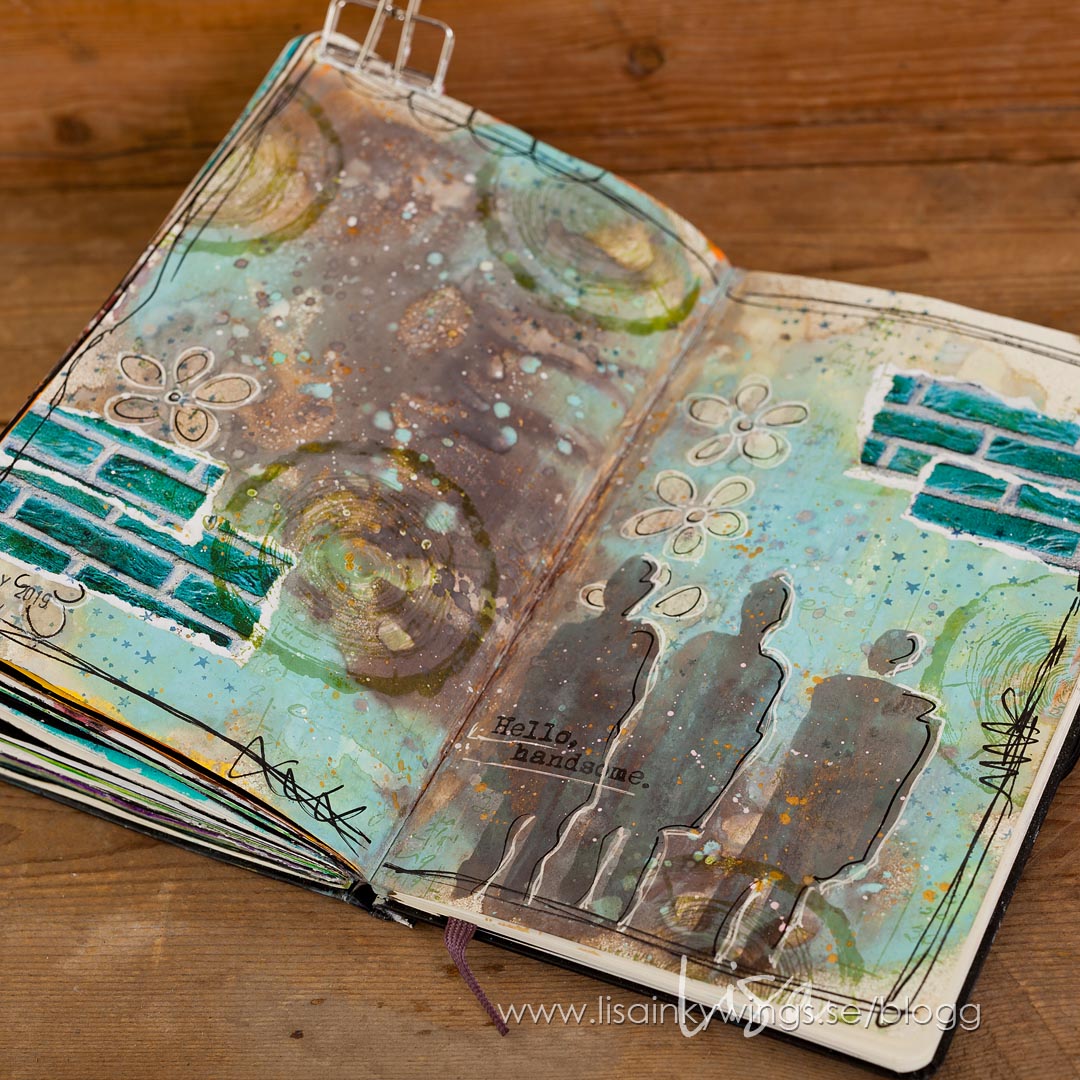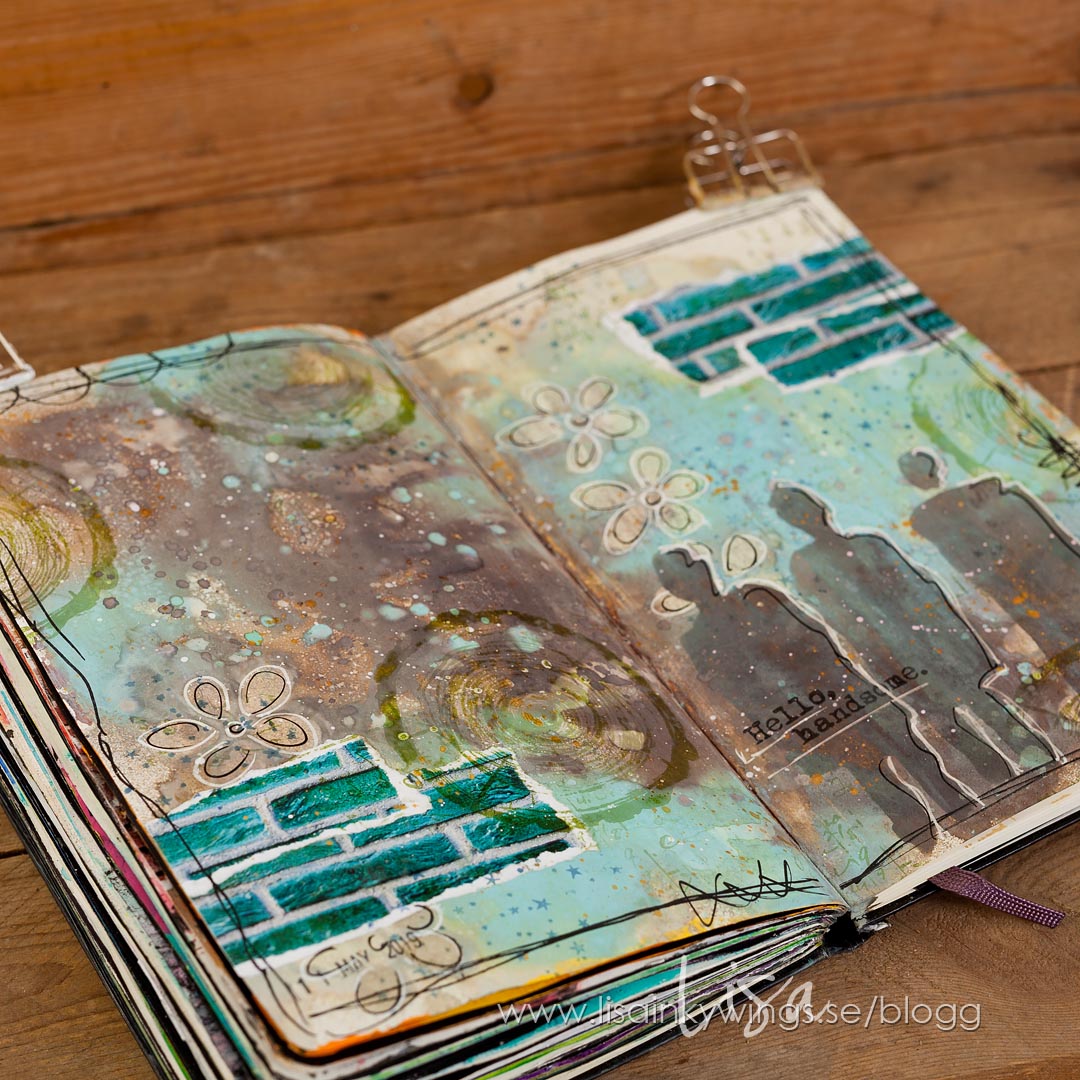 Materials used:
Tim Holtz Distress Oxide Spray 57ml – Vintage Photo
Tim Holtz Distress Oxide Spray 57ml – Cracked Pistachio
Tim Holtz Cling Stamps 7X8.5 – Great Outdoors
Tim Holtz Distress Sprayer 118ml
Dylusions Dyalog Stencil – Border It
Tim Holtz Distress Archival Mini Ink Kit – Kit #2
Tim Holtz Distress Archival Mini Ink Kit – Kit #3
Dina Wakley Media Fude Ball 1.5 Pen – Black
Hugs Lisa