For some weeks ago I showed you a notebook where I have used Sizzix Alphabet Die. Today I will show you what you can do with your leftovers when you have used this die. I think you can use the leftovers on many different projects.
För några veckor sedan visade jag en anteckningsbok där jag hade använt mig av Sizzix Alphabet Die. Idag vill jag visa er att man kan använda det som blir till olika projekt. Jag gillar verkligen när man kan använda upp material istället för att slänga.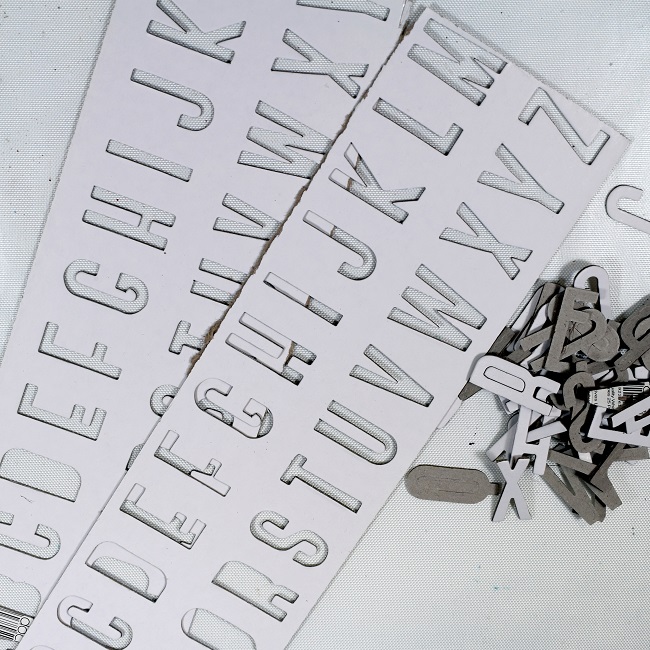 It going to be tags- Prima have these chipboard tags that are perfect for mixedmedia.
Kommer att gör tre olika tags. Prima har tags av chipboard som passar perfekt till mixedmedia projekt.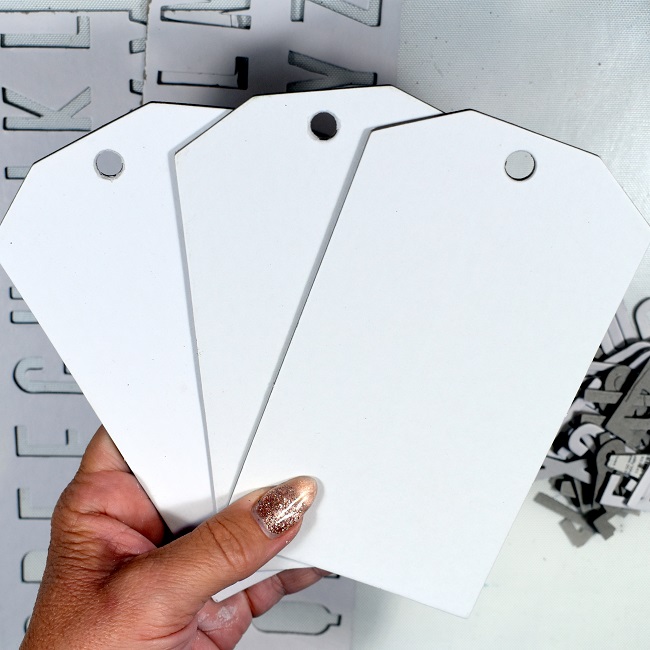 Now I have placed the leftover in three different ways. I have used letters on one, created a cluster on one and on the last one has glue and has it like a texture.
Nu har jag placerat mina bitar på tagsen på lite olika sätt. På den översta har jag använt några bokstäver. En av de andra har fått oilka bitar ihopsatta i ett kluster. En annan är bara fast satt som den är.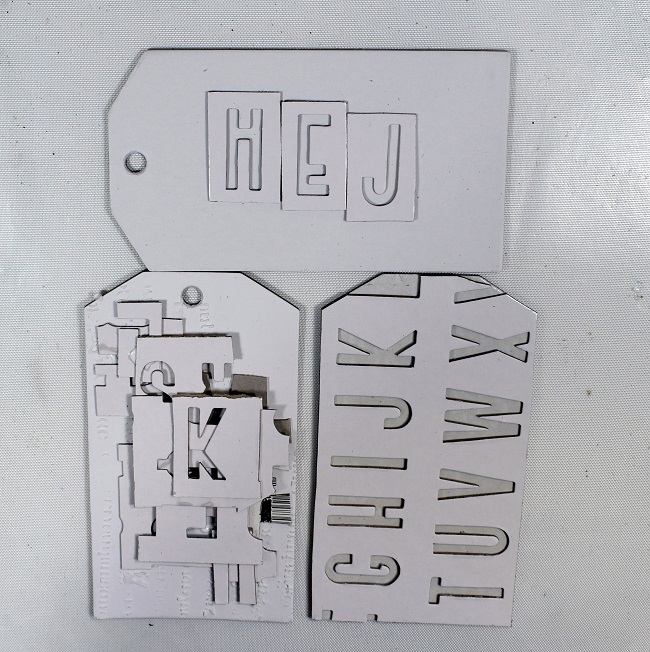 There we go with some color, gesso, crackle paste and also some Distress Oxides in the flat background.
Så på med lite färg, gesso, crackle paste och den sista har fått Distress Oxide på den platta bakgrunden.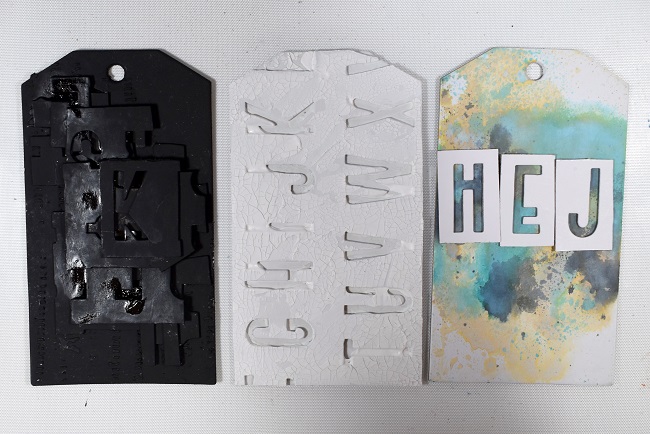 My tags are totally different. I really enjoyed creating them. I really enjoyed using up my leftovers.
Mina tags blev helt olika. Det var ju bara helt underbart roligt att göra dem. Jag gillade verkligen att kunna ta vara på mitt "skräp".
Material:
Prima Memory Hardware Adhesive Chipboard 12/Pkg – Tags
Prima Finnabair Art Basics Modeling Paste 236ml – Opaque Matte
Prima Finnabair Art Basics Heavy Gesso Tube 59ml – Black
Prima Finnabair Art Basics Heavy Gesso Tube 59ml – White
Prima Finnabair Art Alchemy Acrylic Paint 50ml – Metallique Hazelnut
Prima Finnabair Art Alchemy Acrylic Paint 50ml – Metallique Stormy
Prima Finnabair Art Extravagance Texture Paste 250ml – White Crackle
Prima Christmas In The Country Mulberry Paper Flowers – White Christmas
Prima Chipboard Stickers 29/Pkg – Christmas In The Country
Prima Finnabair Art Alchemy Liquid Acrylic Paint 30ml – Ink Black
Prima Finnabair Art Basics 3D Gloss Gel 236ml – Transparent
Prima Finnabair Clear Stamp 2.5X2.5 – Solar & Lunar
Prima Finnabair Stencil 6X9 – Manuscript
Prima Finnabair Mechanicals Metal Embellishments – Hardware Accents
Prima Finnabair Mechanicals Metal Embellishments 26/Pkg – Mini Stars
Prima Sunrise Sunset Mechanicals Metal Vintage Trinkets – Mini Roman Numerals
Prima Redesign Mould 5X8 – Leafy Blossoms
Tim Holtz Idea-Ology Metal Adornments 24/Pkg – Antique Nickel Numbers
Tim Holtz Idea-Ology Metal Story Sticks
Tim Holtz Sizzix Thinlits Die Set 4PK – Crochet
Tim Holtz Sizzix Bigz XL Alphabet Die – Society 19-01
Tim Holtz Glitter Duster
Tim Holtz Distress Oxides Ink Pad – Tumbled Glass
Tim Holtz Idea-Ology Baseboard Dolls
Ranger Ink Archival Inkpad – Jet Black
Dina Wakley Media Chipboard Shapes – Basics
Tonic Studios Nuvo Glitter 35ml – Desert Sunset 1100N
xoxo Katja