Dessa stora härliga tags i thickboard passar perfkt till mixedmedia. Här blir det idag i vintagestil med fokus på en bild från Primas Vintage bilder.
Just love to create on these tags in thickboard. They are perfect to mixedmedia.  Here in vintage style with the focal point to a picture from Primas Ephemera Vintage pictures.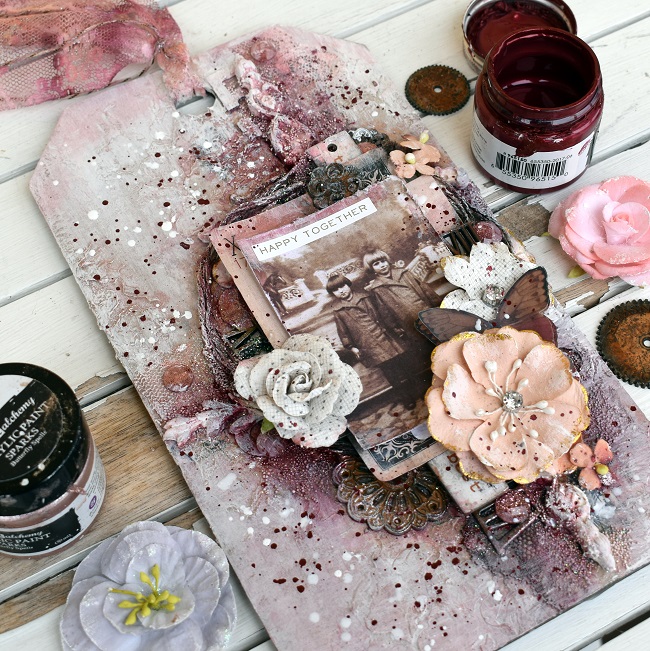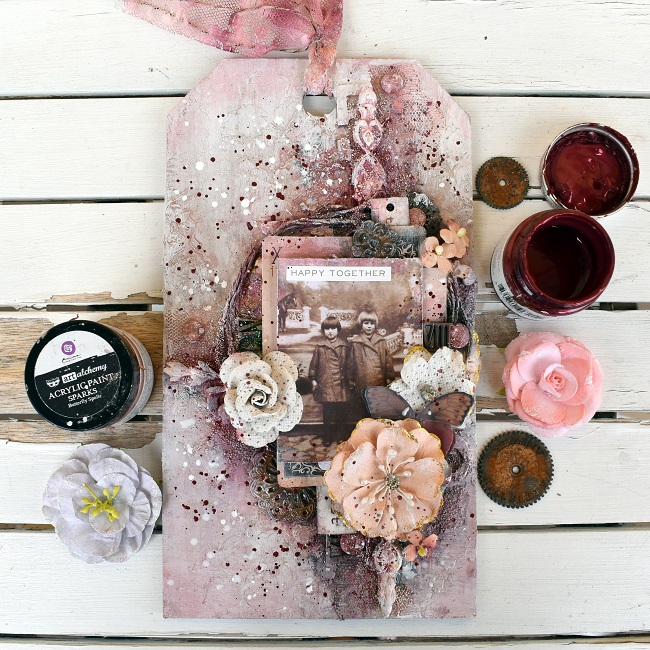 Färgen Red Wine – en av Primas metalliska akrylfärger är en helt underbar färg som ger en rosa/vinröd nyans.
The color Red Wine, one of Primas metal acrylic paint is just adorable.
Material:
Tim Holtz Etcetera Medium Tag 6.5X12
Tim Holtz Layered Stencil 4.125X8.5 – Industrial
Prima Finnabair Art Basics 3D Matte Gel 236ml – Transparent
Prima Finnabair Art Basics Soft Matte Gel 250ml – Transparent Matte
Prima Finnabair Art Basics Heavy Gesso 250ml – White
Prima Finnabair Art Alchemy Acrylic Paint 50ml – Metallique Red Wine
Prima Finnabair Art Alchemy Acrylic Paint 50ml – Butterfly Spel
Prima Finnabair Art Alchemy Acrylic Paint 50ml – Raven Black
Prima Finnabair Art Ingredients Mini Art Stones 230ml
Prima Re-Design Paper Clay Bucket
Prima Travelers Journal Decorative Tape 35mm 3/Pkg – Inked Maps
Prima Amelia Rose Paper Flowers & Butterflies – Pen & Ink
Prima Finnabair Mechanicals Metal Embellishments 7/Pkg – Rustic Washers
Prima Finnabair Ephemera 32/Pkg – Vintage Collectables
Prima Sunrise Sunset Mechanicals Metal Vintage Trinkets – Mini Roman Numerals
Prima Iron Orchid Designs Vintage Art Decor Mould 5X8 – Keyholes
7 Gypsies Lace Trimmings – Assorted Pack
Ses nästa vecka!
Katja