Jag har fått leka med lite nya stämplar från Tim Holtz. Han släpper ännu en omgång med blueprint stämplar. Denna gång är det tre olika set som kommer, ett med öl tema, ett med drinkar och så ett med vin. Jag har använt mig av de små seten för att göra tre uppsättningar med ATC-kort.
I have got to play with som ner stamps from Tim Holtz. He´s releasing Another round of blueprint stamps. This time there is Three different sets, beer, drinks and wine. I have used the smaller kits, and made three batches with ATC cards.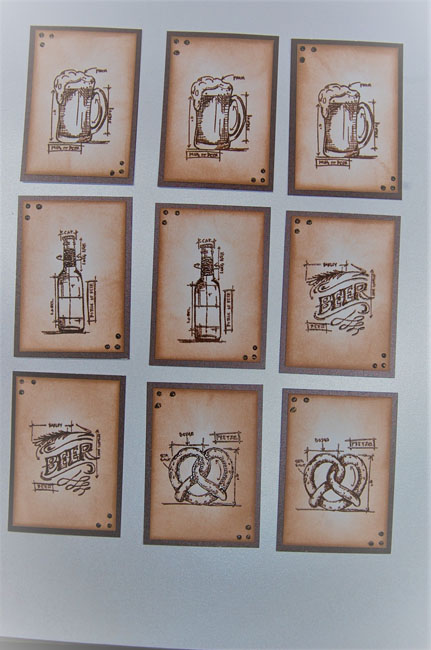 Här är setet med öl. Jag har valt att hålla alla kort monokroma, och på kitet med ölen, kör jag på brunt. Jag har clear embossat uppe på motivet, för att få det att sticka ut lite mer.
This is the set with the beer. I have choosed to make the cards monocrome, and for the beerkit, I have used Brown tones. I have also used clear emboss on the motive, to make it pop a bit.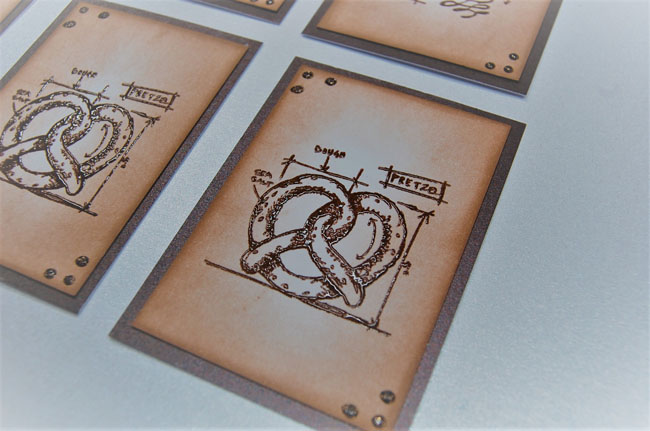 Nedan ser ni setet med drinkar, där jag har valt rosa toner till korten. Och en mörkare nyans till motivet, som även det är embossat med clear.
Down are the set with the drinks, were I have used pink tones to the cards. And a darker shade to the motive, wich I have also clear embossed.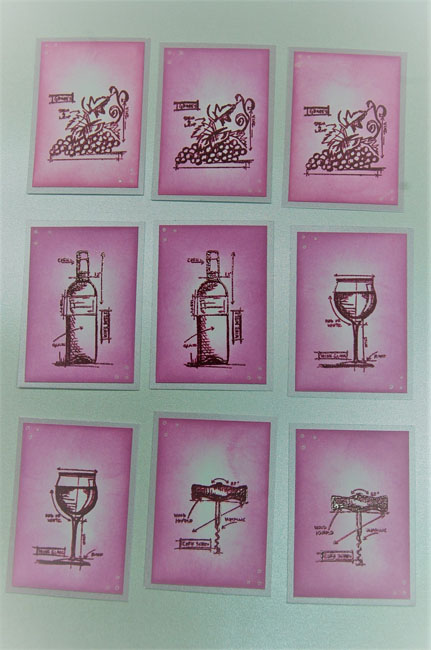 Till vinsetet har jag kört med lila.
The wine set are two shades of purple.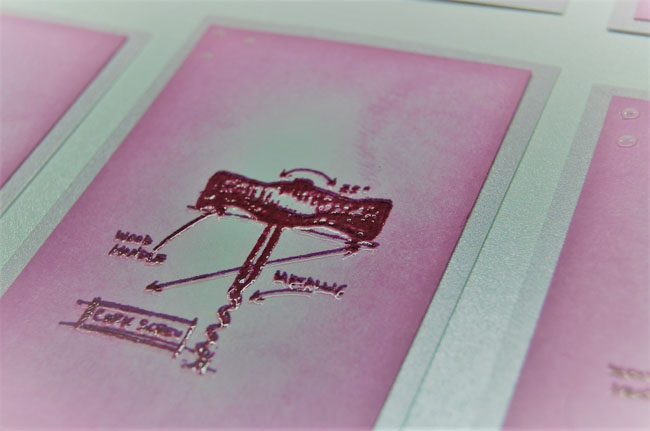 Stämpeldynorna jag har använt mig av är från Lawn Fawn och som små diskreta droppar i två ut av hörnen, har jag använt Nuvo Drops, glitter och jewel.
I have used ink from Lawn Fawn and the Little tiny drops in the corner are made with Nuvo Drops, glitter and jewel.
Materiallista:
Tim Holtz Mini Blueprints Strip Cling Stamps 3X10 – Cocktails
Tim Holtz Mini Blueprints Strip Cling Stamps 3X10 – Beer
Tim Holtz Mini Blueprints Strip Cling Stamps 3X10 – Wine
Lawn Fawn Ink Pads
Tonic Studios Nuvo Embossing Powder 22ml – Crystal Clear
Crafters Companion Centura Pearl Card
Crafters companion permanent tape runner
Tonic Studios Super Trimmer