Hej!/Hello!
Idag så bjuder jag på en videotutorial, så kan du se hur jag gjorde min layout. Jag har använt mig av Primas papperkollektion St. Tropez. Till denna kollektion av papper och diecuts så matchar de krämiga Impasto paints perfekt.
Time for a videotutorial so you can see my process. I have used one of Primas collection named St. Tropez. To this collection the Impasto Paint makes a perfect match.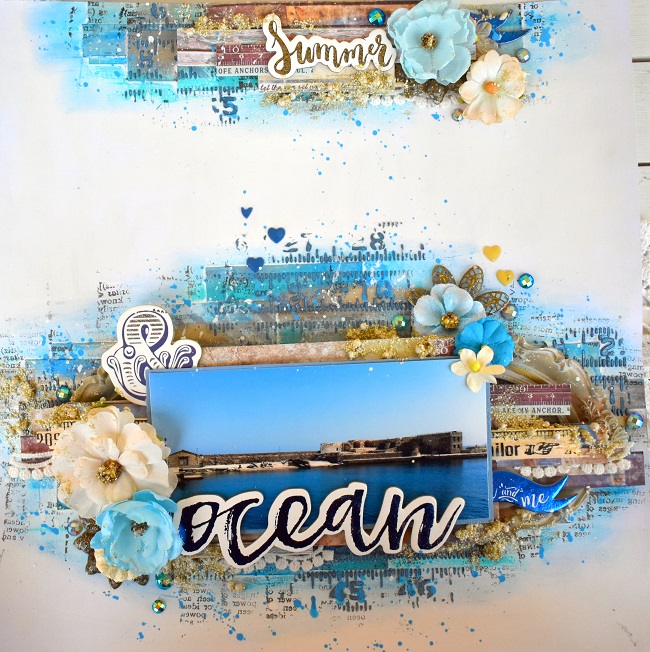 I videon så får du se hur jag bygger upp min layout. Lager av färger, gesso och blandar även ihop 3d matte gel med Micapulver.
In the video you can watch me using layers of paint, gesso and I also mix 3d matte gel with Mica powder.
Fin resinram som får nytt utseende. Men bli inte allt för chockad när jag bryter den i två delar.
I have give a resin frame a new look.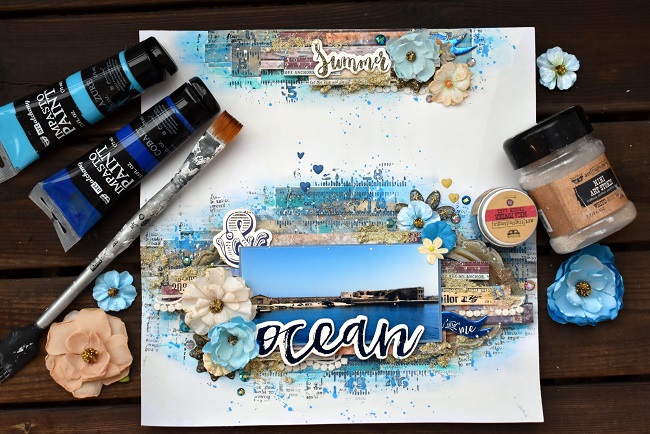 Så ni kikar väl på min video? och blir så glad om ni även lämnar en liten kommentar.
So see more in my video. Hugs!
Kram Katja
Material:
Prima Double-Sided Paper Pad 8X8 30/Pkg – St. Tropez
Prima St. Tropez Flowers – Isla Marina
Prima St. Tropez Flowers – Meredith
Prima Puffy Stickers – St. Tropez
Prima Self-Adhesive Chipboard – St. Tropez
Prima Say It In Crystal Adhesive Embellishments – St. Tropez
Prima Finnabair Art Basics Heavy Gesso 500ml – White
Prima Finnabair Art Basics Gesso 250ml – Clear
Prima Finnabair Art Alchemy Impasto Paint 75ml – Cobalt
Prima Finnabair Art Alchemy Impasto Paint 75ml – Azure
Prima Finnabair Art Alchemy Impasto Paint 75ml – Jade
Prima Frank Garcia Artisan Powder 28gr – Trianon Patina
Prima Frank Garcia Artisan Powder 28gr – Parthenay/Umber
Prima Memory Hardware Resin Frames – Chantilly Royal
Prima Finnabair Art Basics 3D Matte Gel 236ml – Transparent
Prima Finnabair Art Basics Soft Matte Gel 250ml – Transparent Matte
Prima Finnabair Art Ingredients Mini Art Stones 230ml
Prima Finnabair Art Ingredients Art Stones 230ml
Tim Holtz Layered Stencil 4.125X8.5 – Measured
Bazzill Mono Adhesive Cardstock 12X12 – Bazzill White
Tonic Studios Nuvo Glimmer Paste – Golden Crystal 950N
Tim Holtz Layered Stencil – Measured
 
Övrigt:
Ken Oliver- kraft mat
Ken Oliver Vintage Trim