Hello, hello!
Här har jag skapat en rund tavla på ett grytunderlägg i trä. Perfekt underlag till en tavla som man kan kleta massa olika medium på.
Here I have created on a woodenplate, its perfect to use with Mixed Media.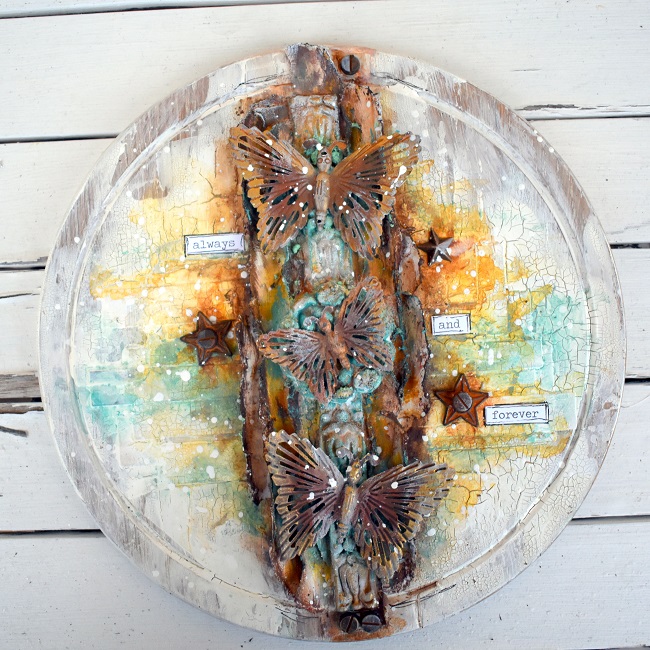 I bakgrunden ser ni härligt Texture Paste med härliga krackeleringar. Ju tjockare lager man lägger på desto större sprickor blir det.
In the background, I have used Texture Paste and when it dried it gives this great crackles.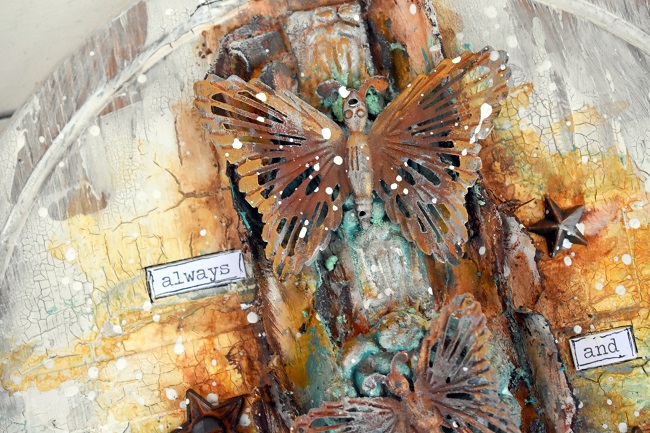 Lager av papper både för att ge struktur och för att skapa lite djup.
Layers of papers, to give texture and to create some depth.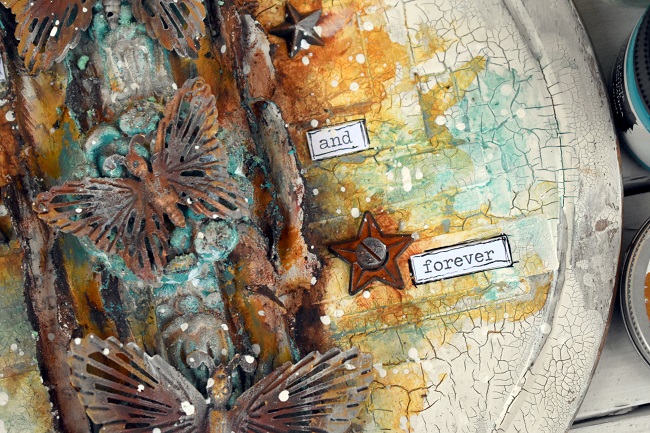 Har mixat lite av både av rost och av patina färgerna.
Have used both from the Rust Effect Paste and Patina Effect Paste.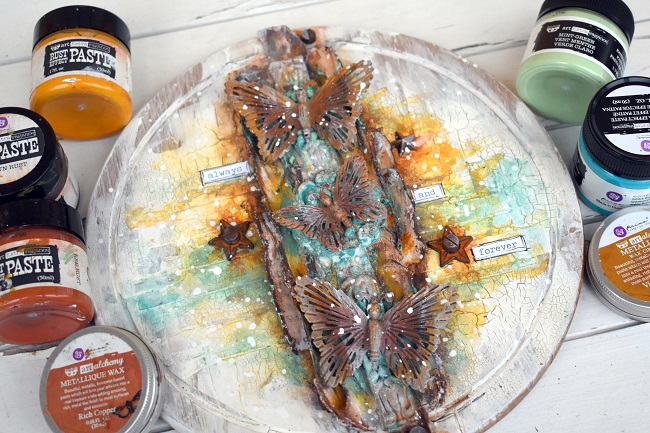 Läckra dekorationer, metallfjärilar och lite stjärnor.
Lovely metallic embellishments, butterflies and stars.
Så vill du veta mer hur jag gjorde kika på videon nedan.
So please enjoy my video.
Kram Katja
Material:
Prima Finnabair Art Extravagence Rust Paste Set
Prima Finnabair Art Extravagance Patina Effect Paste Set
Prima Finnabair Mechanicals Metal Embellishments 9/Pkg – Grungy Butterflies
Prima Finnabair Mechanicals Metal Embellishments 7/Pkg – Rustic Gears
Prima Say It In Crystal Adhesive Embellishments – St. Tropez
Prima Finnabair Art Basics Heavy Gesso 500ml – White
Prima Finnabair Art Basics 3D Matte Gel 236ml – Transparent
Prima Finnabair Art Basics Soft Gloss Gel 250ml
Prima Finnabair Art Extravagance Texture Paste 250ml – White Crackle
Prima Amber Moon Foiled Double-Sided Cardstock 12X12 – Pumpkin Love
Prima Amber Moon Foiled Double-Sided Cardstock 12X12 -Thankful & Blessed
Prima Finnabair Mechanicals Metal Embellishments 36/Pkg – Mini Stars
Prima Finnabair Art Alchemy Metallique Wax 20ml – Rich Copper
Prima Finnabair Art Alchemy Metallique Wax 20ml – White Gold
Prima Iron Orchid Designs Vintage Art Decor Mould 5X8 – Moulding 1
Prima – Iron Orchid Designs – Vintage Art Decor Mould – Medallions
Övrigt:
Wooden plate
Prima Paperclay