It's far between the times I pick up my Alcohol inks, but when I do, I have so much fun! This time I've played with them in my Art Journal. The background is made on a Yupo-paper and it's not really a paper, it's plastic in a very special way. You really must try it to get the coolness of it. *smile* Anyway, My piece here is 7″x7″ since I want to glue it into my 8″x8″ Black Art Journal from Ranger.
First I've made the blue-ish background all over the Yupo, and when I'm done and like it I've placed my stencils, letters etc on top to mask out what I want to be visible in the end. Then I've stippled black gesso all over the other space, so the eye might be fooled is the Journal Black paper shown, but it's not. Just black gesso on top of the Yupo! To finish it all I've used black, white and silver pens to drawn and scribble over the background. It's just one layer, except from the word stickers!
Det är lite långt mellan gångerna som jag använder mina Alkohol inks, men när jag väl gör det, ja, då har jag skoj med råge! Den här gången har jag lekt lite med dom i min Art Journal. Bakgrunden är gjord på ett Yupo-papper som egentligen inte alls är något papper, utan mer ett plastigt material. Man måste nästan testa det för att förstå hur annorlunda det är. Hur som helst, min bit Yupo här är 7″x7″ eftersom jag ville ha den svarta ramen runt i mina Art Journal som mäter 8″x8″.
Först gjorde jag hela den blå-lila bakgrunden på Yupo-papperet, och när jag var färdig så placerade jag stenciler, bokstäver mm över så det blev som masker. Därefter stöpplade jag svart Gesso över allt annat. Ögat luras lite till att tro att det är den svarta Art Journaling-sidan som är det svarta som syns, men det är alltså bara svart Gesso ovanpå Yupo. Som avslutning har jag använt mig av svart, vit och silverpennor för att scribbla och skriva på bakgrunden. Det är alltså bara ett enda lager förutom ord-stickersen.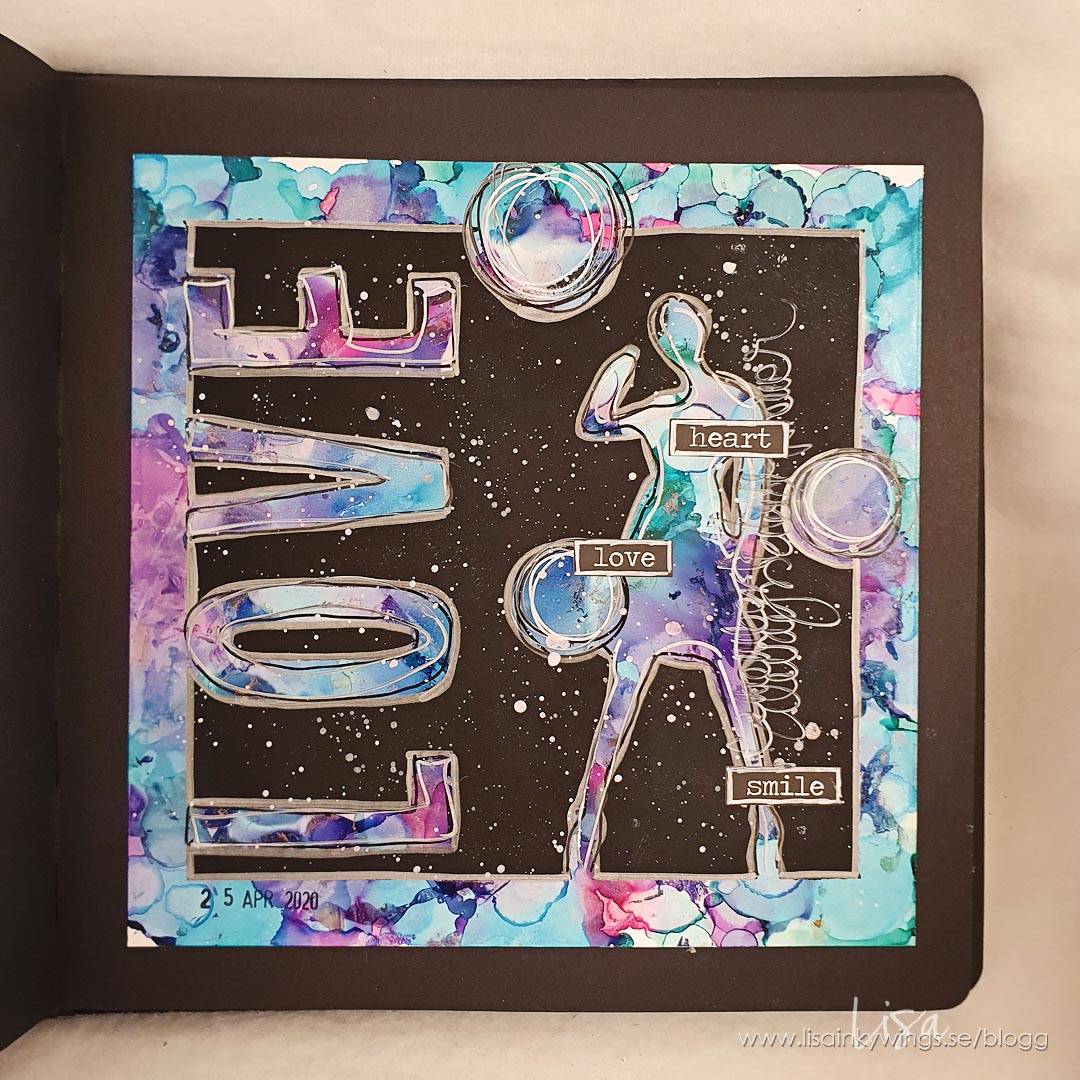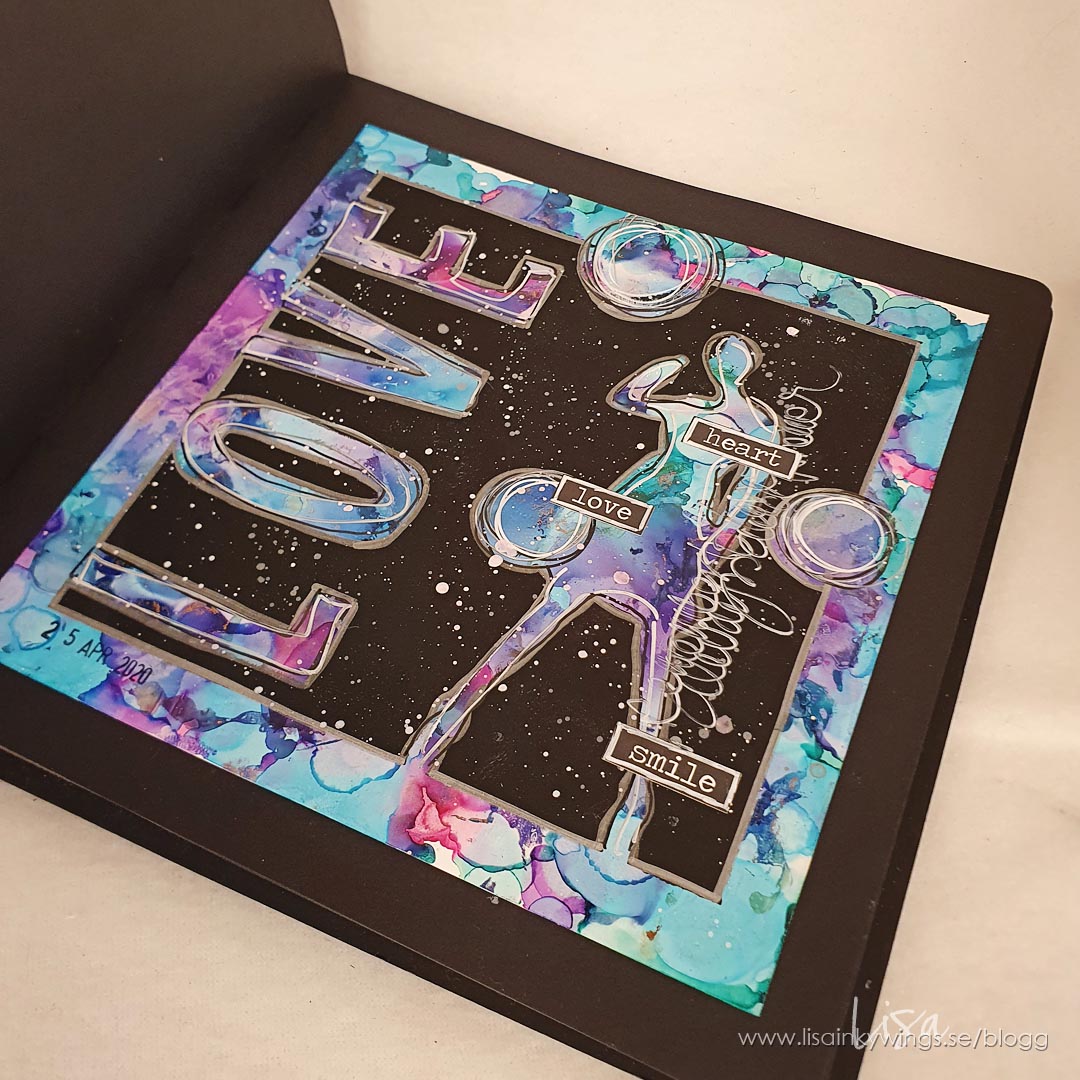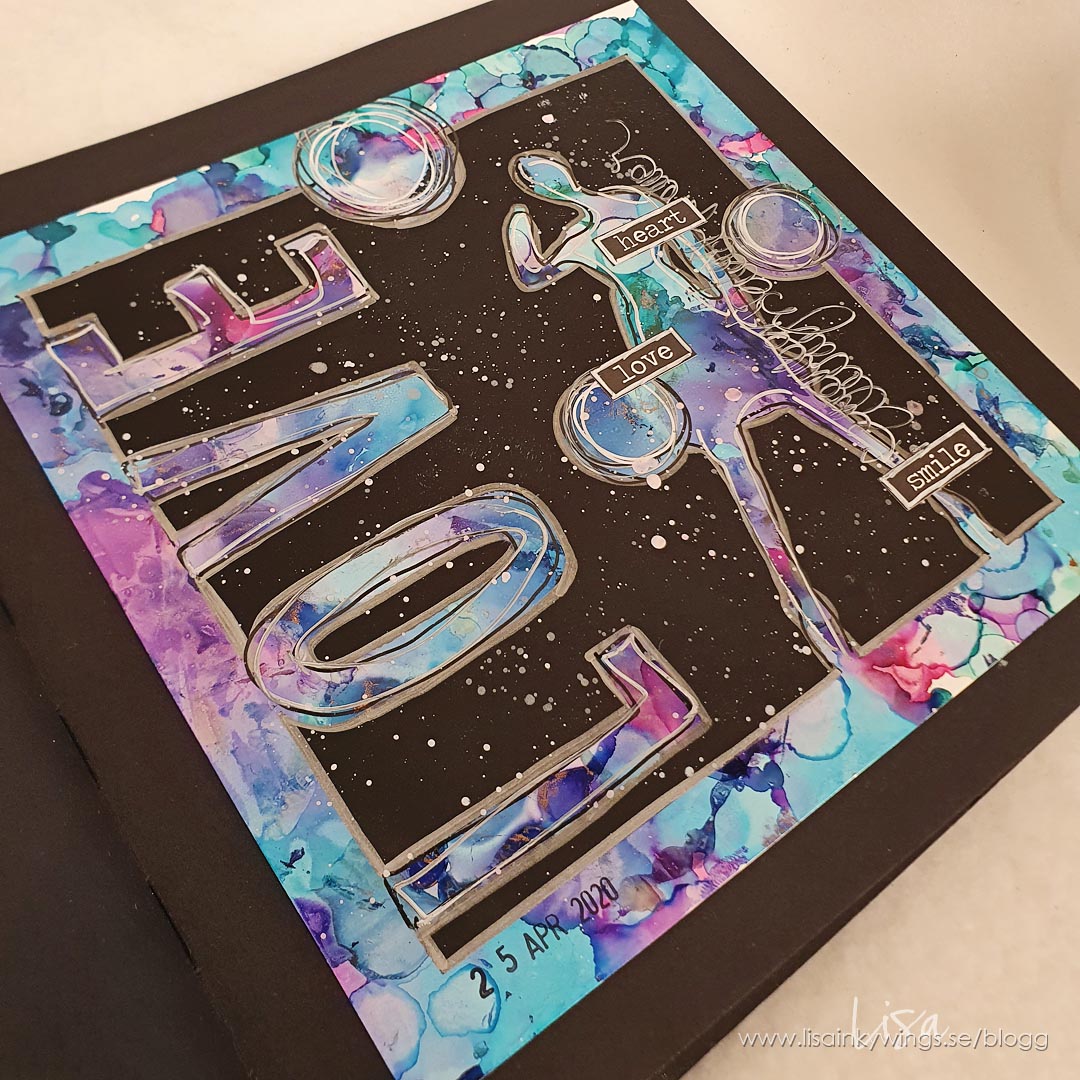 Materials:
Yupo Medium Pads 5X7 10 Sheets/Pkg – White
Dylusions Black Creative Journal 8X8
Tim Holtz Alcohol Ink 14ml – Several different colors in blue and purple.
Tim Holtz Alcohol Ink 14ml – Blending Solution
Dina Wakley Media Stencils 9X6 – Alpha Masks
Dina Wakley Media Gesso 118ml – Black
Posca PC-3M White
Posca Paint Marker Pen PC-1M – Black 24
Posca Paint Marker Pen PC-1M – Silver 26
Dina Wakley Acrylic Paint 29ml – White
Dina Wakley Media Fude Ball 1.5 Pen – Black
iCraft Removable Purple Tape 1.5X15yd Roll
Hugs Lisa