Förutom att pyssla och scrapbooka så brukar jag lajva. Det är en väldigt rolig och kreativ hobby, och det bästa är när jag kan kombinera mina intressen. Som att göra ett minialbum med foton från mitt senaste äventyr. Jag använde Heidi Swapps vackra Hawthorne-papper som bas. Lajvet var nere i en bunker under jord och hade en väldigt mörk färgskala – blått, grönt och brunt – så jag valde papper efter det. Sen la jag till accenter av de härliga rosa som finns i kollektionen för att liva upp det lite. Jag använde också en stencil för att ge albumet ett lite mer slitet, skitet, uttryck. Den är från Kaisercraft, heter "collage" och har massa olika mönster i sig – perfekt allround stencil för många projekt. Sist la jag till texter från Tim Holtz Idea-ology stickersalbum "Snarky". Det är superroliga, lite småtykna texter som får mig att skratta högt varje gång. Kommer nog använda dem mycket (och det är väldigt många stickers i albumet så de räcker länge!).
Besides being a scrapbooker and crafter I also enjoy Live Action Roleplaying (larp). It's also a very fun and creative hobby and the best thing is when I can merge my interests. Like making a minialbum to remember my latest adventure. I used Heidi Swapps lovely Hawthorne collection as my base. Since the larp was in a bunker and the color scheme was quite dark with lots of blues, greens and browns I chose mostly papers in those colours. Then I added the pops of pink to pretty it up a bit. I also distressed the pages and made them a bit more "gritty" with a great template from Kaisercraft called "Collage". It has lots of patterns in one so it's a great go to for all kinds of projects. As caption I chose sentiments from the Tim Holtz Idea-ology sticker book called "Snarky". It is so much fun, I tell you, I laugh out loud at every one. Will be using that one a lot (and there are a bunch of stickers in it so it lasts!).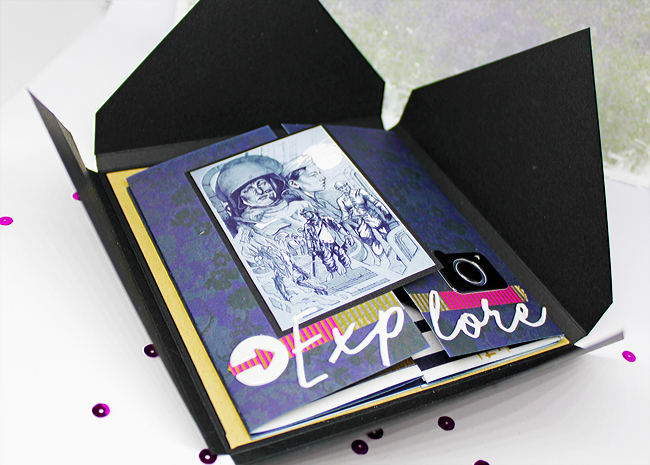 Inspiration for the type of album came from Crate Paper. It's basicly a 6×6 inch envelope where I have attached two 6×12 inch pieces of cardstock that I accordion folded. It gives me panels that are 3 x 6 inches to decorate and I printed my photos to fit this format. The last page is full 6×6 inch for a larger photo. I also added a pocket behind the pages (the craft paper sticking up) where I can put additional photos. It's a very fun and conveniant little album-style – check out Crate papers Facebook page for the videoclip.
Material
Bazzill Cardstock 12X12 – Orange Peel Black
Heidi Swapp Hawthorne Alphabet Stickers 3/Pkg – Woodgrain
Heidi Swapp Hawthorne Double-Sided Cardstock 12X12 – 9th & 9th
Heidi Swapp Hawthorne Double-Sided Cardstock 12X12 – Nightfall
Heidi Swapp Hawthorne Double-Sided Cardstock 12X12 – Ethereal
Heidi Swapp Hawthorne Double-Sided Cardstock 12X12 – Dreamscape
Crate Paper Thickers Stickers 5.5X11 2/Pkg – Here & There Accents & Phrases
Kaisercraft Designer Template 6X6 – Collage
Tim Holtz Idea-Ology Spiral Bound Sticker Book 4.5X8.5 – Snarky