Usually my kids like to be photographed and are quite good at posing. But my then 3-year old just kept fooling around when I tried to snap a picture of him looking cute in his brothers sunglasses. So the photos are quite blurry, but since his face looks so happy and cute I wanted to scrap them anyway. And since the sunglasses are pink it was also an excuse for me to use the pink flowery paper in the Hide & Seek collection from Kaisercraft. I seldom get to use the pink papers and I usually like them. I added a title with letter stickers from Heidi Swapps Hawthorne collection. The woodgrain pattern matches the one in the Hide & Seek collection perfectly.
Vanligtvis är mina barn bra på att stanna upp och hålla sig still när jag vill fota dem. Men denna gång ville min då 3-åring bara busa. Jag ville få en bild på honom när han provade sin brors rosa solglasögon, men alla blev väldigt suddiga. Men han ser så glad och söt ut så jag scrappar dem ändå. Lite också för att glasögonen är rosa och då får jag anledning att använda det söta rosablommiga pappret i Hide & seek-kollektionen från Kaisercraft. Det blir rätt sällan jag använder rosa, även om jag gillar det. Jag la till en titel från Heidi Swapps Hawthorne för att trämönstret matchar trämönstret som finns i Hide & seek perfekt.
OK, so this was a bit of an experiment. I needed one more pop of pink to match the bird in one of the clusters. And the text sticker was really perfect, except that it read "she" instead of "he". So I tried to cover the S in she by painting over it with a marker. I went through several of my pink markers to find the right hue… In some lights it works, you don't really notice the S att first. But in this photo and angle it really shines through… ah, well 🙂 At least I know what I mean by it.
OK, så det här var lite av ett experiment. Jag behövde något rosa för att pigga upp layouten och textklistermärket var perfekt. Men det stod "hon" istället för "han" (på engelska, "she" istället för "he"). Så jag letade upp en rosa penna och försökte måla över S:en. När man tittar på layouten funkar det rätt bra, man ser inte direkt att de finns där. Men i detta foto och med den här vinkeln så lyser de igenom rätt mycket. Jaja, det är som det är 🙂 Jag själv vet ju vad jag menar åtminstone.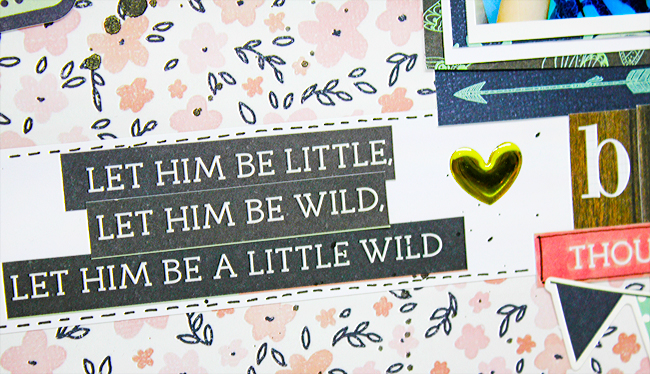 Material
Kaisercraft Cardstock Stickers 12X12 – Hide & Seek
Kaisercraft Hide & Seek Double-Sided Cardstock 12X12 – Deer
Kaisercraft Hide & Seek Double-Sided Cardstock 12X12 – Fawn
Kaisercraft Hide & Seek Double-Sided Cardstock 12X12 – Woods
Kaisercraft Collectables Cardstock Die-Cuts – Hide & Seek
Heidi Swapp Hawthorne Alphabet Stickers 3/Pkg – Woodgrain
Doodlebug Sprinkles Adhesive Glossy Enamel Shapes 33/Pkg – Heart Of Gold