Oh this is a special day! My DD turned 12 today! Happy Birthday dear A – love you to the moon and back!
I made this art journaling spread using the Bubble technique that Vicki Boutin showed in one of her video tutorials. I made it a few weeks back when me and my DT-collegue Karin at CiLi in PAPERS had a cyber-scrap-date. Then I added some heavy gesso to stencils from Vicki Boutin. I stamped also with a few random stamps and the stamps from the Simple Vintage Garden District collection. I decorated with the same – still my favorite collection from Simple Stories.
Idag är ingen vanlig dag, för idag är det Alvas födelsedag! Min älskade dotter fyller 12 år – älskar dig mer än du kan föreställa dig!
Jag har gjort en art journal-sida med en bakgrund gjord med bubbeltekniken som Vicki Boutin visade i en av sina videotutorials och som jag och DT-kollegan på CiLi in PAPERS testade i en cyber-scrap-date. Så kul vi hade! Sen la jag på gesso med stenciler från Vicki Boutin. Jag har stämplat med lite olika stämplar men också med stämpeln som ingår i Simple Vintage Garden District-kollektionen från Simple Stories – älskar den fortfarande!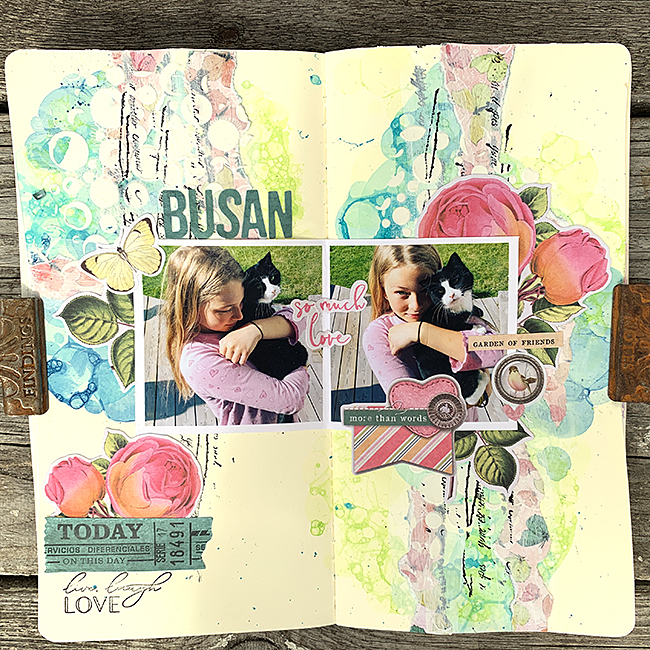 Material:
Dyan Reaveleys Dylusions Dyalog Insert Book – Blank #2
Simple Stories – Simple Vintage Garden District -6×8 paper pad
Simple Stories – Simple Vintage Garden District – Floral bits
Simple Stories – Simple Vintage Garden District – Bits & Peices
Simple Stories – Simple Vintage Garden District – Sticker book
Simple Stories – Simple Vintage Garden District – Stamps
Dina Wakley Akrylfärger
Dylusions Akrylfärger
Prima Finnabair Art Basics Soft Matte Gel 250ml – Transparent Matte
Dina Wakley Media Heavy Gesso  – White
Vicki Boutin – Mixed Media – Stencils – Kaleidoscope, circles
Stämplar, Ink
#MittKreativaKaos #PaperCraft #Scrapbooking #creative #inspiring #crafting #DESIGNinPAPERS #ArtJournal #ArtJournaling #SimpleStories #SimpleVintageGardenDistrict  #Dylusions #Dyalog #Dyary #DinaWakley #BubbleTechnique