Emerald and green shades are just lovely and soon we have springtime here in Sweden. There is so much inspiration out there and on the Art Daily Café, there is an inspirational mood board "Fresh Look" that goes in emerald and nature. I just love the colors, so this is my take on the mood board. Created on a wooden leaf and have used Finnabairs tissue paper, Musica. Some texture made with Icing Paste. I have also used Icing Paste to paint with and also blend it with Liquid Acrylic Paint and some Art Stones- I just love to use the same product in a different way.
Emerald- Smaragd gröna nyanser är så underbara och snart är det vår här. Jag längtar så till våren, värme och grönska. Så under tiden kan jag passa på att skapa i grönt. Det finns så mycket att hämta inspiration ifrån och här att jag fått inspiration från The Art Daily Café som har en moodboard som heter "Fresh Look" och färgen är smaragd grönt. Ett trä löv och på detta har jag tissue paper- Musica från Finnabair som bas- För struktur Icing Paste i en stencil- Tapestry. Jag har även målat med pasten och även blandat pasten med Art Stones och droppat med Liquid Acrylic Paint i pasten. Jag tycker det är så roligt att kunna använda samma produkt på flera olika sätt.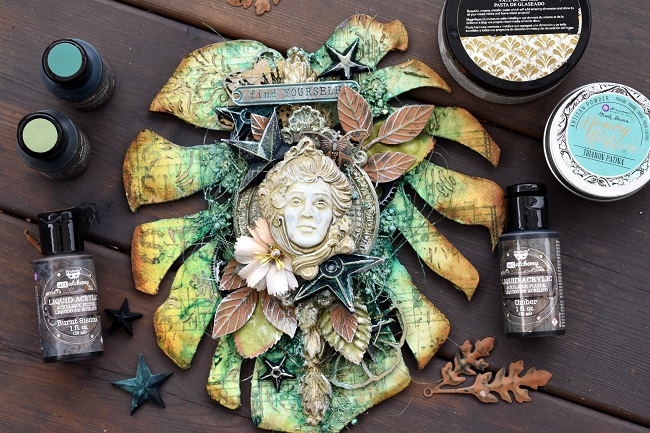 Having layers of moulds, paste and also metallic embellishments.
Har har lager av dekorationer, paste och även några metall dekorationer.
There is a video for you!
Kik gärna på videon så får du se hur jag gjorde.
Material:
Prima Finnabair Mixed Media Tissue Paper 27.5X19.7 6/Pkg – Musica
Prima Finnabair Art Basics Gesso 250ml – Clear
Prima Finnabair Stencil 6X9 – Iris Tapestry
Prima Finnabair Art Extravagance Icing Paste 120ml Jar – Vintage Gold
Prima Redesign Mould 5X8 – Regal Trimmings
Prima Finnabair Decor Moulds 5X8 – Mechanica
Prima Finnabair Decor Moulds 5X8 – Stars & Moons
Prima Finnabair Decor Moulds 3.5X4.5 – Flower Queen
Prima Redesign Mould 5X8 – Elisian Clockworks
Prima Finnabair Art Basics Heavy Gesso 250ml – Black
Prima Frank Garcia Artisan Powder 28gr – Trianon Patina
Prima Finnabair Art Alchemy Liquid Acrylic Paint 30ml – Emerald
Prima Finnabair Art Alchemy Liquid Acrylic Paint 30ml – Burnt Sienna
Prima Finnabair Art Alchemy Liquid Acrylic Paint 30ml – Avocado Green
Prima Finnabair Art Alchemy Liquid Acrylic Paint 30ml – Umber
Prima Finnabair Art Alchemy Antique Brilliance Wax 20ml – Lucky Emerald
Prima Finnabair Art Alchemy Antique Brilliance Wax 20ml – White Gold
Prima Finnabair Mechanicals Metal Embellishments 4/Pkg – Antique Labels
Prima Finnabair Mechanicals Metal Embellishments 8/Pkg – Woodland Leafs
Prima Finnabair Mechanicals Metal Embellishments 8/Pkg – Scrapyard Butterfly
Prima Finnabair Art Ingredients Mini Art Stones 230ml
Prima Finnabair Art Ingredients Art Stones 230ml
Tonic Studios Nuvo Embossing Powder 22ml – Classic Gold
xoxo Katja