Hello!
Idag har jag dekorerat ett trähjärta. Med hjälp av modelingpaste har jag skapat en mer strukturerad yta. Innan pasten torkat passar jag på att limma fast mina dekorationer. Modeling paste fungerar som ett lim.
Today I have altered a wooden heart. I have used modelingpaste to create texture. Before the paste is dry I glue my decorations. You can use modelingpaste as a glue.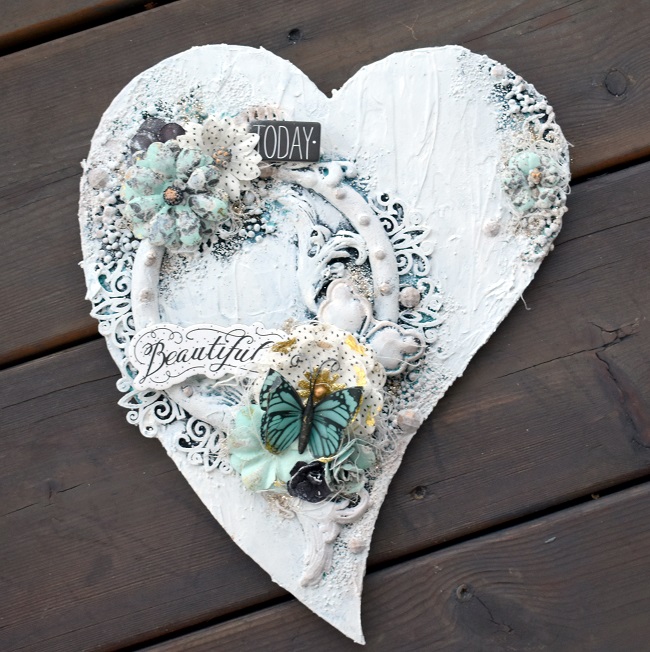 Blommor och chipboard kommer från Primas Flirty Fleur kollektion.
Flowers and chipboard come from Primas Flirty Fleur collection.
Det finns en video, så kika på den så kan du se hur jag använde alla produkter.
There is a video for you, Welcome.
Material:
Prima Finnabair Art Basics Modeling Paste 473ml – Opaque Matte
Prima Finnabair Art Basics Mixed Media Silicone Brush 1inch
Prima Flirty Fleur Mulberry Paper Flowers 8/Pkg – Simple Things
Prima Re-Design Paper Clay Bucket
Prima Redesign Mould 5X8 – Warrington Framework
Prima Say It In Crystals Adhesive Embellishments – Flirty Fleur
Prima Finnabair Art Ingredients Art Stones 230ml
Prima Finnabair Art Ingredients Mini Art Stones 230ml
Prima Finnabair Art Basics Heavy Gesso Tube 59ml – Black
Prima Finnabair Art Alchemy Acrylic Paint 50ml – Metallique Mermaid Teal
Prima Finnabair Art Alchemy Acrylic Paint 50ml – Metallique Light Patina
Prima Finnabair Art Basics Heavy Gesso Tube 59ml – White
Prima Flirty Fleur Mulberry Paper Flowers 10/Pkg – Take Flight
Prima Flirty Fleur Mulberry Paper Flowers 24/Pkg – Little Moments
Prima Finnabair Art Extravagance Glitter 6g 6/Pkg – Caribbean Seas
Prima Chipboard Stickers 5X8 2/Pkg – Flirty Fleur
Prima Finnabair Art Alchemy Metallique Wax 20ml – Aged Brass
xoxo Katja