Mer och mer höst. Så jag bjuder på en höstig tag med tyglöv från Prima.
The fall is here, so today I will show you a tag with Primas Fabric Leafs.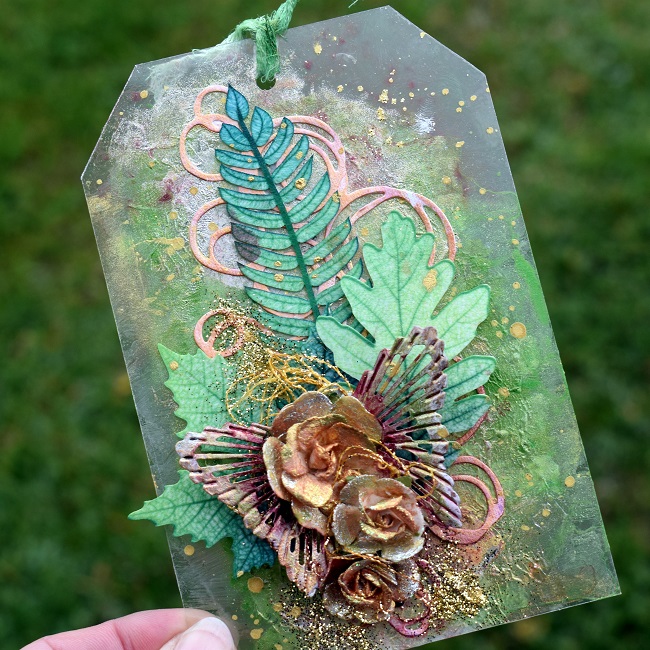 De här löven är mer gröna i tonen än de löven som jag visade på en tag för några veckor sedan. Men idén är desamma som i det inlägget. Målat med akrylfärger på plast. Sedan stansat ut Circle Mask från Sizzix som jag har limmat på tillsammans med löv, blommor, fjäril och lite glitter.
These leaves are more green than the ones I showed for some weeks ago. But the idea is the same, that I have been painting with acrylic paint on plastic. Then I have used a die from Sizzix, and glued the leaves, flowers, butterfly and some glitter.
Material:
Prima Printed Fabric Leaf Embellishments 12/Pkg – Mountain Pine
Prima Finnabair Art Basics Gesso 250ml – Clear
Prima Finnabair Art Alchemy Acrylic Paint 50ml – Metallique Green Olive
Prima Finnabair Art Extravagance Glitter 6g 6/Pkg – Mardi Gras
Prima Finnabair Art Alchemy Acrylic Paint 50ml – Metallique Gold Rush
Prima Finnabair Art Alchemy Acrylic Paint 50ml – Metallique Soft Satin
Prima Finnabair Mechanicals Metal Embellishments 9/Pkg – Grungy Butterflies
Prima Santorini Paper Flowers – Ammoudi
Sizzix Thinlits Die – Circle Mask
xoxo Katja