Det finns en frihetskänsla med att skapa Art Journal sidor. Här har jag skapat en sida på Sheena Douglas Stamp Paper och sedan satt in den i en Art Journal med svarta sidor.
There is a freedom to create Art Journal Pages. Here I have created a page with Sheena Douglas Stamp Paper and glue it into an Art Journal with black pages.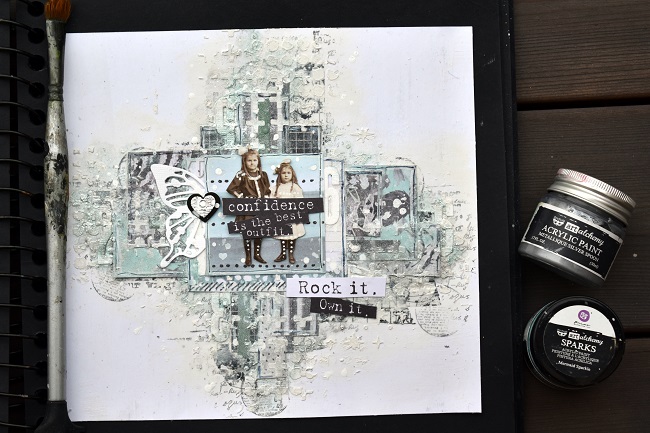 Det är flera lager av papper, Flirty Fleur Collection från Prima. Även flera lager av stenciler och modelling paste. Sedan två tunna lager av akrylfärg, Silver Spoon som är en silvrig metallisk färg. Har även lite av Sparks i färgen Mermaid Sparkle som sker en läckert skimmer.
The page has many layers of papers, here with Flirty Fleur Collection from Prima. I also have layers of stencils and modeling paste. On the top two thin coats of acrylic paint. Silver Spoon is a metallic paint.  Have also a bit of Mermaid Sparkle of the Sparks paint and that gives a shimmery effect.
Material:
Sheena Douglass White Stamping Card Paper A4 – Pack of 60
Prima Finnabair Art Basics Heavy Gesso 250ml – White
Prima Finnabair Art Basics Modeling Paste 473ml – Opaque Matte
Prima Finnabair Art Basics Soft Matte Gel 250ml – Transparent Matte
Prima Flirty Fleur Foiled Double-Sided Cardstock 12X12 – Traveling Florals
Prima Flirty Fleur Foiled Double-Sided Cardstock 12X12 – Little Notes
Prima Flirty Fleur Foiled Double-Sided Cardstock 12X12 – Birds Of A Feather
Prima Flirty Fleur Foiled Double-Sided Cardstock 12X12 – Something Floral
Prima Flirty Fleur Foiled Double-Sided Cardstock 12X12 – So Lovely
Finnabair Cling Stamps 6X7.5 – Don´t Forget To Fly
Prima Finnabair Art Alchemy Acrylic Paint 50ml – Sparks Mermaid Sparkle
Prima Finnabair Art Alchemy Acrylic Paint 50ml – Metallique Silver Spoon
Prima Finnabair Clear Stamp 2.5X3 – Messy
Tim Holtz Layered Stencil 4.125X8.5 – Plus
Tim Holtz Layered Stencil 4.125X8.5 – Splotches
Tim Holtz Sizzix Sidekick Starter Kit
Memory Box Die – Adora Buttery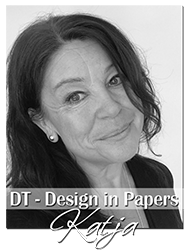 xoxo Katja