Flirty Fleur från Prima är en läcker kollektion med papper och blommor. Idag vill jag inspirera med en liten canvas. Bakgrunden är målad med Primas metalliska färger. Dekorationer av papperslera och lite akrylfärger på dessa.
Flirty Fleur is an adorable collection with papers and flowers. Today I want to inspire you with a small canvas. I have painted the background with Primas metallic watercolors.  There are decorations made with moulds. Also used acrylic paint.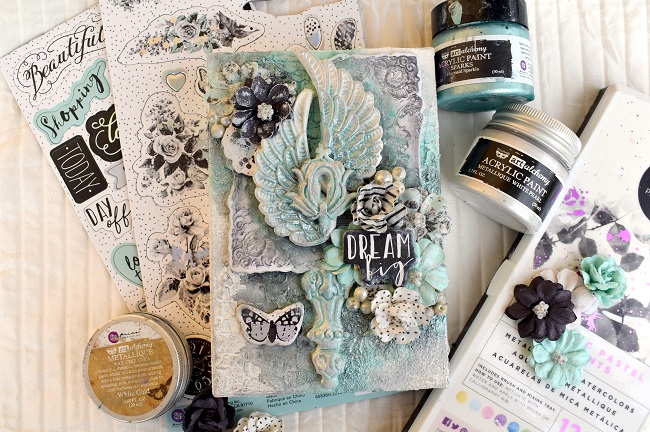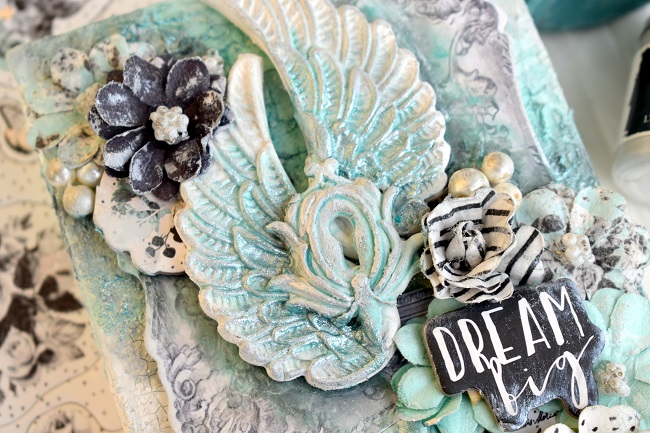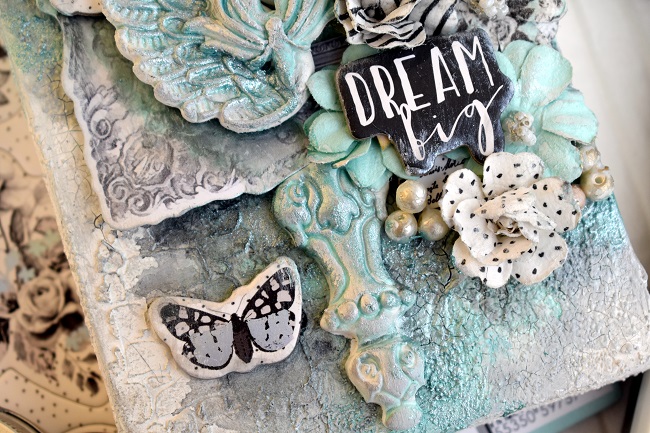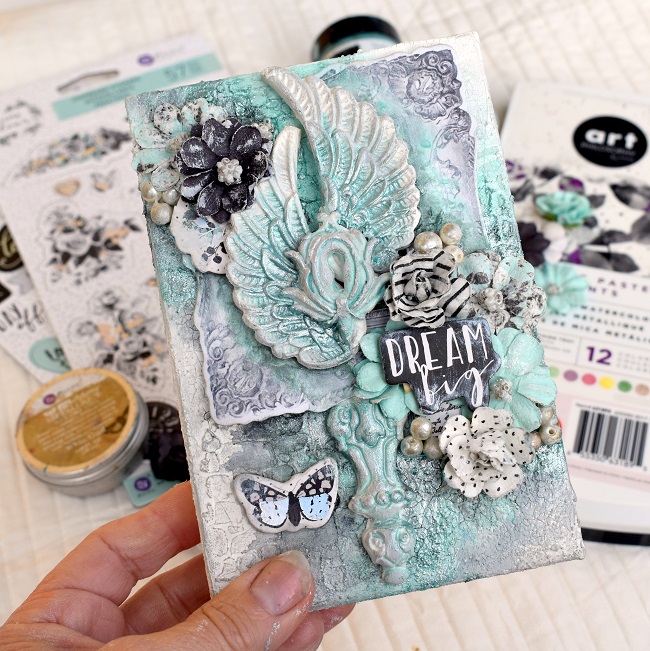 Det finns en video att kika på- Välkommen!
There is a videotutorial for you- Welcome!
Material:
Prima Metallic Accents Semi-Watercolor Paint Set 12/Pkg – Pastel
Prima Sticker Sheet 4X6.5 4/Pkg – Flirty Fleur
Prima Flirty Fleur Mulberry Paper Flowers 24/Pkg – Little Moments
Prima Silicone Mould – Wing & Locket
Prima Finnabair Art Basics Heavy Gesso 250ml – White
Prima Re-Design Paper Clay Bucket
Prima Finnabair Art Extravagance Paper Paste 250ml
Prima Finnabair Art Alchemy Acrylic Paint 50ml – Metallique White Pearl
Prima Finnabair Art Alchemy Acrylic Paint 50ml – Sparks Mermaid Sparkle
Prima Iron Orchid Designs Vintage Art Decor Mould 5X8 – Keyholes
Prima Finnabair Art Extravagance Texture Paste 250ml – White Sand
Prima Finnabair Art Extravagance Texture Paste 250ml – White Crackle
Prima Finnabair Art Basics Heavy Body Gel 250ml
Prima Finnabair Art Ingredients Melange Art Pebbles 46/Pkg
Prima Finnabair Art Basics Heavy Gesso Tube 59ml – Black
Prima Iron Orchid Designs Vintage Art Decor Mould 5X8 – Baroque #6
Prima Frank Garcia Memory Hardware Glass Pearls – 2
Prima Finnabair Art Alchemy Metallique Wax 20ml – White Gold
Tim Holtz Mini Layered Stencil Set 3/Pkg – Set 2
xoxo Katja