Hi!
It's time for a challenge here at the DiP-blog. We have a lovely happy colored Mood Board with lots of summer vibes for you to get inspired by. And the whole DiP-team will share projects inspired by this Mood Board here at the blog.
Get inspired by the Mood Board in any way and share it in any social media and be sure to tag it #DIPMoodboardChallenge . Also be sure to tell us what from the photo inspired you when you share it. You have from today June 11th until June 24th to play along, your entry must be new and made for this challenge.
Be sure to join in and play along with us, we would love to see what you come up with!
Upload and tag your project, Layout, PL,Card, DIY, Travelers Notebook or anything with:
#DIPMoodboardChallenge
Good Luck!
Det är dags för en utmaning här i DiP-bloggen. Vi har en härligt färgglad Moodboard med en massa sommar känsla för dig att inspireras utav. Och hela Dip-teamet kommer att dela med sig av sina projekt, inspirerade av Moodboarden, här på bloggen.
Låt dig inspireras av Moodboarden på något sätt och dela det med oss via sociala medier och tagga det #DIPMoodboardChallenge. Berätta gärna vad från bilden som du blivit inspirerad utav när du skickar in ditt bidrag. Du har från och med idag 11 Juni till och med den 24 Juni på dig att vara med i tävlingen, ditt bidrag ska vara nytt och skapat för den här utmaningen. Hoppas du hänger med oss och utmanas, vi ser verkligen framemot att se vad du kommer att skapa!
Ladda upp ditt bidrag, Layout, PL, Card, DIY, Travelers Notebook eller vad du vill göra och märk det med:
#DIPMoodboardChallenge
Lycka till!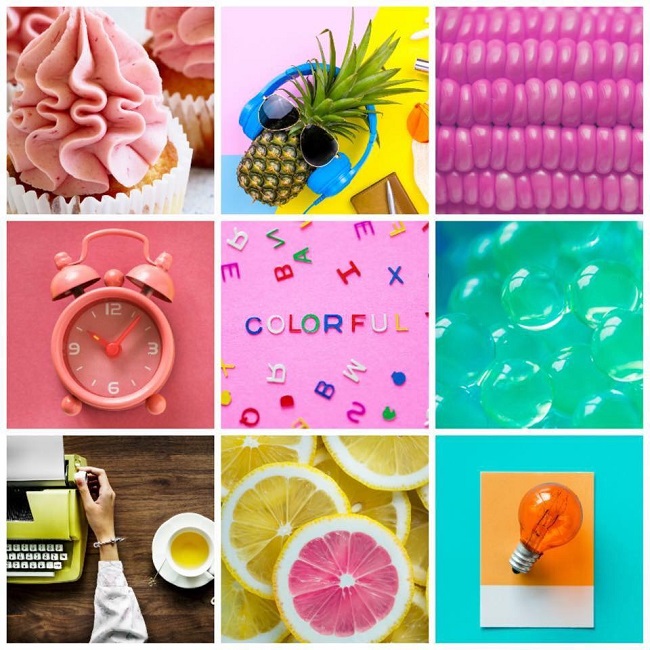 Have made some ATC cards. Each letter has its own card. The cards are painted with Impasto Paint and Art Alchemy Metallic Paint. For decorations, I have Melange Art Pebbles och Wood Shapes from Kaiserkraft.
Här kommer ett gäng med ATC kort. Varje bokstav har fått ett eget kort. Korten är målade med Impasto Paint och Art Alchemy Metallic Paint. Härliga  Som dekorationer har jag Melange Art Pebbles och trädekos från Kaiserkraft.
On my first cards, I have painted with Impasto Paint. Thick and creamy colors that cover the surface. I have used a stencil from Tim Holtz and for texture, I have Paper Paste. There is also some Mini Art Stones for extra texture.
På de fyra första fyra korten har jag målat med Impasto Paint. Tjocka och krämiga färger som täcker ytan på första målningen. I bakgrunden har jag använt en stencil från Tim Holtz och stencilen är fylld med Paper Paste som ger en känsla av gammalt papper. Samtidigt så sprinklade jag över lite Mini Art Stones. Limmade allt med 3d Gloss Gel.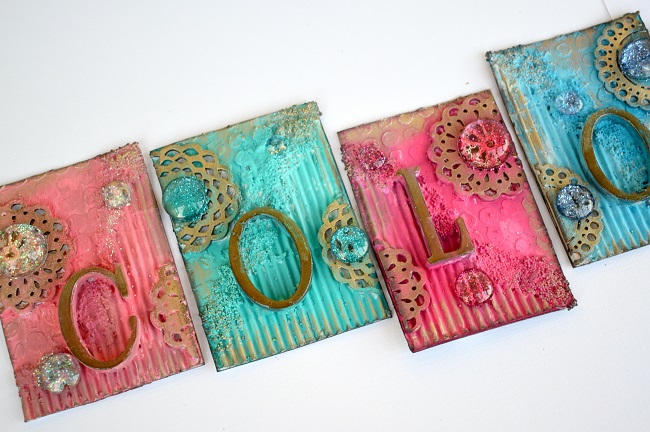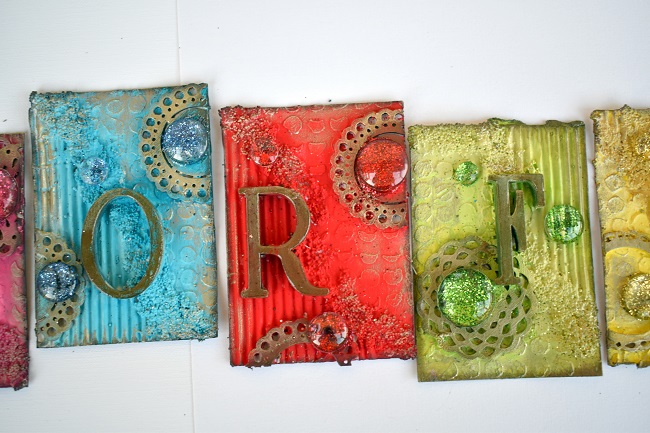 On the top of these cards, some Art Alchemy wax and White Gold matches these Colorful Cards.
På toppen har lite Art Alchemy wax och White Gold passar utmärkt på dessa färgglada kort.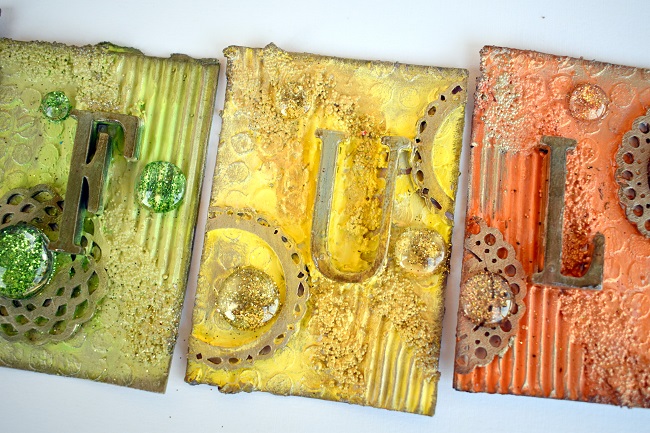 Looking forward to see your work. See you!
Nu hoppas jag få se hur ni tolkar den läckra Mood Boarden. Vi ses!
Katja
Material:
Prima Finnabair Art Alchemy Impasto Paint 75ml – Azure
Prima Finnabair Art Alchemy Impasto Paint 75ml – Raspberry Pink
Prima Finnabair Art Alchemy Impasto Paint 75ml – Poppy Red
Prima Finnabair Art Alchemy Impasto Paint 75ml – Pumpkin
Prima Finnabair Art Alchemy Impasto Paint 75ml – Snow White
Prima Finnabair Art Alchemy Acrylic Paint 50ml – Lime Peel
Prima Finnabair Art Alchemy Acrylic Paint 50ml – Pure Sunshine
Prima Finnabair Art Alchemy Acrylic Paint 50ml – Fresh Orange
Prima Finnabair Art Ingredients Melange Art Pebbles 46/Pkg
Prima Finnabair Art Extravagance Paper Paste 250ml
Prima Finnabair Art Ingredients Mini Art Stones 230ml
Prima Finnabair Art Basics 3D Gloss Gel Tube 59ml- Transparent
Prima Finnabair Art Basics Soft Matte Gel 250ml – Transparent Matte
Prima Chalk Fluid Edger Pad Branch Bark
Prima Finnabair Art Extravagance Glitter 6g 6/Pkg – Luminous
Prima Finnabair Art Extravagance Glitter 6g 6/Pkg – Mardi Gras
Prima Finnabair Art Extravagance Glitter 6g 6/Pkg – Caribbean Seas
Prima Wood Alphas In A Shaped Box – House 1,5
Kaisercraft Wooden Shapes 45/Pkg – Doilies
Tim Holtz Mini Layered Stencil Set 3/Pkg – Set #33