Förra veckan så visade jag upp framsidan på ett album. Denna veckan så så får du några bilder från insidan. Jag har skapat insidan med mönstrade papper från Prima Marketing och papper från kollektionen Santorini.
Last week I showed you the cover of my album.  Now you will see the inside. I have created the inside with patterned paper from Prima Marketing and the collection Santorini.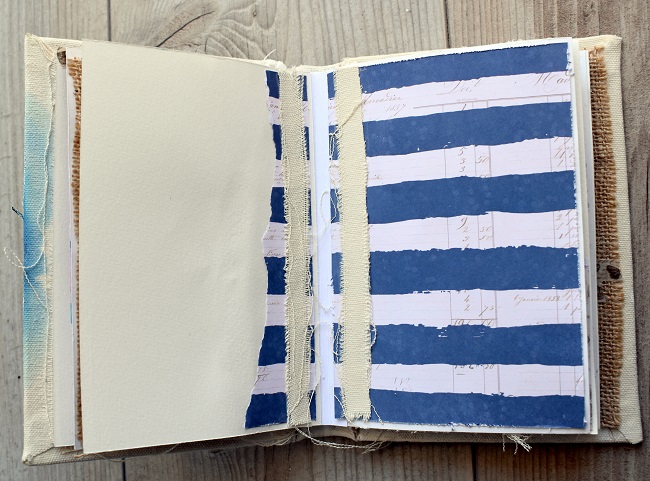 Målar alla sidorna med ett tunt lager med gesso och sedan använder jag mig av Acrylic Paint , 3d gloss gel för struktur. Sifferstämplar för att skapa lite extra intresse.
I paint all the pages with a thin coat of gesso and the Acrylic Paint from Prima, 3D gloss gel for texture. And the stamping to create some interest.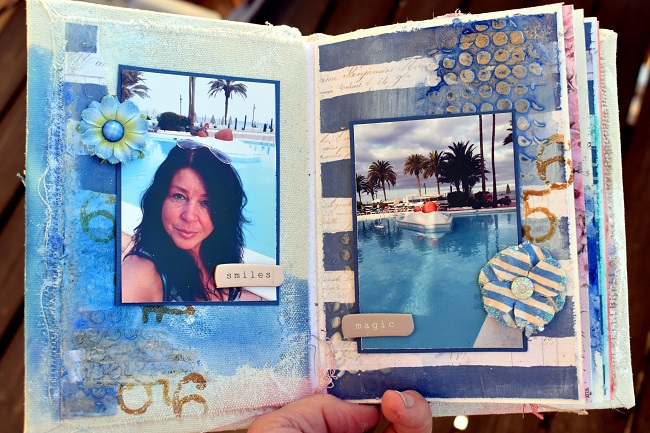 Sidorna är uppbyggda med watercolor paper från Prima och ett slätt Stamping Card Paper av Sheena Douglas.
I have bulit up the pages with watercolor paper from Prima and a Stamping Card Paper from Sheena Douglas,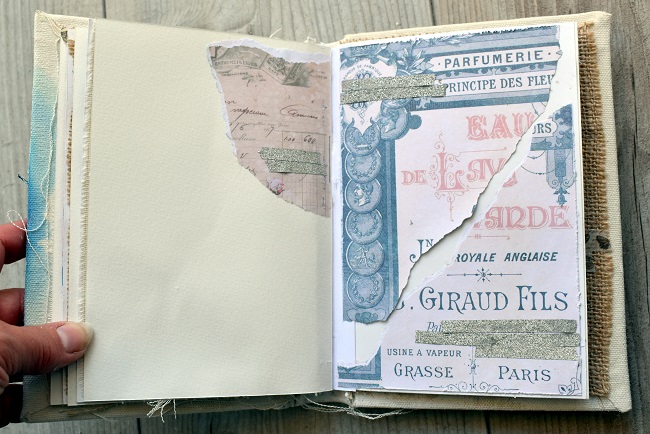 Akrylfärg och stämplar från Prima-Finnabair har jag använt för att skapa cirklarna på sidan. Några av cirklarna är fyllda med Crystal Glaze som ger en glossig, blank yta.
To make the circles, I have used Acrylic paint and stamps from Prima-Finnabair. Some of the circles are filled with Crystal Glaze that gives the surface a glossy look.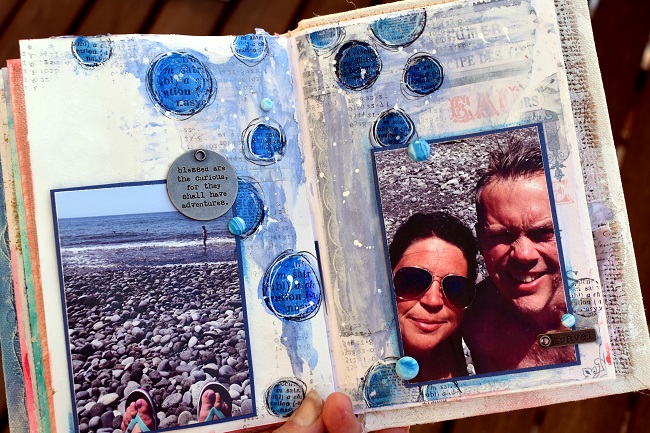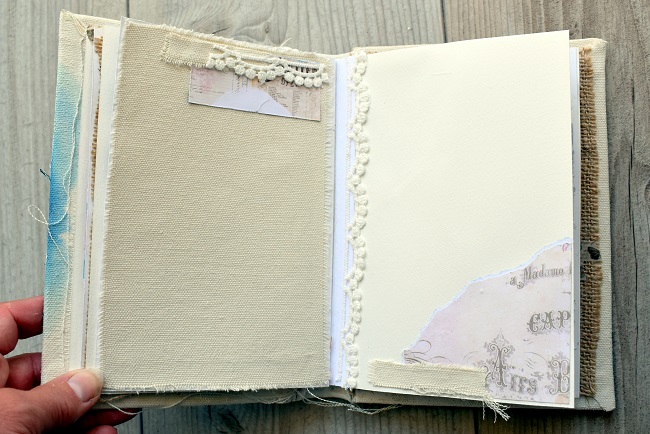 Här har jag blandat två färger av Impasto Paint, Raspberry Pink och Pumkin för att få den somriga korallfärgen. Stencilen med blommar kommer från Tim Holtz och har fått ett lager av Crackle Paste från Prima i sig.
Here I have mixed to colors of Impasto Paint, Raspberry Pink and Pumkin to receive the coral color. The stencil with the gorgeous flowers comes from Tim Holtz and for texture I have Texture Paste with crackle, 
Tack för att du kikade förbi./ Thank you for stopping bye.
Katja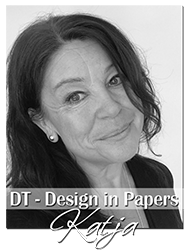 Material:
Prima Say It In Crystals Adhesive Embellishments – Santorini
Prima Santorini Paper Flowers – Akrotiri
Prima Santorini Double-Sided Cardstock 12X12 – Santorini Moments
Prima Santorini Double-Sided Cardstock 12X12 – Mix & Match
Prima Color Philosophy Permanent Ink Pad – Sea Glass
Finnabair Cling Stamps 6X7.5 – Don't Forget To Fly
Prima Finnabair Art Alchemy Acrylic Paint 50ml – Metallique Royal Blue
Prima Finnabair Art Alchemy Acrylic Paint 50ml – Metallique Ice Queen
Prima Santorini Paper Flowers – Fira
Prima Iron Orchid Designs Decor Clear Stamps 12X12 – Alpha #3
Prima Color Philosophy Permanent Ink Pad – Adobe House
Prima Color Philosophy Permanent Ink Pad – Sea Glass
Prima Finnabair Art Basics Soft Matte Gel 250ml – Transparent Matte
Prima Finnabair Art Extravagance Texture Paste 250ml – White Crackle
Prima Finnabair Art Alchemy Impasto Paint 75ml – Raspberry Pink
Prima Finnabair Art Alchemy Impasto Paint 75ml – Pumpkin
Prima Finnabair Art Basics Heavy Gesso 250ml – White
Prima Finnabair Art Alchemy Acrylic Paint 50ml – Metallique Royal Blue
Prima Finnabair Art Alchemy Acrylic Paint 50ml – Metallique Ice Queen
Prima Finnabair Art Alchemy Metallique Wax 20ml – White Gold
Prima Finnabair Art Basics 3D Gloss Gel 236ml – Transparent
Prima Finnabair Art Basic Fabric Pack
Prima Watercolor Paper Pad 8X8 20/Pkg
Tim Holtz Idea-Ology Metal Quote Tokens 8/Pkg
Tim Holtz Idea-Ology Metal Story Sticks 12/Pkg .25X1
Tim Holtz Mini Layered Stencil Set 3/Pkg – Set #33
Tim Holtz Mini Layered Stencil Set 3/Pkg – Set 25
Tim Holtz Idea-0logy Design Tape 8/Pkg – Chatter
Tonic Studios Nuvo Crystal Glaze 50ml
Jane Davenport Mixed Media Paint Over Pens 5/Pkg
Sheena Douglass White Stamping Card Paper A4 – Pack of 60