Ni har väl inte missat att 7Gypsies har fantastiska kit, Mixed Media Junque Pack. Dessa pack innehåller papper, mönstrat, enfärgat, wellat, spets, canvas och säckväv. Hur roligt kit är inte det? Idag har jag utgått från packet och gjort ett kort med mixedmedia bakgrund.
Have you seen the Mixed Media Junque Pack from 7Gypsies? In these packs, you find papers, lace, burlap, and canvas. So usable and fun kit to create with.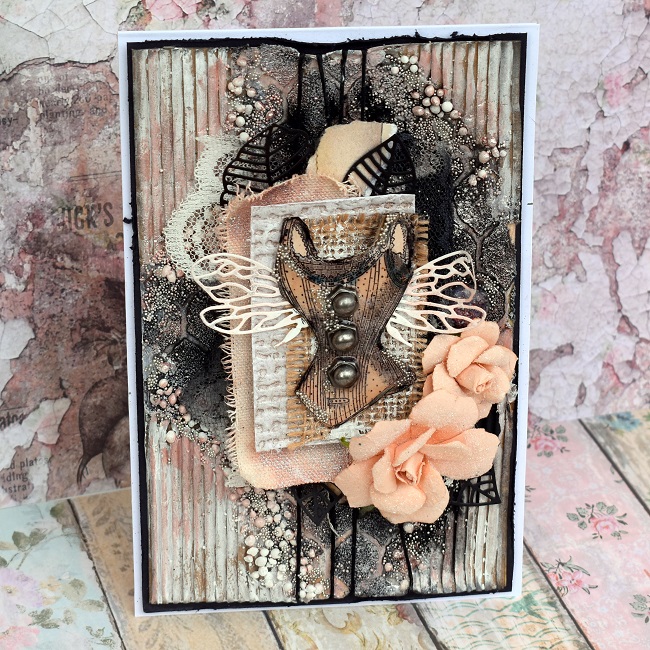 Bakgrunden är gjord med Texture Paste- Graphite och som stencil har jag använt 7Gypsies Adhesive Tall Base- en stencil som är självhäftande. Den kan du använda även som dekoration till dina projekt.
The background is made with Texture Paste- Graphite and like a stencil, I have used 7Gypsies Adhesive Tall Base. You can also use this to decorate your projects.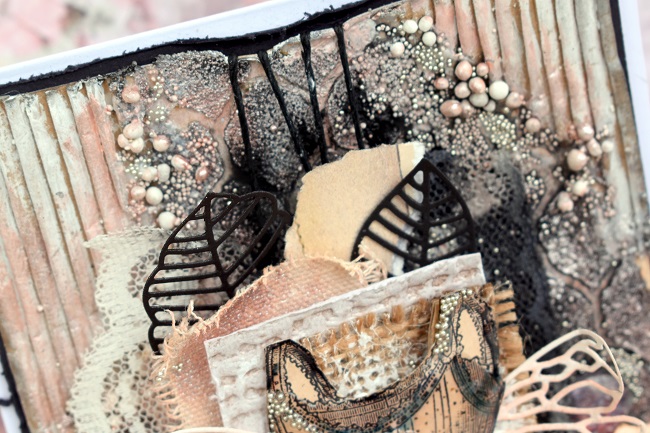 Lager på lager med de fantastiska papprena. Korsetten har jag klipp ut från detta fina pack. Vingarna är från en die from Memory Box. Det som inte syns så bra med hela korsetten är "glossad" med Nuvo Crystal Glaze.
Working on layers with this pack. The corset, I have been cut out from 7gypsies paper.  The wings come from a die from Memory Box.  On the corset, I have Nuvo Crystal Glaze to make the surface glossy.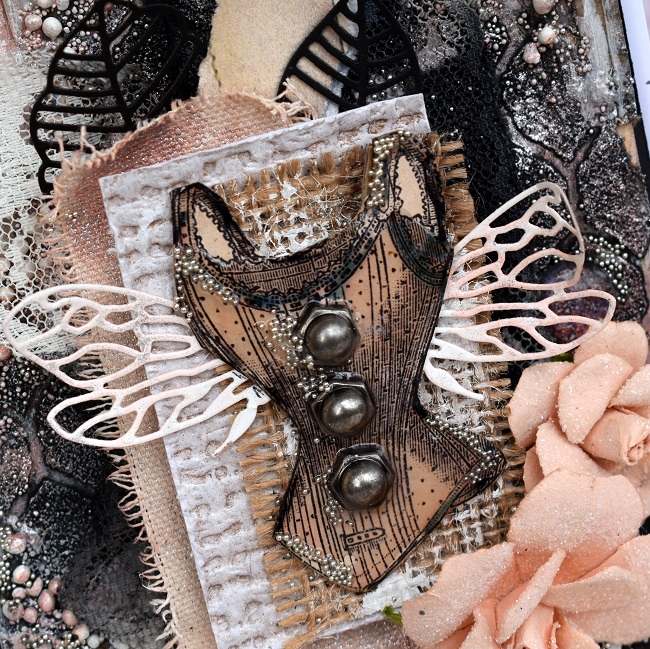 Målat med en Sparks färg i bakgrunden och den skimrar helt fantastiskt.
The background is painted with Primas Sparks and sparkling is incredible.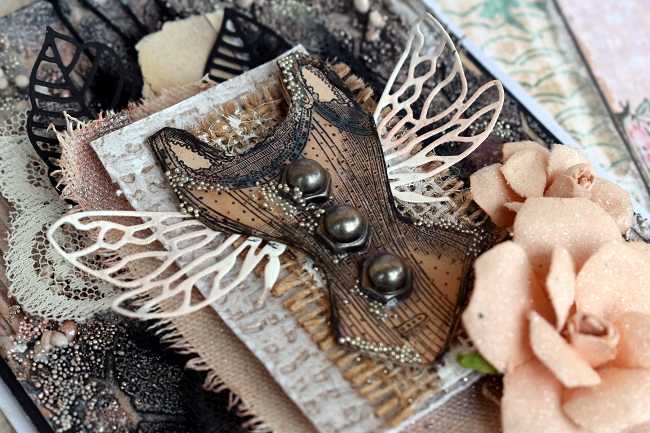 Vi ses nästa vecka. See you next week!
Katja
Material:
7 Gypsies Mixed Media Junque Pack
7 Gypsies Architextures Adhesive Tall Base 9X6 – Triangle Grid
Prima Finnabair Art Extravagance Texture Paste 250 ml – Graphite
Prima Finnabair Art Ingredients Art Stones 230ml
Prima Finnabair Art Ingredients Mini Art Stones 230ml
Prima Finnabair Art Alchemy Sparks Acrylic Paint 50ml – Butterfly Spell
Prima Finnabair Art Basics Soft Matte Gel 250ml – Transparent Matte
Prima Finnabair Art Basics Heavy Gesso Tube 59ml – White
Prima Heaven Sent 2 Flowers – Madeline
Prima Finnabair Mechanicals Metal Embellishments 20/Pkg – Mini Hardware
Tonic Studios Nuvo Crystal Glaze 50ml
Memory Box Die – Intricate Bee
Memory Box Die – Fine Cut Leaves