Hej! Har ni sett alla härliga mixedmedia nyheter från Finnabair- Prima? Nu har gjort en tag med den nya pastan Paper Paste som struktur, tillsammans med Metal Rust setet. Ett rostigt set med härliga färger med struktur som man måla/ dutta med på oilka sätt.
Hi! Have you seen all the lovely mixedmedia news from Finnabair- Prima? I have made a tag with the Paper Paste. And I have used it with with the new Metal Rust set. A set with three gorgeous colors with rust feeling. I just love them.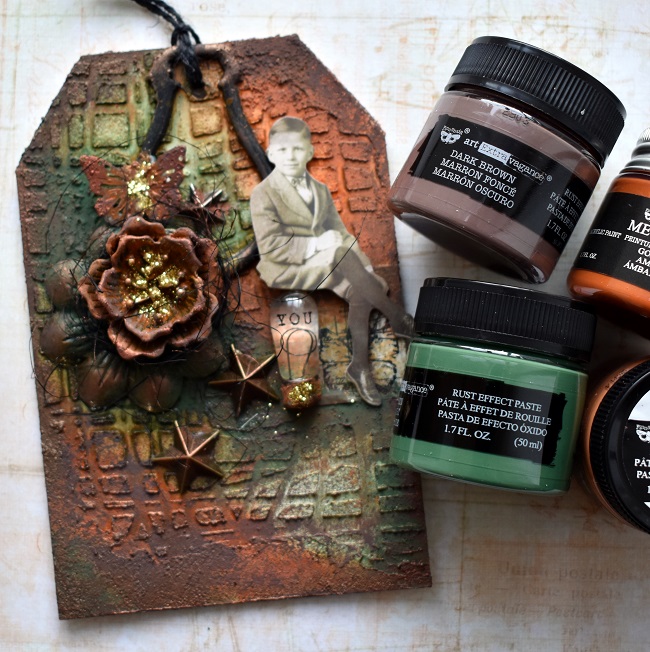 Även nya metalldekos har kommit och metallrosor kan man inte få mycket av.
Also some new metal embellishments and these metal roses you can't get enough of.
Det har även kommit in nya metalliska akrylfärger här har jag målat med lite orange-Metallique Gold Amber. Den matchar helt perfekt med Metal Rust setet.
There is also some new acrylic paint and the color Metallique Gold Amber match the Metal Rust perfect.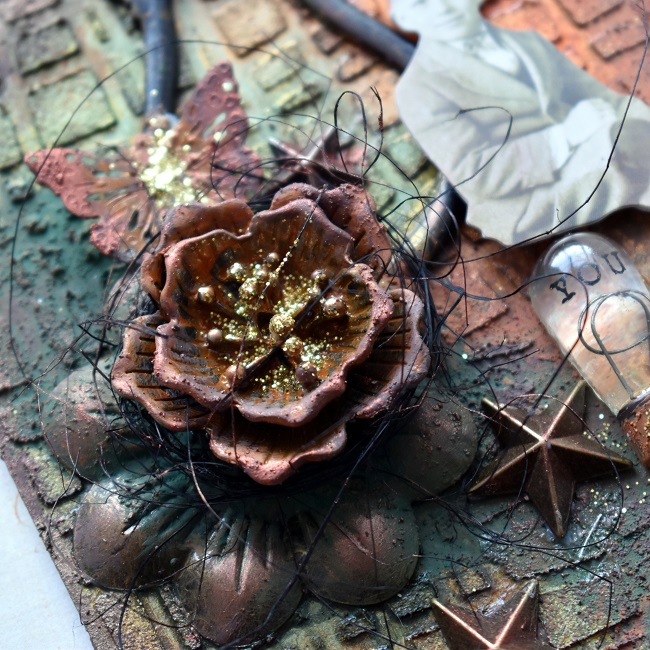 Paper Pasten ger en otroligt härlig struktur och denna pasten kommer bli en favorit hos mig.
Love the texture of the Paper Paste, and it will one of my favorites.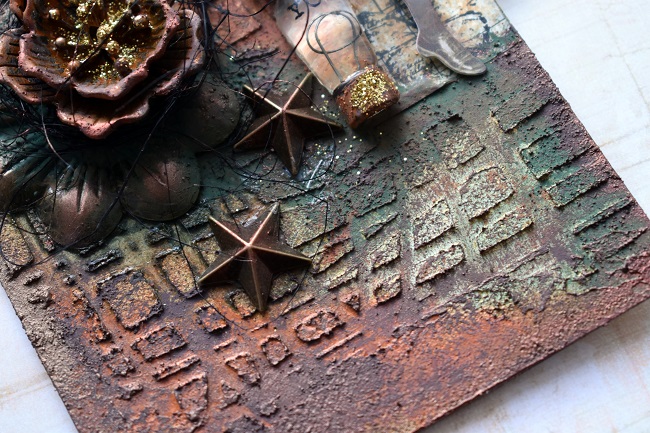 Lite wax här och var på tagen för att skapa en ytterliggare dimension.
Also, some Prima wax to make some highlights.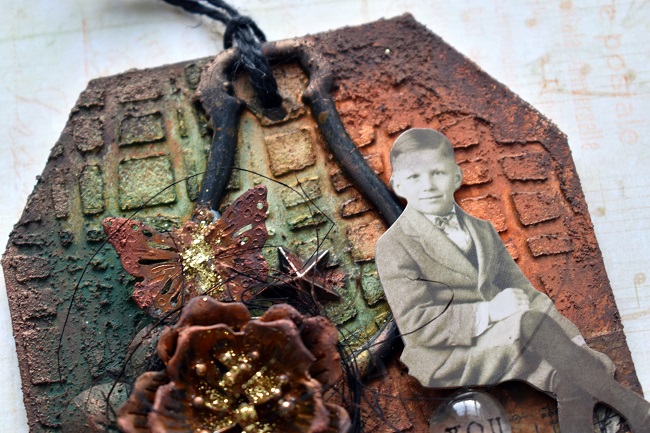 Tack för titten! Hoppas ni kommer tillbaka nästa vecka- då visar jag ännu ett nyinkommet rostigt set med färger.
Thank you for stopping by. Come back next week, a new tag with one other of the new Rust Effect Paste sets.
Katja
Material:
Prima Finnabair Art Extravagance Rust Effect Paste 50ml 3/Pkg – Metal Rust
Prima Finnabair Art Extravagance Paper Paste 250ml
Prima Finnabair Mechanicals Metal Embellishments 9/Pkg – Flowers
Prima Finnabair Art Alchemy Acrylic Paint 50ml – Metallique Gold Amber
Prima Travelers Journal Decorative Tape 35mm 3/Pkg – Inked Maps
Prima Junkyard Findings Vintage Trinkets – Small Typo Bulbs
Prima Finnabair Mechanicals Metal Embellishments 26/Pkg – Mini Stars
Prima Finnabair Mechanicals Metal Embellishments 9/Pkg – Grungy Butterflies
Prima Finnabair Art Alchemy Metallique Wax 20ml – White Gold
Prima Finnabair Art Extravagance Glitter 6g 6/Pkg – Luminous
Övrigt: sisal, Prima Stencil