Jag älskar verkligen Doodlebug. Det finns få papper som gör mig så glad som dessa. Jag hade det stora nöjet att få följs med på den årliga mässan, Creativation, som gick i Phoenix i år. Förra året var min DT-kollega Jessica med, och hon gjorde en sak som jag definitvit var tvungen att göra lika dant. Hon gick in i Doodlebugs monter och bad att få lägga sig på deras 1 decimeter tjocka rosa heltäckningsmatta som är i deras monter. Och då kunde ju inte jag vara sämre.
I really, really love Doodlebug. Few papers make me so happy like theese. I had the great pleasure to be able to go to the big Craft show, Creativtion, in Phoenix this year. Last year my DT-collegue Jassice joined in, and she did something that I defenitly had to do the same. She Went in to the Doodlebug booth and asked promision to lay down on their 4 inches thick carpent. At that moment, I just knew, I had to do the same.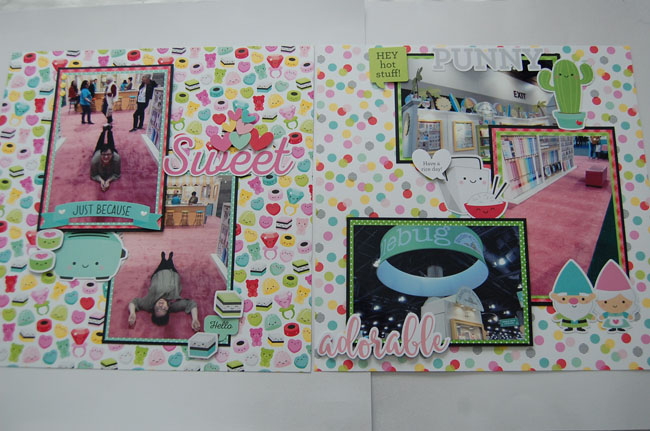 Jag har använt mig av serien So Punny, som är deras Valentine serie, men den går absolut att använda till annat också.
I´ve used the serie So Punny, wich is there Valentine series, but you can pretty much use it to anything you want.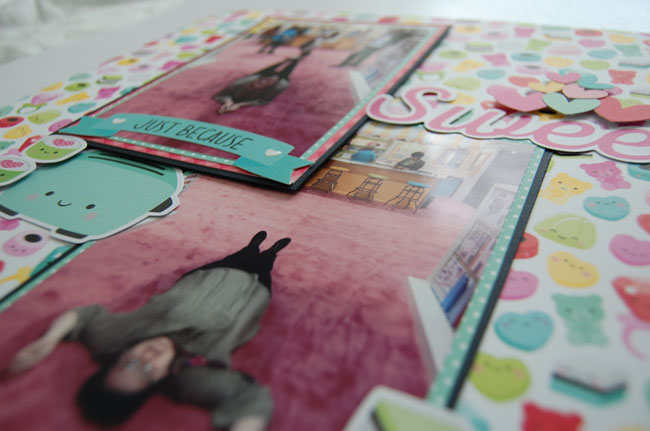 Lite närbilder på dekorationerna, som det massor ut av.
Some closeups at the decorations, wich there is plenty of.
Här ligger jag på den rosa mattan och har det bra. Behöver jag säga att det väckte lite uppmärksamhet…
Here´s me, lying on the pink carpet. Did I mention that I got some attention doing this…
Ses om en vecka.
See you next sunday.
Materiallista:
Doodlebug Odds & Ends Die-Cuts – So Punny
Doodlebug Chit Chat Die-Cuts – So Punny
Doodlebug Petite Prints Cardstock 12X12 12/Pk – So Punny
Doodlebug Sprinkles Adhesive Glossy Enamel Shapes – Valentine Glitter
Doodlebug Sprinkles Adhesive Glossy Enamel Shapes – Sweeties
Doodlebug Sprinkles Adhesive Glossy Enamel Shapes – Tiny Hearts
Crafters companion permanent tape runner
Scrapbook Adhesives 3L 3D Self-Adhesive Foam Squares 126/Pkg – White
Tonic Studios Super Trimmer