God fortsättning på er!
Älskar julpyssel och allt därtill. Men har länge längtat efter att skapa med de underbara papprena och dekorationerna från Primas serie, St. Tropez. Så jag letade upp ett somrigt foto från Gotland som matchar de marina temat.
Happy Holidays!
Love to create Christmas decorations. But when I received the wonderful papers from Primas collection, St Tropez, I couldn't resist them.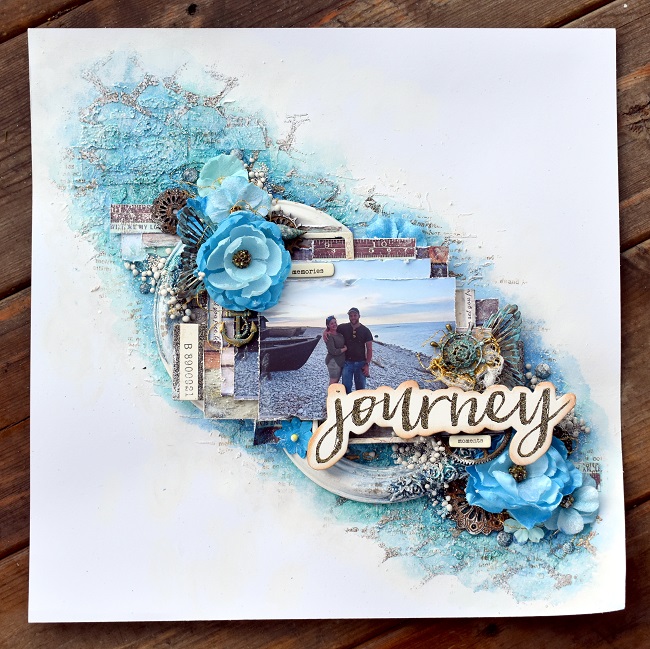 Byggt upp ett lager av papper runt fotot. Har också en matchande chipboard, blommor och metalldekorationer i samma serie. Det är så enkelt att skapa när allt matchar varandra. Har även lite rostiga metalldekos som kikar fram lite här och var.
I have layers of papers around the photo. I have also some matching chipboard, flowers and metallic embellishments. It is easy to create when all the decoration matches so well.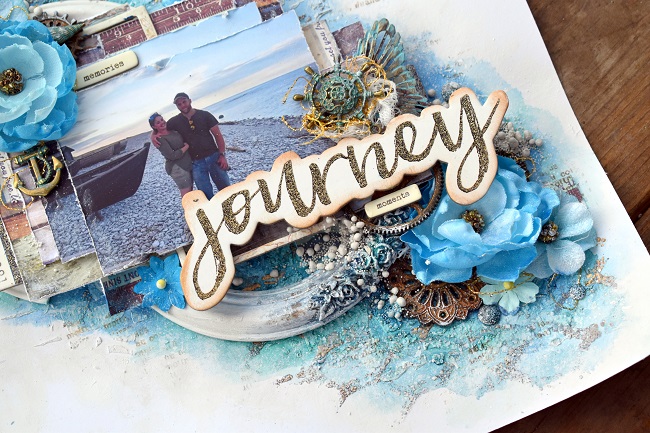 I bakgrunden har jag ett lager med Stampendous Embossing Enamel i en stencil. Den ser man skymta lite här och var under ett lager med Stone Effect Paste och modelingpaste. Ett kit med tre burkar med lite extra struktur och ytan blir lite sträv av Limestone. Blir så läcker! När allt torkat så har så sprayar jag lite vatten som jag sedan lägger på tre olika nyanser av Impasto Paint. Blir det för mycket någonstans så torkar jag helt enkelt bort det.
In the background, I have a layer with Stampendous Embossing enamel and over that I have a layer with Stone Effect Paste, the paste Limestone. So great, the texture you receive with paste. When everything is dry, I spray some water and add three colors od Impasto Paint.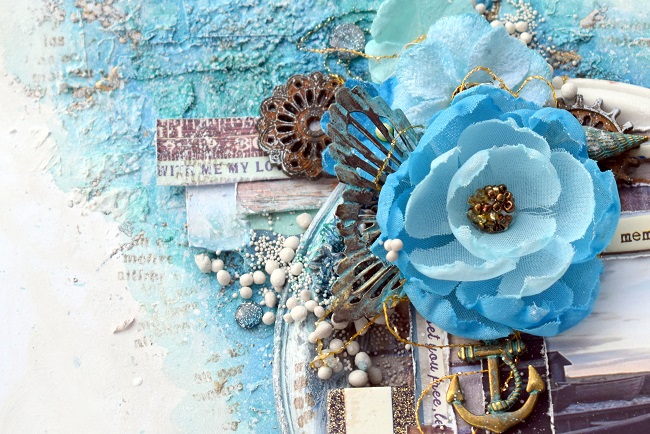 För att fästa dekorationer och blommor och lager med papper så använder jag 3d Mattegel och för att fästa Artstones hart jag Soft Matte Gel.
To glue decorations, I use 3d Matte gel and to glue the Artstones I use Soft Matte Gel.
Då önskar jag er ett riktigt Gott Nytt År! Önskar er alla ett kreativt och händelserikt år, 2018.
I wish you a Happy New Year and hope you will have a creative year 2018.
Kram/Hugs Katja
Material:
Prima Ephemera Cardstock Die-Cuts – St. Tropez
Prima Say It In Crystal Adhesive Embellishments – St. Tropez
Prima Metal Embellishments 10/Pkg – St. Tropez
Prima Self-Adhesive Chipboard – St. Tropez
Prima Double-Sided Paper Pad 8X8 30/Pkg – St. Tropez
Prima Finnabair Mechanicals Metal Embellishments 7/Pkg – Rustic Gears
Prima Finnabair Mechanicals Metal Embellishments 9/Pkg – Grungy Butterflies
Prima St. Tropez Flowers – Meredith
Prima St. Tropez Flowers – Isla Marina
Prima St. Tropez Flowers – St. Tropez
Prima Frank Garcia Memory Hardware Resin Frames 2/Pkg – Petite Round
Prima Finnabair Art Alchemy Impasto Paint 75ml – Cobalt
Prima Finnabair Art Alchemy Impasto Paint 75ml – Azure
Prima Finnabair Art Alchemy Impasto Paint 75ml – Jade
Prima Trigger Spray Bottle 2oz – Empty
Prima Finnabair Art Basics Modeling Paste 473ml – Opaque Matte
Prima Finnabair Art Basics Soft Matte Gel 250ml – Transparent Matte
Prima Finnabair Art Basics Gesso 250ml – Clear
Prima Finnabair Art Basics Heavy Gesso 250ml – White
Prima Finnabair Art Ingredients Mini Art Stones 230ml
Prima Finnabair Art Ingredients Art Stones 230ml
Prima Finnabair Art Alchemy Metallique Wax 20ml – White Gold
Prima Chalk Fluid Edger Pad Rusty Bucket
Prima Stone Effect Pastes 3x100ml – Pumice, Limestone, Concrete
Prima Finnabair Art Basics 3D Matte Gel 236ml – Transparent
Stampendous Aged Embossing Enamel – Chunky Metallic
Memento Ink Pad Rich Cocoa
Tim Holtz Cling Rubber Stamp Set – Reflections
Övrigt:
Stenciler från Prima
Guldtråd
Ostduk