Hej hopp!
Vissa händelser i livet är bättre än andra. Man glömmer dem aldrig. På dagens LO kan man se en av mina sådana stunder. Jag blev farmor för första gången i januari 2017 och nu ska jag bli mormor för första gången i januari 2018.
Hi there!
Some events in life is better then others. You never forget them. In todays LO you can se one of those moments of mine. I became a paternal grandmother for the first time in January of 2017. I will become a maternal grandmother for the first time in January of 2018.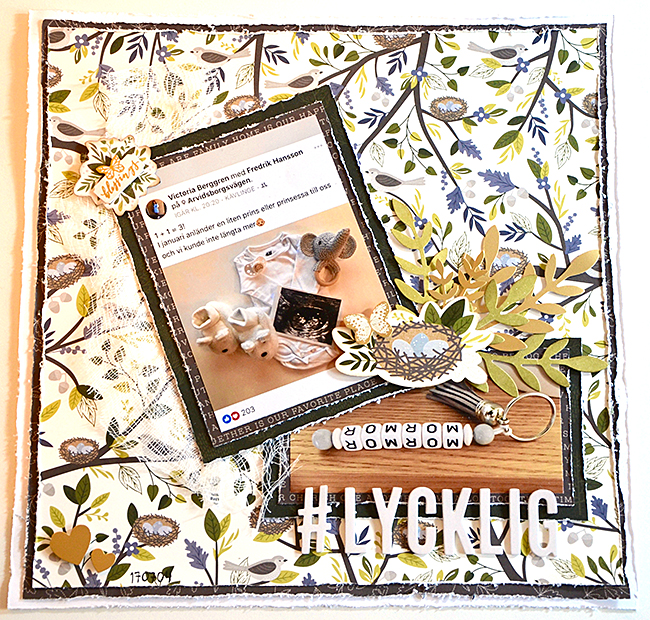 Min LO byggdes på ett vitt cardstock från Bazzill. Papperskollektionen som jag använder denna gång kommer från Pebbles, Jen Hadfield och heter "Heart of home". Den är sååå härlig!
Jag skar ner två av kollektionens papper i lite mindre format och skrapade dem alla ganska hårt i kanterna.
This LO of mine is built upon a white cardstock from Bazzill. The collection I am using this time comes from Pebbles, Jen Hadfield and is called "Heart of home". It is sooooo lovely!
I used to of the patterned pappers in the collection and cut them down just a little. Then I scraped the edges quite heavy.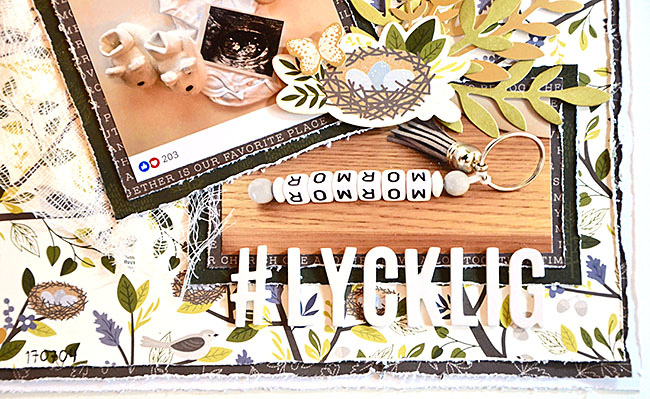 Dekorationerna kommer från kollektionens ephemera, dimensional stickers och accent stickers.
Bokstäverna kommer från American Crafts och de är superfina. Man ser inte det riktigt på fotografierna, men de är lite metalliska.
The decorations comes from the collections different ephemera, dimensional stickers and accent stickers.
The letters comes from American Crafts and they are so cool. You can`t se it in the photographs but they have a slight metallic glow to them.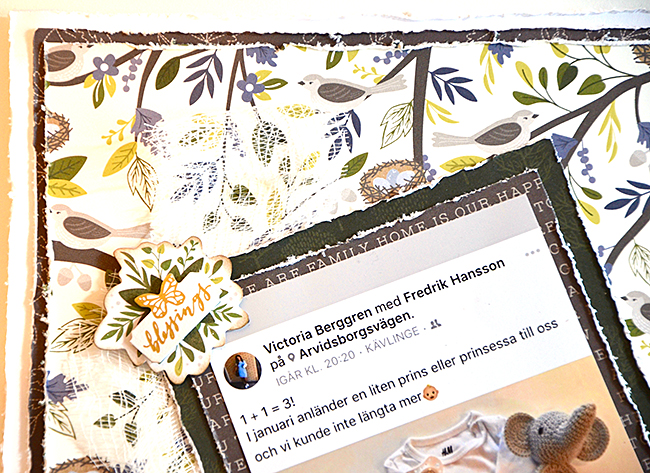 Jag monterade fotografierna på ytterligare två av mönsterpapperna. Lite ostduk fick givetvis vara med också. 🙂
Nu önskar jag er en fantastisk helg!
I placed the photographs upon two different patterned papers. Of course, I had to use some cheesecloth aswell. 🙂
I wish you a great weekend!
Material:
Bazzill cardstock – white
Pebbles, Jen Hadfield, Heart of home – Bless this nest
Pebbles, Jen Hadfield, Heart of home – Stitched together
Pebbles, Jen Hadfield, Heart of home – Song bird
Pebbles, Jen Hadfield, Heart of home – Family tree
Pebbles, Jen Hadfield, Heart of home – Ephemera
Pebbles, Jen Hadfield, Heart of home – Dimensional stickers
Pebbles, Jen Hadfield, Heart of home – Accent stickers
American Craft thickers – Jen