Hej!
Varje år gör jag lite nya julgransdekorationer. Så även i år och nu provar jag mig fram vilka jag kommer att göra fler av. Här har jag använt mig av moulds från Primas serier av Iron Orchid Design. Den formen jag använt mig av heter Medallions. Runda former i härliga mönster.
Hi! Every year I try to do some new Christmas Ornaments. This year I have used a mould from Iron Orchid Design. This one is called Medallions.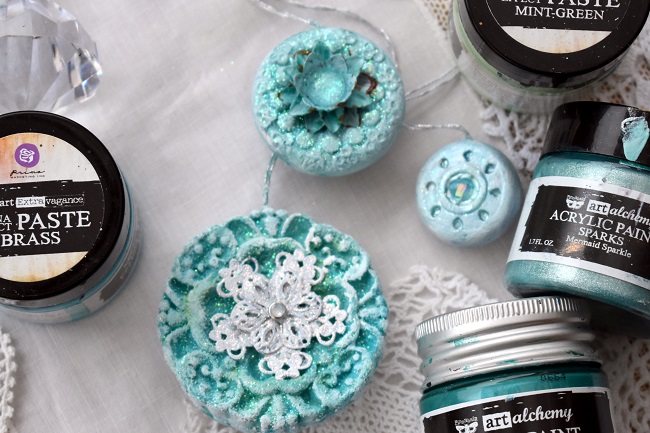 Gjorde två av varje form och bestämde att färgen skulle gå i turkos ton. Den här har fått lite Acrylic Sparks, i färgen Mermaid Sparkle. Även målat lite här och var med Acrylic Paint med färgen Mermaid Teal. Torrborstat med lite gesso för att mjuka upp färgerna lite. På detta en liten metalldekoration från Prima- Lotus- denna har jag målat vit.  Pudrat över allt med lite glitter.
I did two from each shape and I like the color turquoise. I painted with Acrylic Sparks, the color Mermaid Sparkle. Also painted with some acrylic paint in the color Mermaid Teal. When its dry some gesso on the surface. A metallic embellishment, Lotus in the middle. All over my ornament some glitter.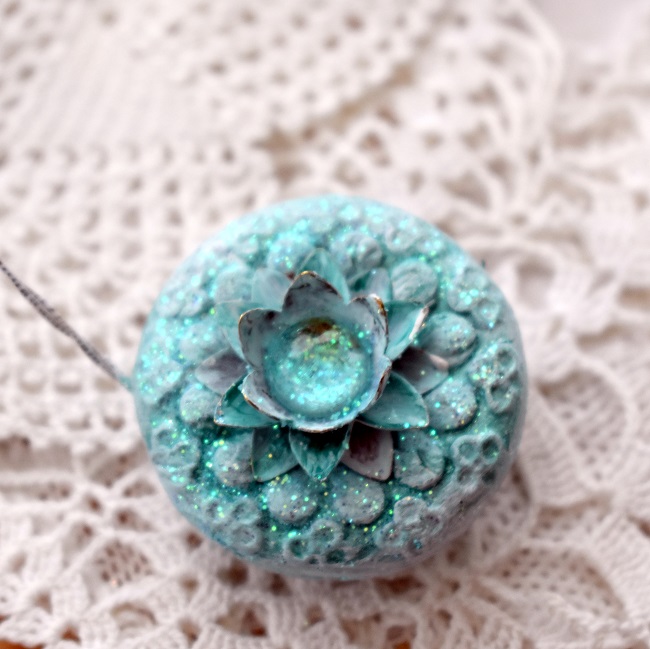 Har målat med samma färger som den första men istället för glitter så har jag gnuggat på lite av White Gold wax. En lite rhinestone i mitten för extra blickfång.
Painted with the same colors but instead of the glitter, I have a touch of White Gold Wax. In the middle a rhinestone.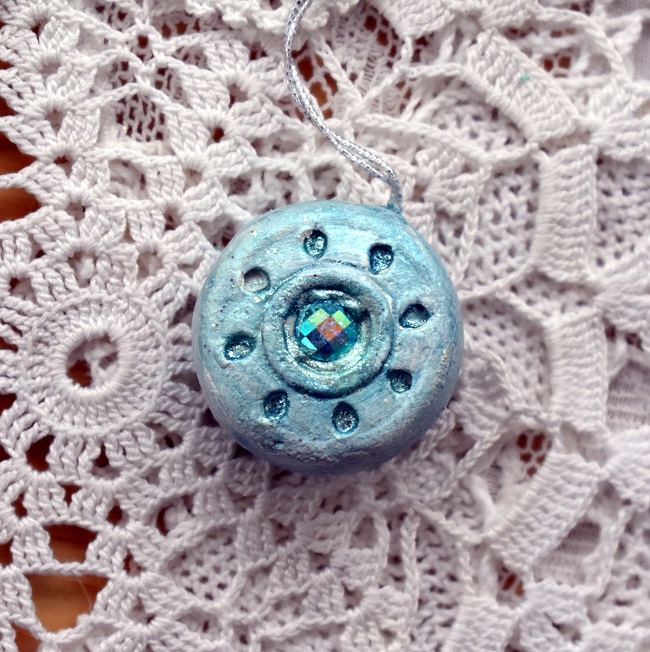 På denna har jag målat med Patina Effect Paste, ett helt fantastiskt kit och medans färger fortfarande blöt så pudrade jag över lite glitter. Sedan torrborstat med vit gesso och det blir en underbar effekt med glittret som kikar fram här och var. Denna har sedan dekorerats med Winter Trinkets och Snowflakes som även dessa fått gesso och glitter på sig.
Here I have painted with Patina Effect Paste, a great kit of colors- When the colors still are wet I have sprinkle with some glitter. When it is dry I have dry brushed it with gesso. The some decorations, Winter Trinkets and Snowflakes.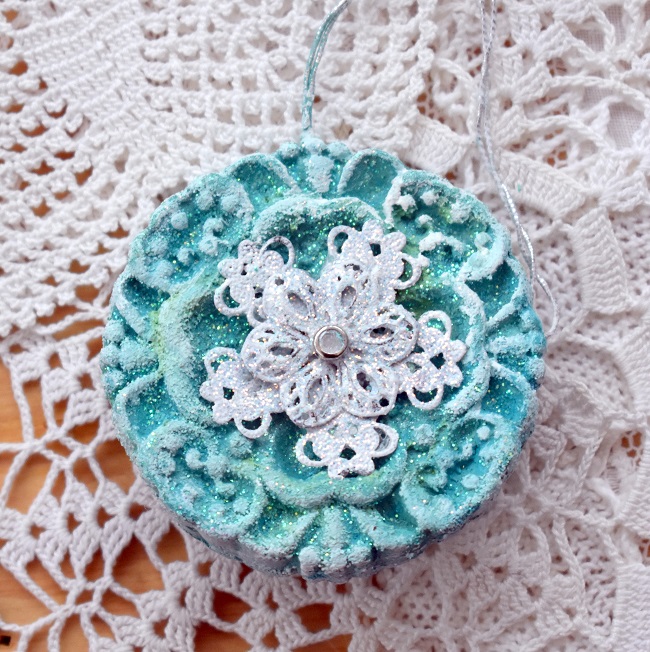 Så hur kul som helst det är att göra egna julgransdekorationer. Måste ta och göra fler.
I have to make some more ornaments, so fun and easy to create.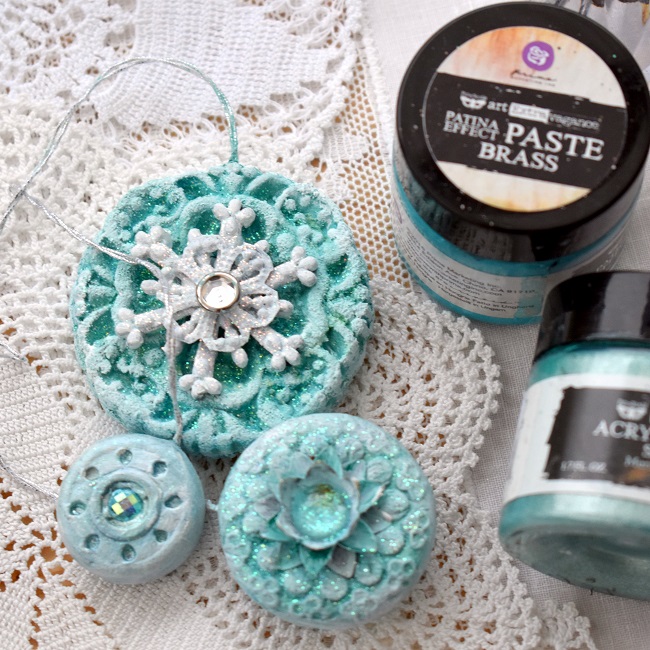 Tack för titten!
See you!
Katja
Material:
Prima Iron Orchid Designs Vintage Art Decor Mould 5X8 – Medallions
Prima Finnabair Art Alchemy Acrylic Paint 50ml – Metallique Mermaid Teal
Prima Finnabair Mechanicals Metal Embellishments 9/Pkg – Lotus
Prima Finnabair Mechanicals Metal Embellishments 16/Pkg – Winter Trinkets
Prima Finnabair Mechanicals Metal Embellishments 16/Pkg – Vintage Snowflakes
Prima Finnabair Art Basics Heavy Gesso 250ml – White
Prima Finnabair Art Extravagance Patina Effect Paste Set
Prima Finnabair Art Basics 3D Matte Gel 236ml – Transparent
Prima Finnabair Art Alchemy Metallique Wax 20ml – White Gold
Prima Finnabair Art Extravagance Glitter 6g 6/Pkg – Ebony & Ivory
Prima Say It In Crystal Adhesive Embellishments – Heaven Sent 2
Övrigt:
Prima Paperclay