I totally fell in love with these cute horses from Stampendous when I first saw them. A bit odd maybe, but adorable! Here I've used them in my new black Art Journal from Ranger. I have worked on a sheet of Sheena Douglass Stamping paper and then glued it into my journal. Horses are stamped on another piece of paper and glued on top of the background.
For the background I've used Distress Oxide Sprays and Distress Oxide Inks (The black frame and the red rays are made with colors from ink pads).
**************
Jag blev tokkär i dom här hästarna från Stampendous första gången jag såg dom och äntligen har jag kunnat lägga vantarna på dom stämplarna! Kanske lite udda, men sååå söta! Här har jag använt dom i min nya svarta Art Journal från Ranger. Jag har gjort hela bakgrunden på ett löst ark Stamping Paper från Sheena Douglass och sedan klistrat in det i art journalen. Hästarna är stämplade på ytterligare ett papper och urklippta och limmade på bakgrunden.
Bakgrunden är gjord av en mix med Distress Oxide Spray och Distress Oxide Ink (Den svarta ramen och dom röda strålarna är gjort med färg från stämpeldyna).
Dom små stjärnorna (finns på häst-arket) är stämplade med embossingbläck och sedan embossade med genomskinligt embossingpulver.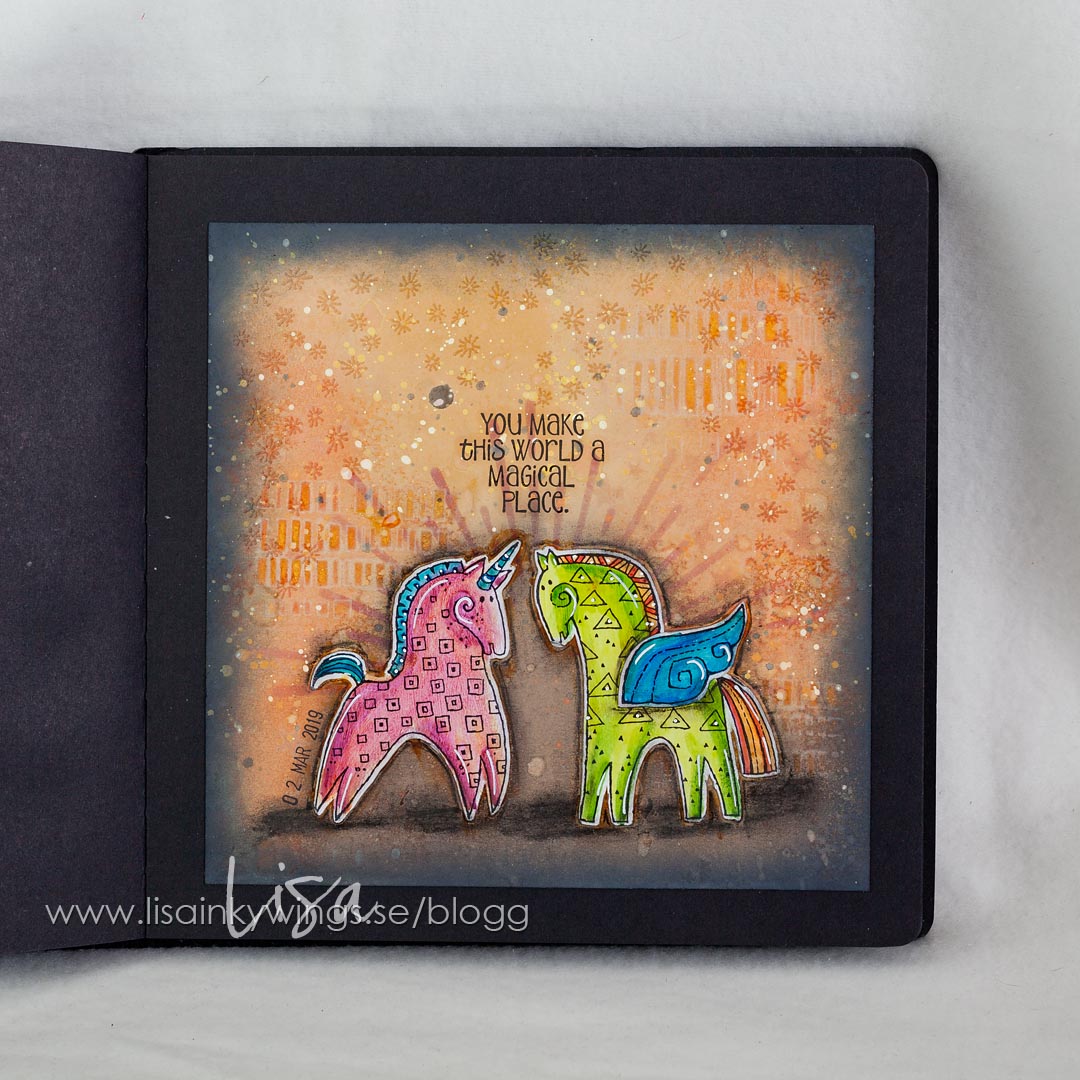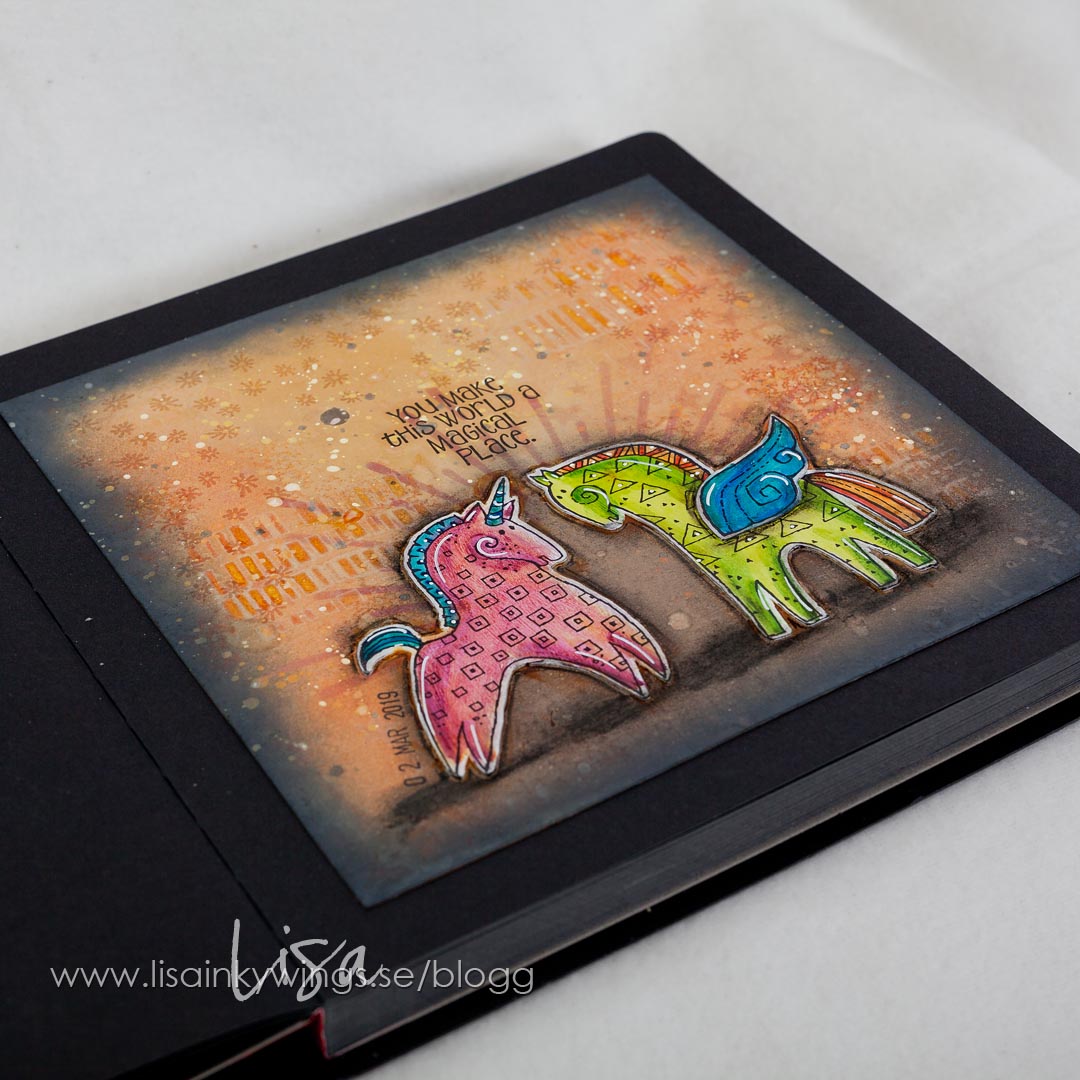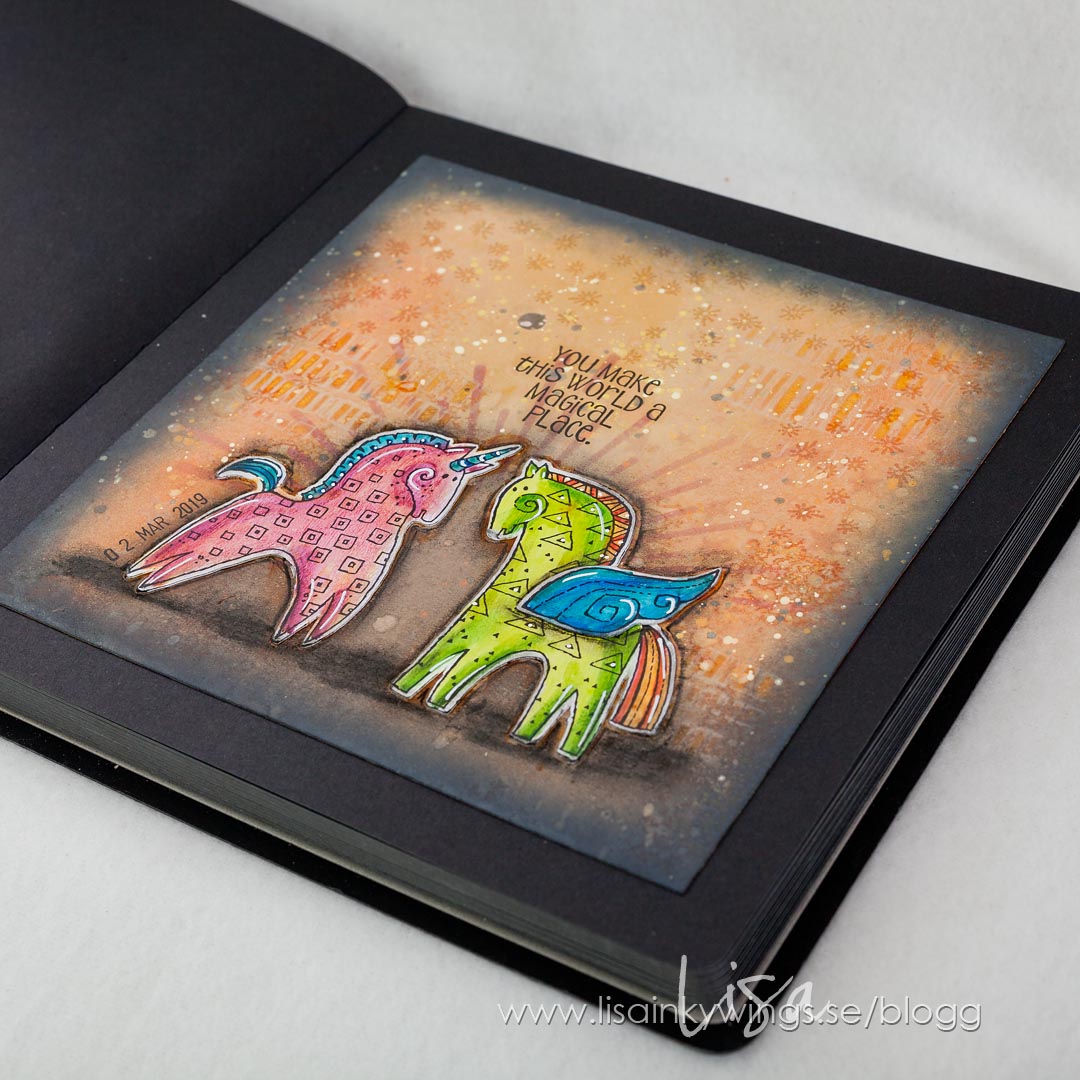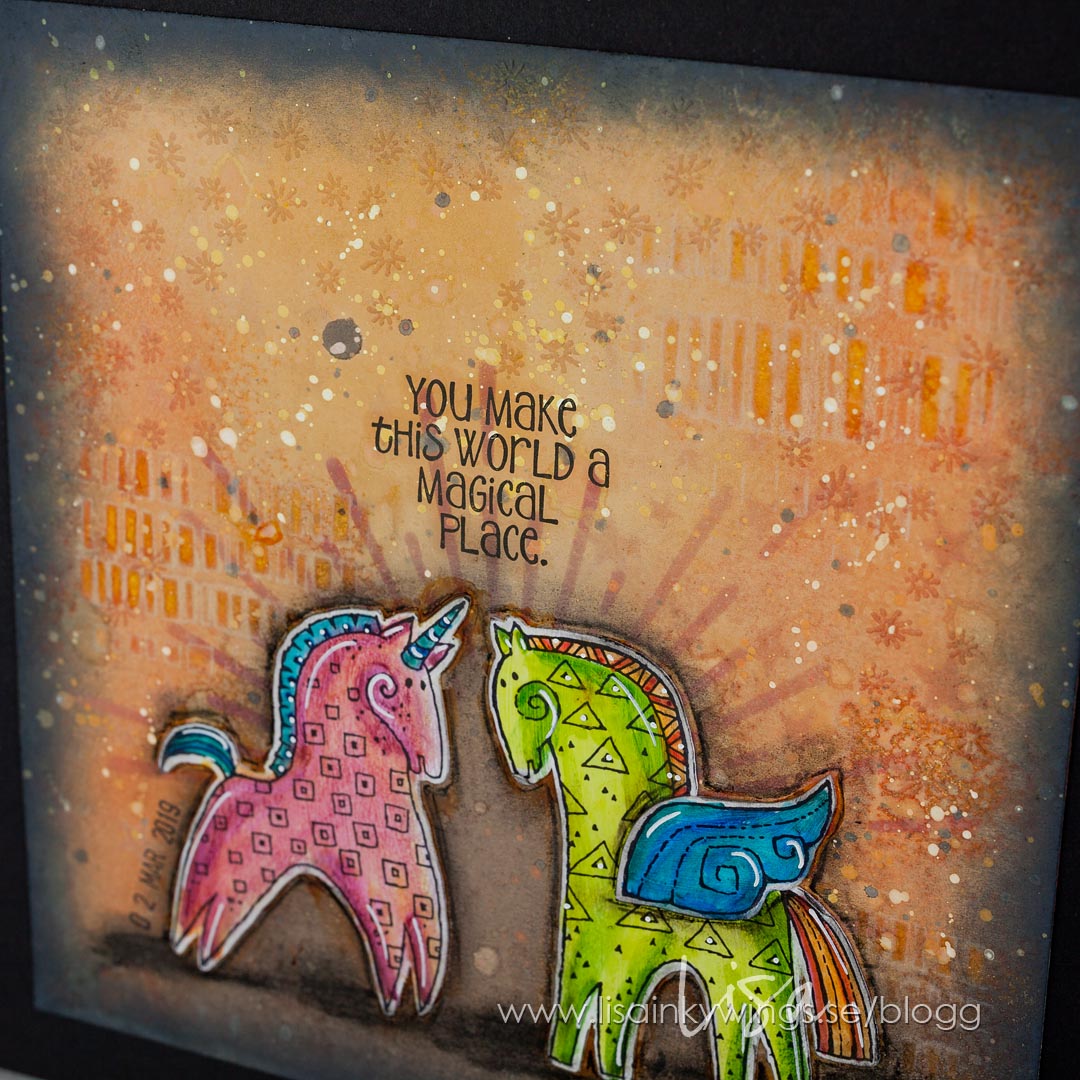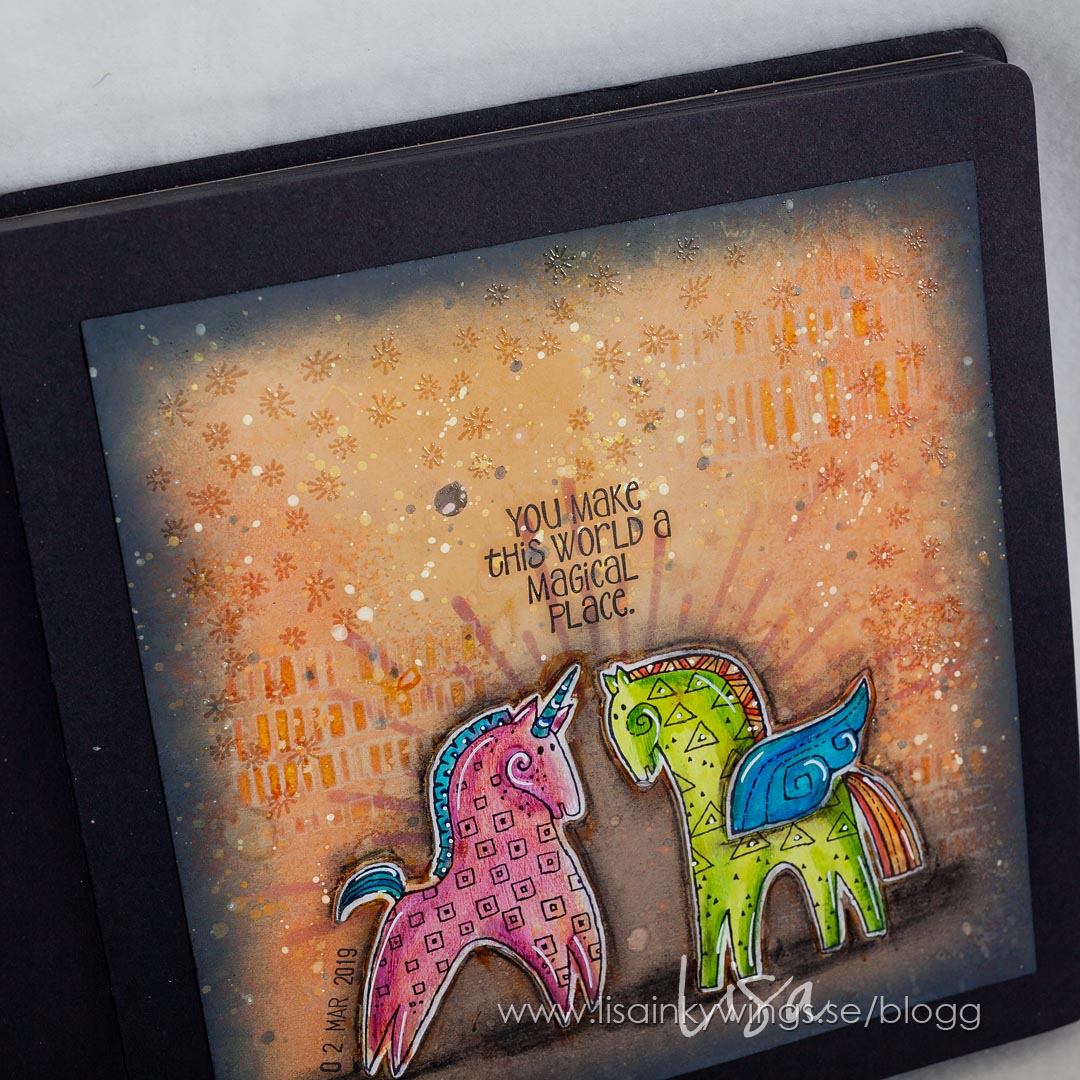 Materials Used:
Stampendous Laurel Burch Cling Stamp W/Template 5×7.25 – Magical Horses
Tim Holtz Distress Oxide Spray 57ml – Vintage Photo
Tim Holtz Distress Oxide Spray 57ml – Fossilized Amber
Tim Holtz Distress Oxide Spray 57ml – Spiced Marmalade
Tim Holtz Distress Oxides Ink Pad – Black Soot
Tim Holtz Distress Oxides Ink Pad – Candied Apple
Dina Wakley Media Gesso 59ml Tube – White
Tim Holtz Layered Stencil 4.125X8.5 – Code
Ranger Embossing Powder 34ml – Clear
Hugs Lisa