De här stämplarna från Tonic studios kunde jag bara inte motstå! Det är två olika set som kan mixas hur mycket som helst och skapar de mest ljuvliga buketter. Eller tuffa, beror lite på hur du väljer att färglägga dem. Jag visar tre kort idag som jag färglagt med vattenbaserade penslar.
These stamp sets from Tonic studios are just irresistible! They can be mixed and matched in countless ways and make the loveliest bouquettes. The style of them also lends itself to more contemporary cards, depending on how and with what you color them. Today I'm showing three cards where I've used watercolor markers.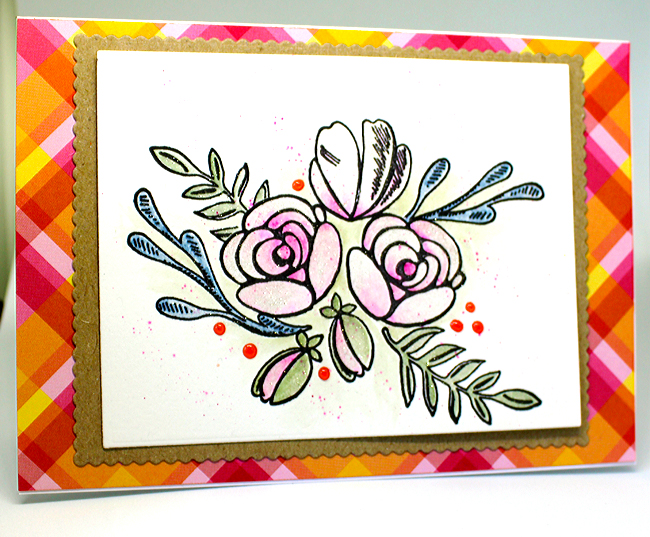 På det första kortet har jag gjort en centrerad design och blommorna går i rosa toner. Efter färgläggninen täckte jag motivet med Spectrum Noir Sparkle Pens Clear overlay. De ger ett fantastiskt glitter. Sen dekorerade jag med droppar av Nuvo crystal drops och monterade på ett vackert rutigt papper från Lawn fawn
On the first card I centered my design and colored it in pinks. Then I covered them with Spectrum Noir Sparkle Pens in Clear overlay. It gives a fantastic, glittery result! Lastly I used drops of Nuvo crystal drops and mounted on a beautiful plaid paper from Lawn Fawn.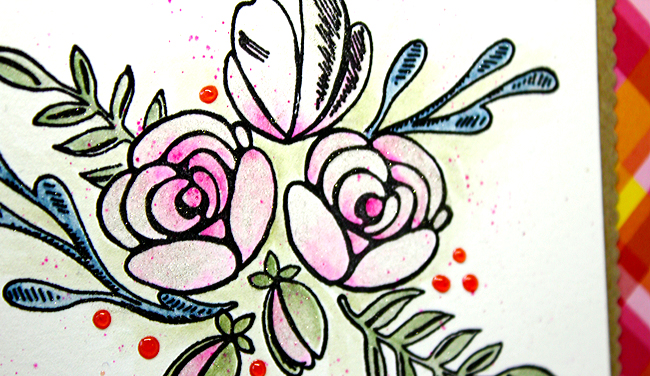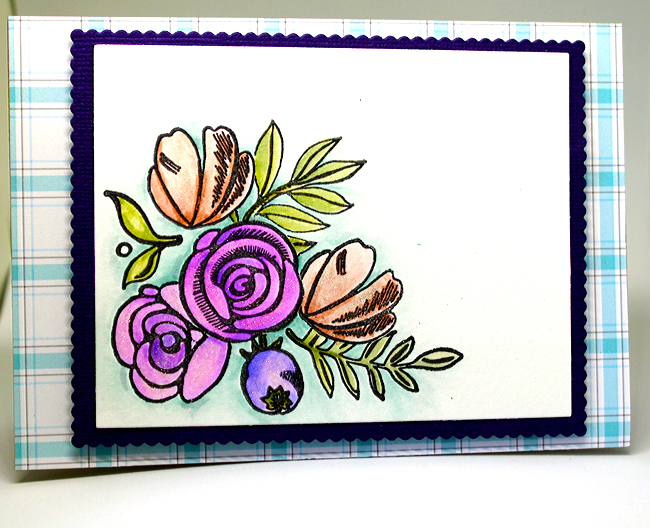 Mitt andra kort fick motivet i nedre hörnet. Här har jag också maskat så blommorna hamnar över och under varandra. Jag har medvetet inte stämplat någon hälsning utan låter det vara tills jag kan ska använda kortet så jag kan välja en text som passar tillfället och snabbt lägga till den.
My second card has its design in the lower corner. I also used masking to make the flower seem like they are on top of each other. I deliberately made the card without a sentiment. I left room though in the design so I can pop one on to fit the occasion.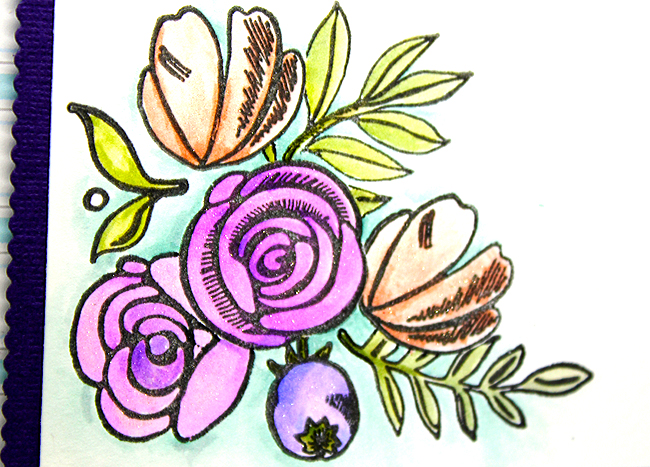 Det sista kortet är min favorit! De härliga röda och gröna tonerna gör att det skulle kunna fungera som julkort.
The last card is my personal favourite. The vivid reds and greens – it could work as a christmas card!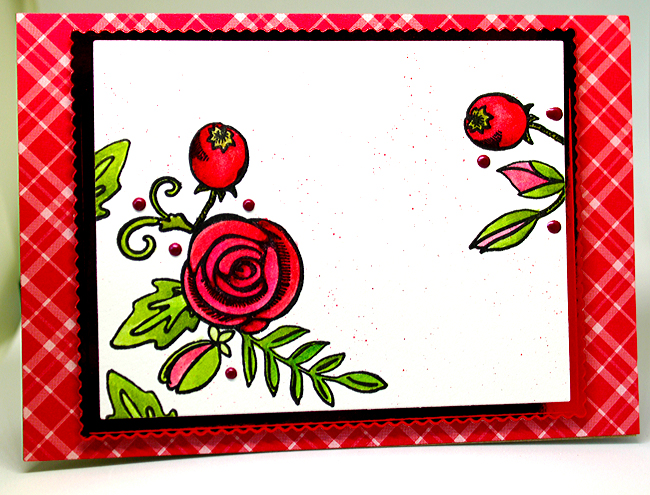 Material
Tonic Studios Essentials Bunched Bouquet – Autumnal Sprig Stamp Set 1 1363E
Tonic Studios Essentials Bunched Bouquet – Autumnal Sprig Stamp Set 2 1364E
Lawn Fawn Petite Paper Pack 6X6 36/Sheets – Perfectly Plaid Christmas
Lawn Fawn Petite Paper Pack 6X6 36/Sheets – Perfectly Plaid Winter
Tonic Studios Mirror Card Pack – Christmas Gloss 795e
Crafters Companion Neenah Classic Crest Card Pack
Crafters Companion Neenah Desert Storm – A4 Kraft Colouring Card
Spectrum Noir Sparkle Pens 3/Pkg – Clear Overlay
Tonic Studios Nuvo Jewel Drops – Strawberry Coulis 643N
Tonic Studios Nuvo Crystal Drops Collection – Autumn Red 683N