We got snow over here so it must be ok to start making christmas cards – right? Since I use to send a bunch of them each christmas I like to do small batches from time to time just to add up the number of cards. This also makes it easier when neighbours etc asks for a card or two… I still have enough for my own needs. This is an easy and fast way to get four smaller cards out of one big cardstock and 2/3 stamping paper.
Eftersom vi har fått snö här måste det ju vara ok att börja med julkorten – visst? Eftersom jag brukar sända en ganska stor bunt till varje jul så gillar jag att göra små batcher ibland bara för att få upp antalet lite. Då gör det heller inget när nån granne eller så kommer och frågar om jag har ett kort över, det brukar räcka till mig själv ändå. Det här är ett enkelt och snabbt sätt att få ihop fyra små julkort på noll och ingen tid alls. Du behöver bara ett stort cardstock och 2/3 Stamping paper (och lite stämplar såklart).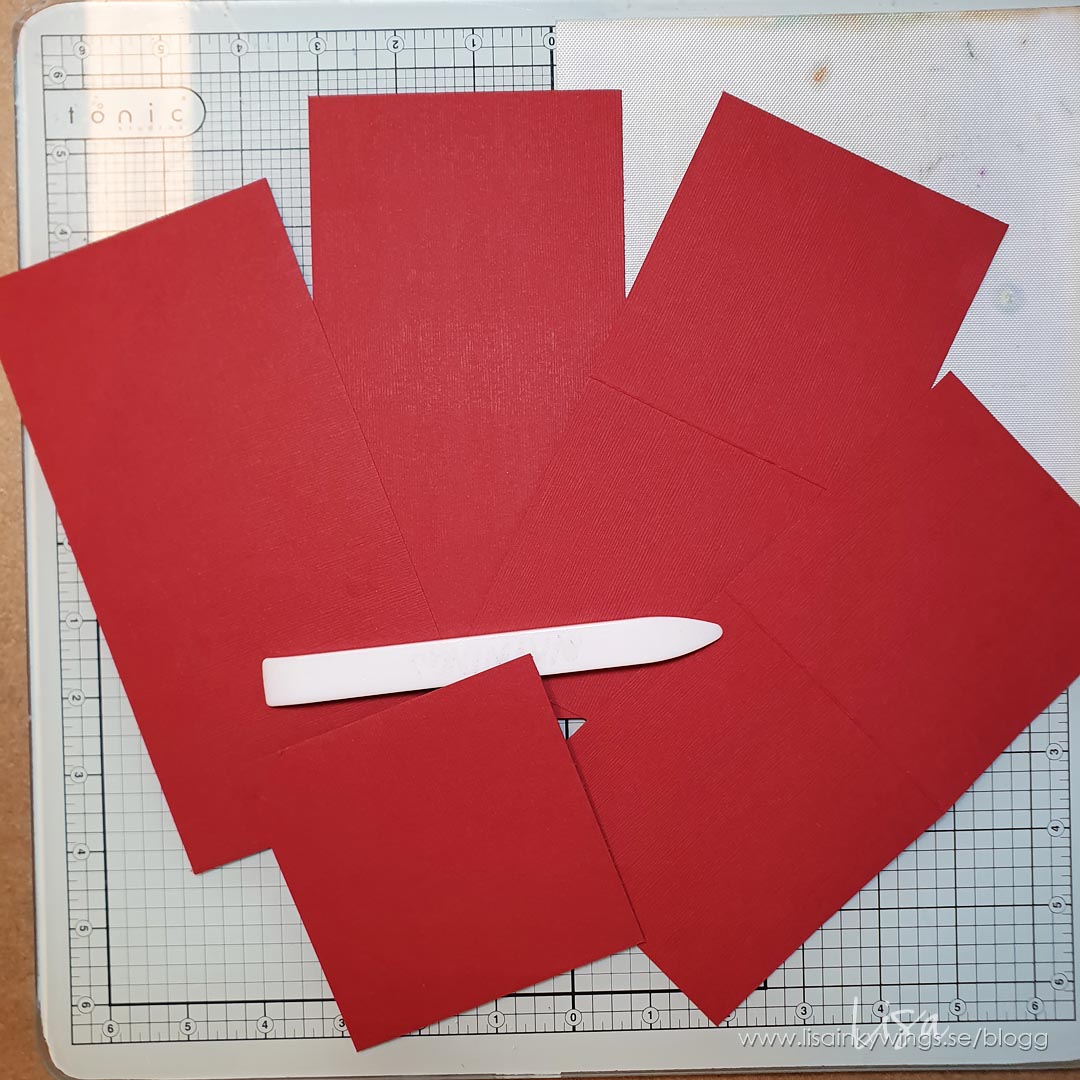 I cutted my 12×12 cardstock into 4 pieces of 8×4″ and the last piece of 4×4 I'll use on another card as a extra layer. Then I cut my Sheena Stamping paper into 3,75″x3,75″ pieces and I can get 6 of those pieces. I need four.
Jag skar mitt 12×12 cardstock i fyra bitar som är 8″x4″ och fick då en liten bit på 4×4″ över, den kan jag använda som lager på nått annat kort sen. Mitt Sheena Stamping paper skar jag i bitar om 3,75″x3,75″ och det blir totalt 6 bitar man får ut av det papperet. Jag behöver bara fyra av dom.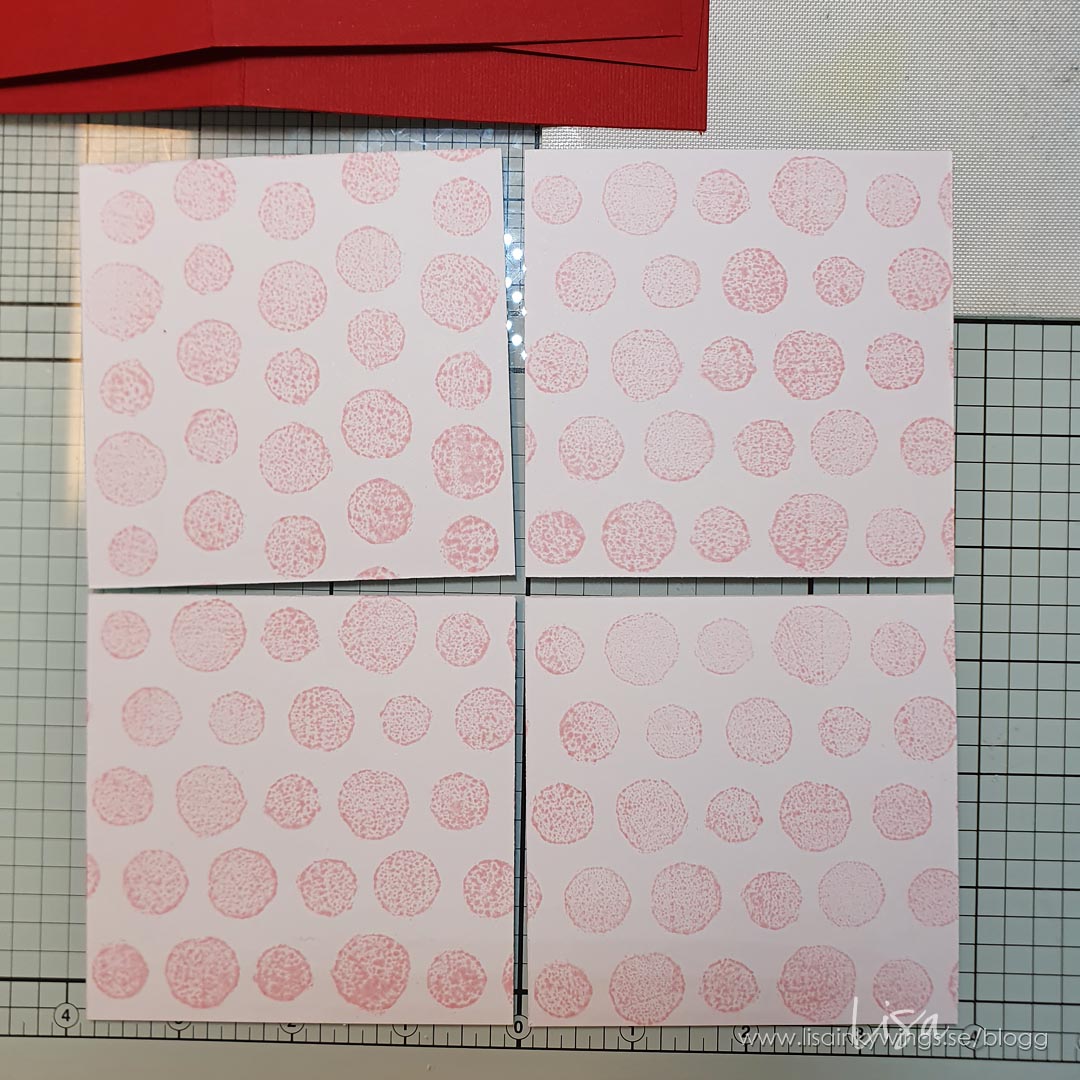 When everything is set I start my stamping, and I use Tim Holtz stamping tool and get the stamps exactly where I want them, and don't need to measure on every piece. I started with the big dots in a light pink distress color ink, followed by the snowflake in a brighter pink and ended it up with a sentense in black. Just took me a few minutes.
När allt är skuret och vikt kan jag börja stämpla. Jag använder mig av Tim Holtz stämpelplattform till detta för då får jag stämplarna precis där jag vill ha dom – varje gång – utan att behöva mäta till varje bit. Jag började med prickarna och stämplade dom i en ljusare rosa färg, fortsatte med snöflingan i en skarpare rosa färg och anvslutade med en text i svart. Det hela tog bara några minuter.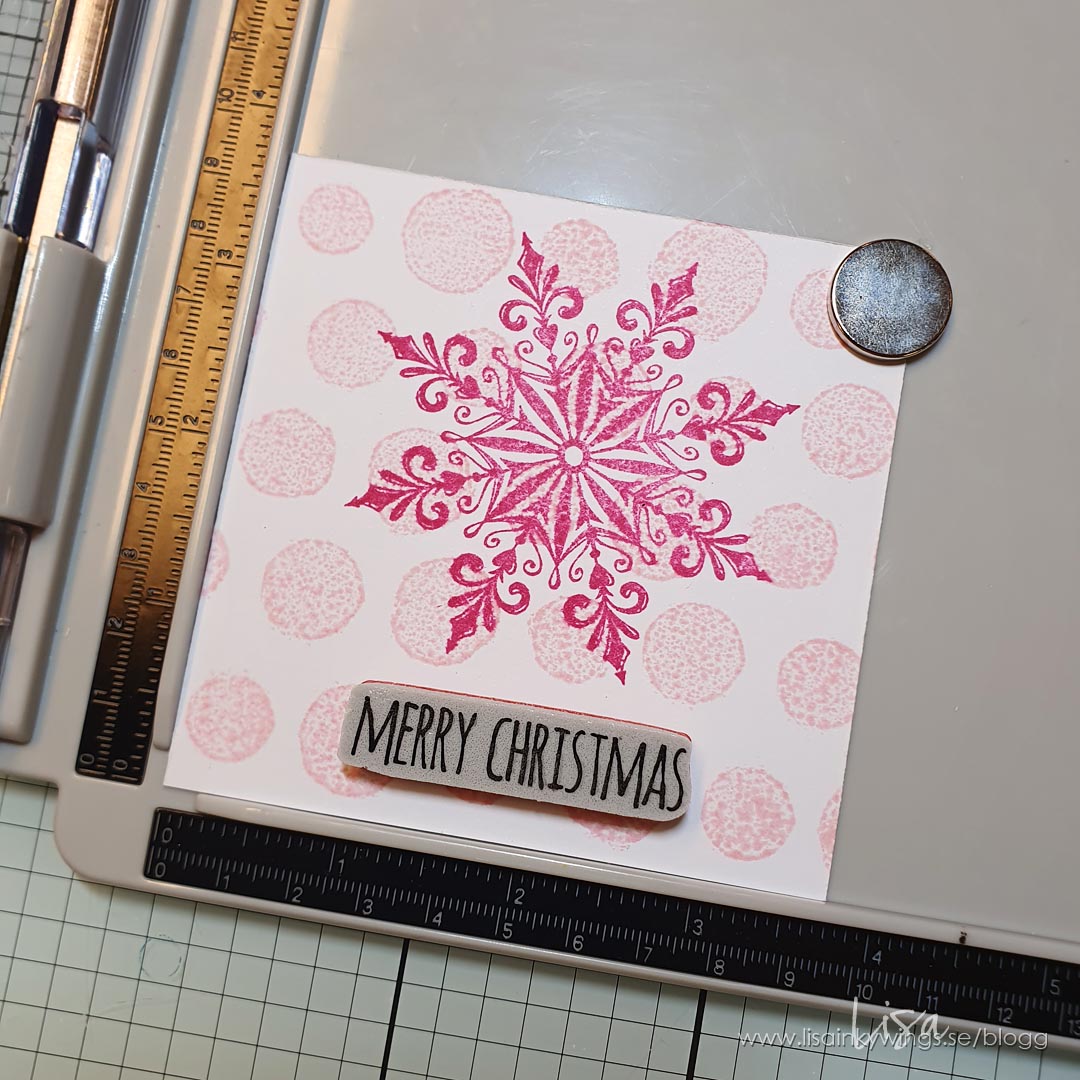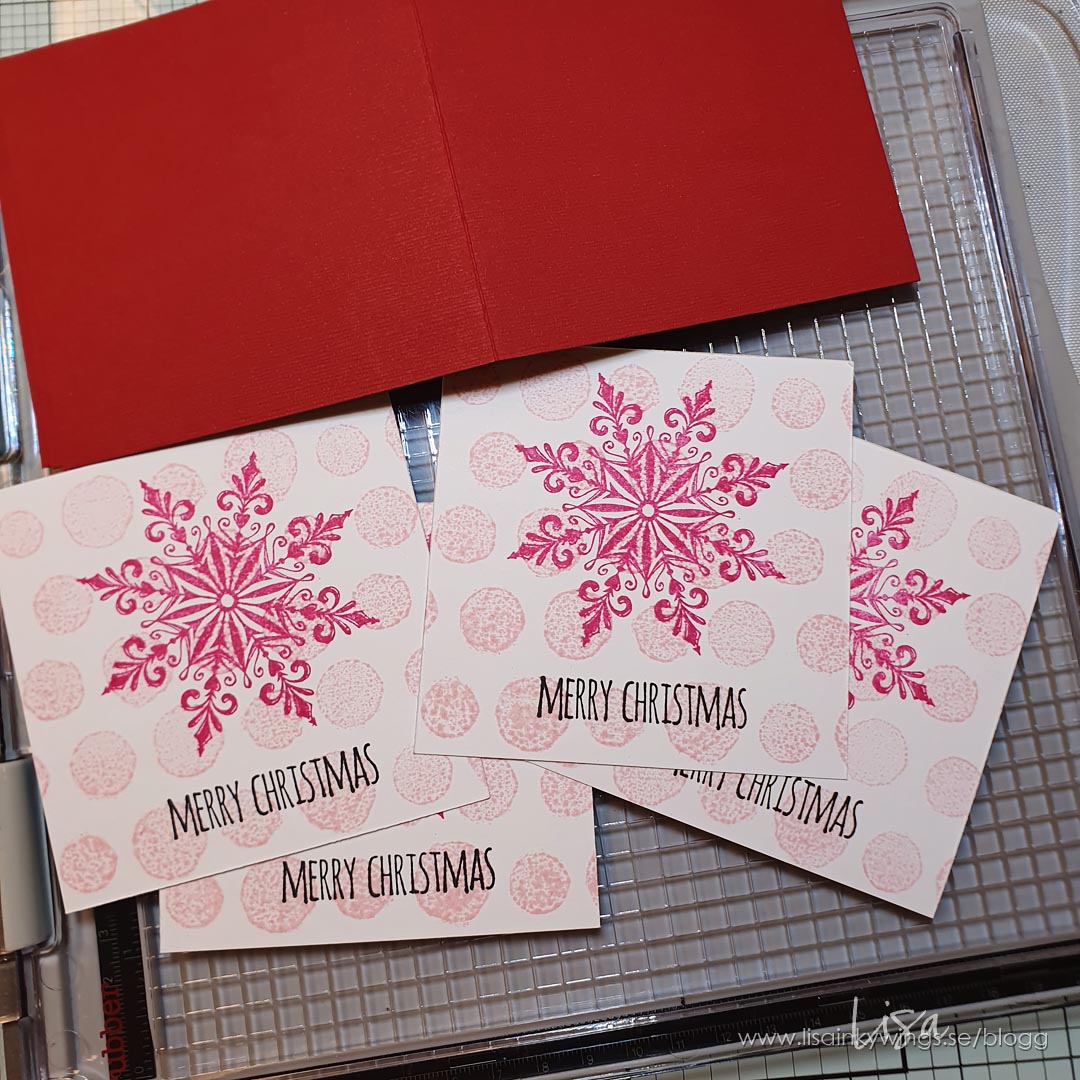 As a last touch I added a bling in the middle of the snowflake and mounted my cards together. And YES! You can use pink and red together and you can use pink on christmas cards!
Som pricken över i satte jag dit en bling i mitten av snöflingan och monterade sedan ihop mina kort. Och JA! Man kan använda rosa och rött tillsammans och man kan använda rosa på julkort!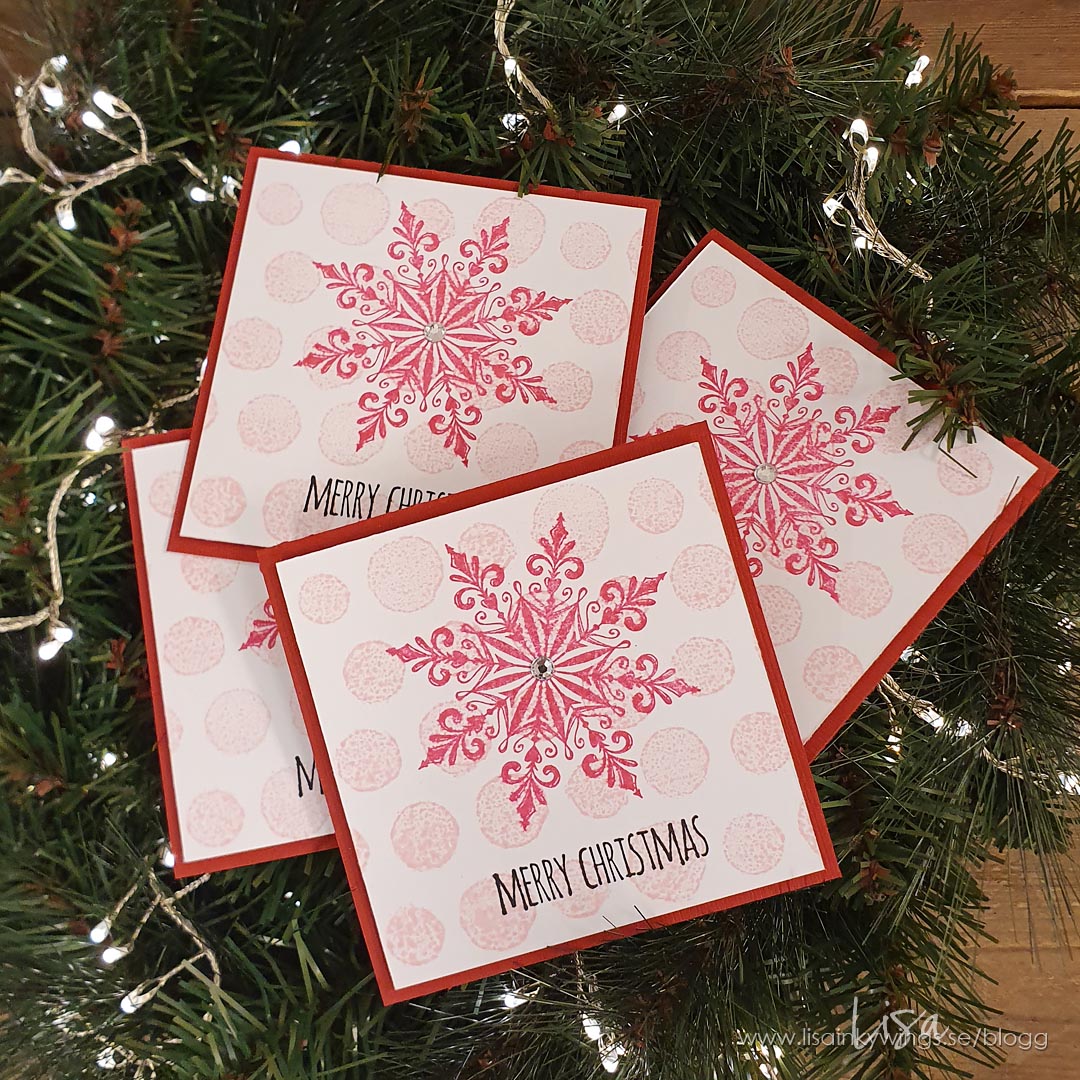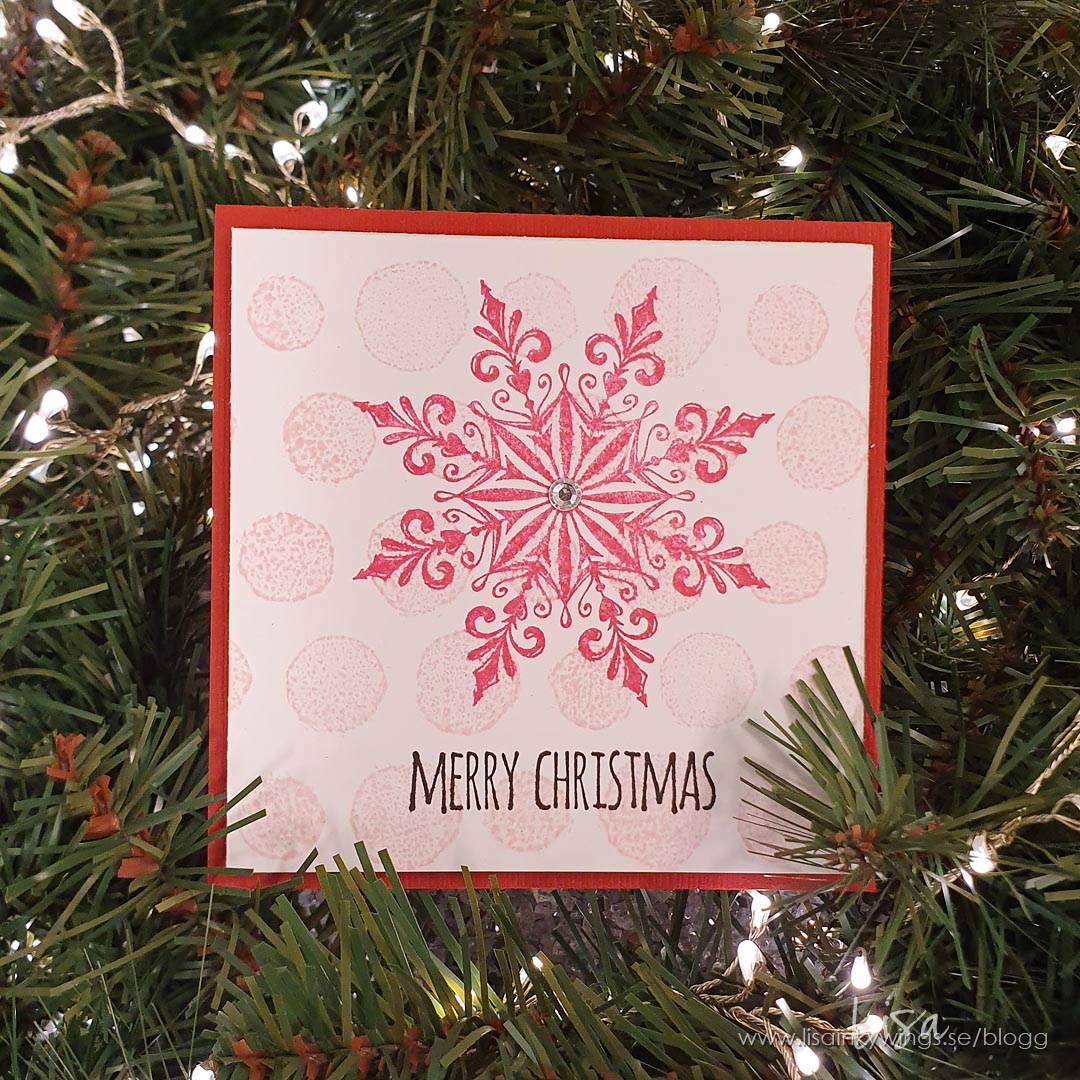 Materials Used:
Bazzill Cardstock 12X12, 25/Pkg – FOURZ Ruby Slipper
Sheena Douglass White Stamping Card Paper A4 – Pack of 60
Tim Holtz Cling Stamps 7X8.5 – Dots & Circles
Tim Holtz Cling Stamps 7X8.5 – Swirly Snowflakes
Tim Holtz Cling Stamps 7X8.5 – Scribble Christmas
Tim Holtz Distress Ink Pad – Picked Raspberry
Tim Holtz Distress Ink Pad – Spun Sugar
Ranger Archival Ink Pad – Jet Black
Tim Holtz Stamp Platform 8.5X8.5 – 1707E
Hugs Lisa