Hej på Er i höstmörkret,
Idag tänkte jag visa Er ett minialbum som jag gjort med Prima Marketing fina höstserie Amber Moon. Designern bakom serien är ingen annan än Frank Garcia. Serien går i höstiga härliga fäger, som jag inte kan bli annat än glad när jag ser.
På framsidan har jag använt mig av en massa blommor som tillhör samma serie, och en ut av resinramarna som finns i sortimentet.
Hello to you all in the darkness in the autumn,
 Today I will show you a minialbum that I have made with Prima Marketing wonderful autumncollection  Amber Moon. The designer behind the Collection is Frank Garcia. The Collection are made in autumn colours, and they make me all happy.
 On the front I have used a lots of flowers from the Collection, and one of the resin frames from Primas Collection.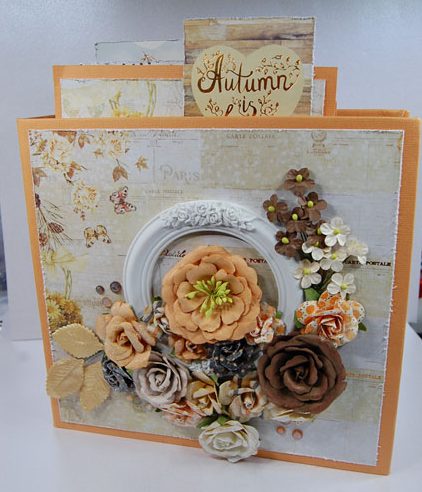 En närbild på de fantastiska blommorna.
A closeup on all the fantasic flowers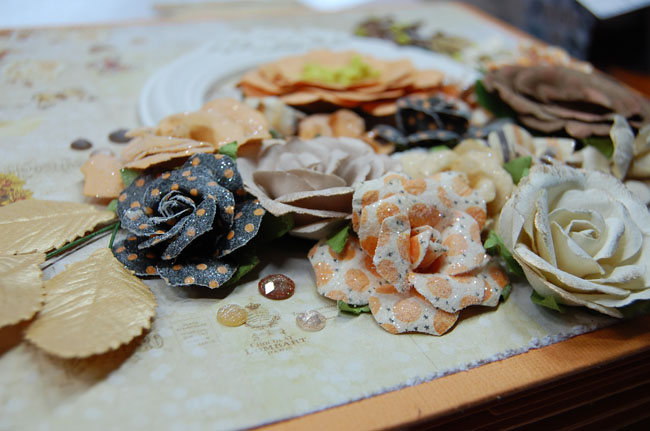 Här har jag gjort två sidor som går att vika upp, som jag sen har dekorerat med fler blommor från serien.
Here a two sides that you can open, I have decorated theese with more flower from the serie.
En närbild på blommor och blad som sitter inne i albumet, och allt tillhör serien Amber Moon.
A closeup on flowers and leaves from inside the album, all from the Amber Moon serie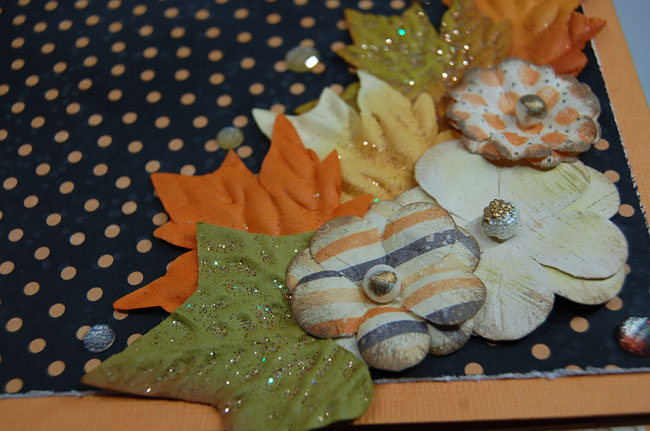 Vattenfall med en massa olika mönsterpapper
I created a waterfall, with a lot of different patterned paper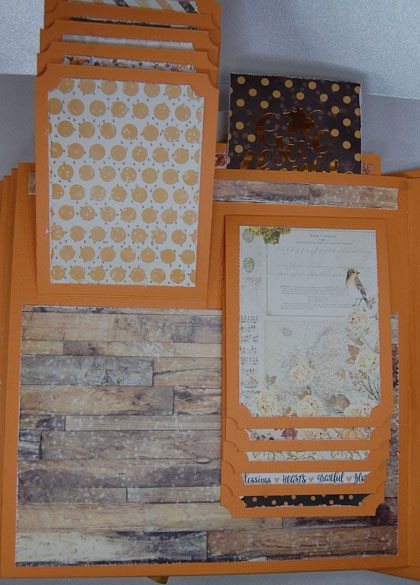 Här har vi en närbild på ryggen, där jag har använt saker som jag har hittat här hemma.
This is a closeup on the back, all the decorations are from my own stash at home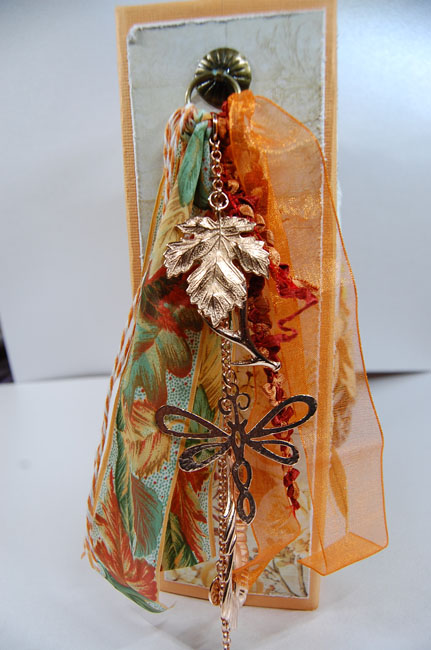 Själva hållaren med ringen i, är en brad från Tonic Studios
The brad with the ring in it is from Tonic Studios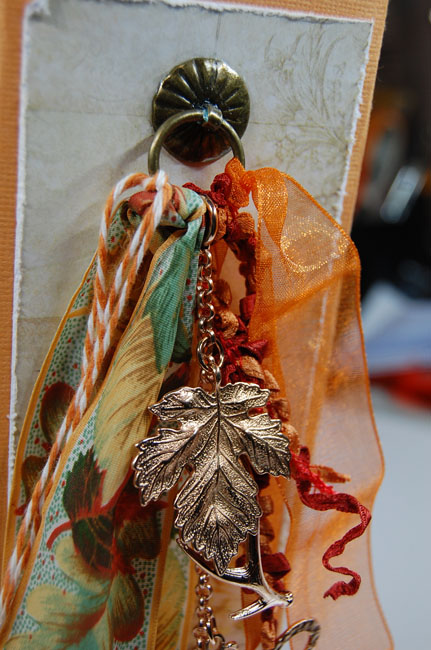 Tack för denna gång
Thanks for this time
Material:
Prima Amber Moon Flowers – Willow
Prima Amber Moon Flowers – Aspen
Prima Amber Moon Foiled Double-Sided Cardstock 12X12 – Pumpkin Love
Prima Amber Moon Foiled Double-Sided Cardstock 12X12 – Into The Woods
Prima Amber Moon Foiled Double-Sided Cardstock 12X12 – Autumn Sunset
Prima Amber Moon Flowers – Hazel
Prima Amber Moon Flowers – Woodrow
Prima Amber Moon Flowers – Raven
Prima Leaves 24/Pkg Amber Moon – Scarlett
Prima Say It In Crystal Adhesive Embellishments – Amber Moon
Prima Ephemera Cardstock Die-Cuts – Amber Moon
Prima Word Sticker Sheet – Amber Moon
Prima Paper Pad 8X8 30/Pkg – Amber Moon
Prima Paper Pad 6X6 30/Pkg – Amber Moon
Prima Paper Pad 12X12 24/Pkg – Amber Moon
Prima Frank Garcia Memory Hardware Resin Frames 2/Pkg – Petite Round
Bazzill Cardstock 12X12 25/Pkg Mono – Apricot
Tonic Studios Mini Ring Handle
Tonic Studios Super Trimmer