Sista sommarlayouten för nu tror jag. Längtar lite efter höstfärger och julpyssel såklart! Det här är dock favoritfotot från i somras så det ville jag ha med i albumet. Grunden är att papper ur Shimelles nya kollektion för American Crafts – Glitter girl. Jag utmanade mig själv att jag skulle göra layouten på max 10 minuter! Lyckades inte riktigt men hade kul med att ösa på dekorationer från olika härliga märken och serier.
My last summer layout, I think. I long for autumn colours and christmas crafts! This is my favourite photo of this summer, though,  so I just had to have it in my summer album before I moved on. The background is a paper from Shimelles latest collection for American Crafts – Glitter girl. I challenged myself to create a layout in less than 10 minutes. Didn't quite make it, had to much fun using all the gorgeous decoration from various brands and collections.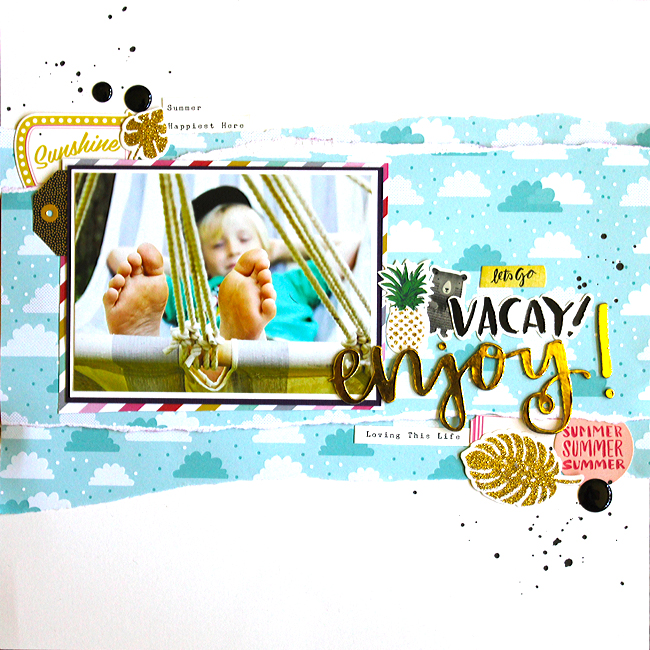 Jag rev det mönstrade pappret i fyra delar och använde tre av dem på layouten. Den mittersta delen fäste jag med 3D-tejp så det blir lite dimension och en fin skuggeffekt.
I tore the background paper in four pieces and used three of them on my layout. The middle part is raised with 3D tape to create som dimension and a nice shadow effekt.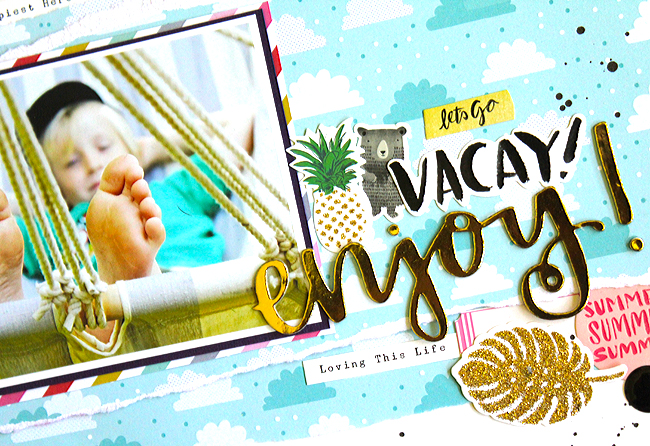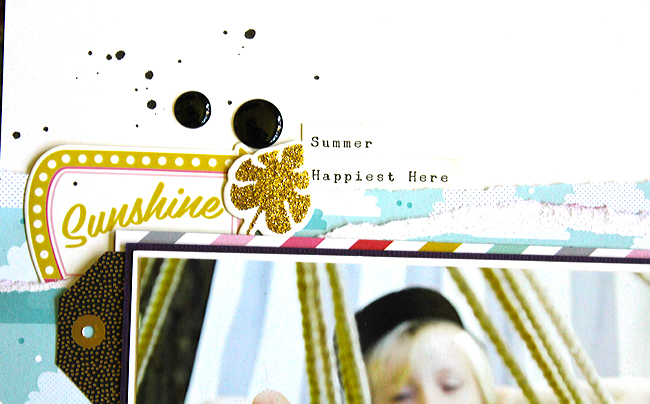 På Design in papers mässa Meet & greet 28-29 oktober 2017 kommer jag att hålla kurs där du som är nyfiken men inte provat på guidas i hur du får in mixed media och färg på dina layouter. Mer om mässan och mer om kurserna.
Material
Shimelle Glitter Girl Double-Sided Cardstock 12X12 – Think Pink
Crate Paper Cardstock Stickers 6X12 2/Pkg – Oasis
Shimelle Little By Little Stickers 8-Page Book – Icon & Alpha
Hazelwood Thickers Accent Stickers 5.5×12 2/Pkg – Darling W/Gold Foil
Bella Blvd Enamel Stickers 3X4.75 – Oreo Black Dots
Heidi Swapp Color Shine Spritz 2 Ounces – Black Velvet