Hi! Lisa here with yet another Art Journal for you. Messy colors are fun and creative and you never know where the page ends. Here I have worked on a loose sheet of paper and later glued it into my Art Journal. The journal is 8″x8″ so I cut my paper 7″x7″ to get a black frame around it. I started with a few blue-ish shades of Impasto Paint for the background and added a bit och black and white gesso. Some structure from White Crackle medium makes the background more alive. The black butterflies are stippled through the stencil included in the stamp pack and I wrote with a white pen over them when dry.
Big butterfly are stamped and cut out from another piece of paper and colored with a blue mist.
*****************
Hejsan! Lisa här med ännu en Art Journal-sida. Denna gång en enkelsida. Hoppas ni gillar lite kladd och klet lika mycket som jag, och det bästa av allt är att man aldrig vet hur sidan ser ut när man är klar. Här har jag jobbat på ett löst papper som är 7″x7″ i storlek. Det är sedan inklistrat i en svart art journal som är 8″x8″ i storlek.
Bakgrunden har jag gjort med ett gäng blå impasto-färger tillsammans med lite svart och vit gesso. Sedan har jag använt vit Crackle-medium för ytterligare struktur och effekt. Dom svarta fjärilarna är stöpplade genom stencilen som medföljer i stämpelsettet, och över dessa har jag sedan skrivit med vit penna efter att dom torkat. Den stora fjärilen är stämplad på ännu ett papper, urklippt och infärgad med blå mist.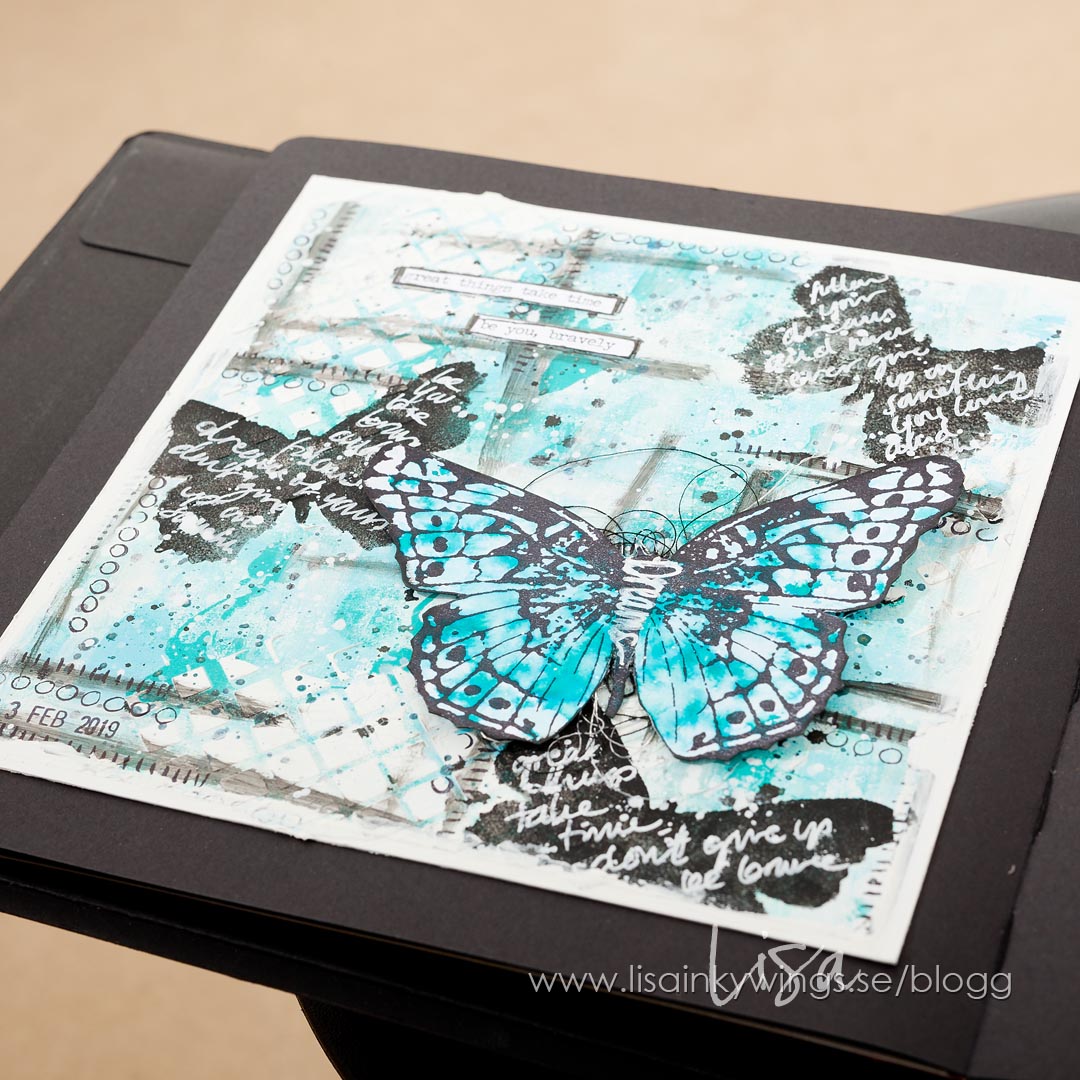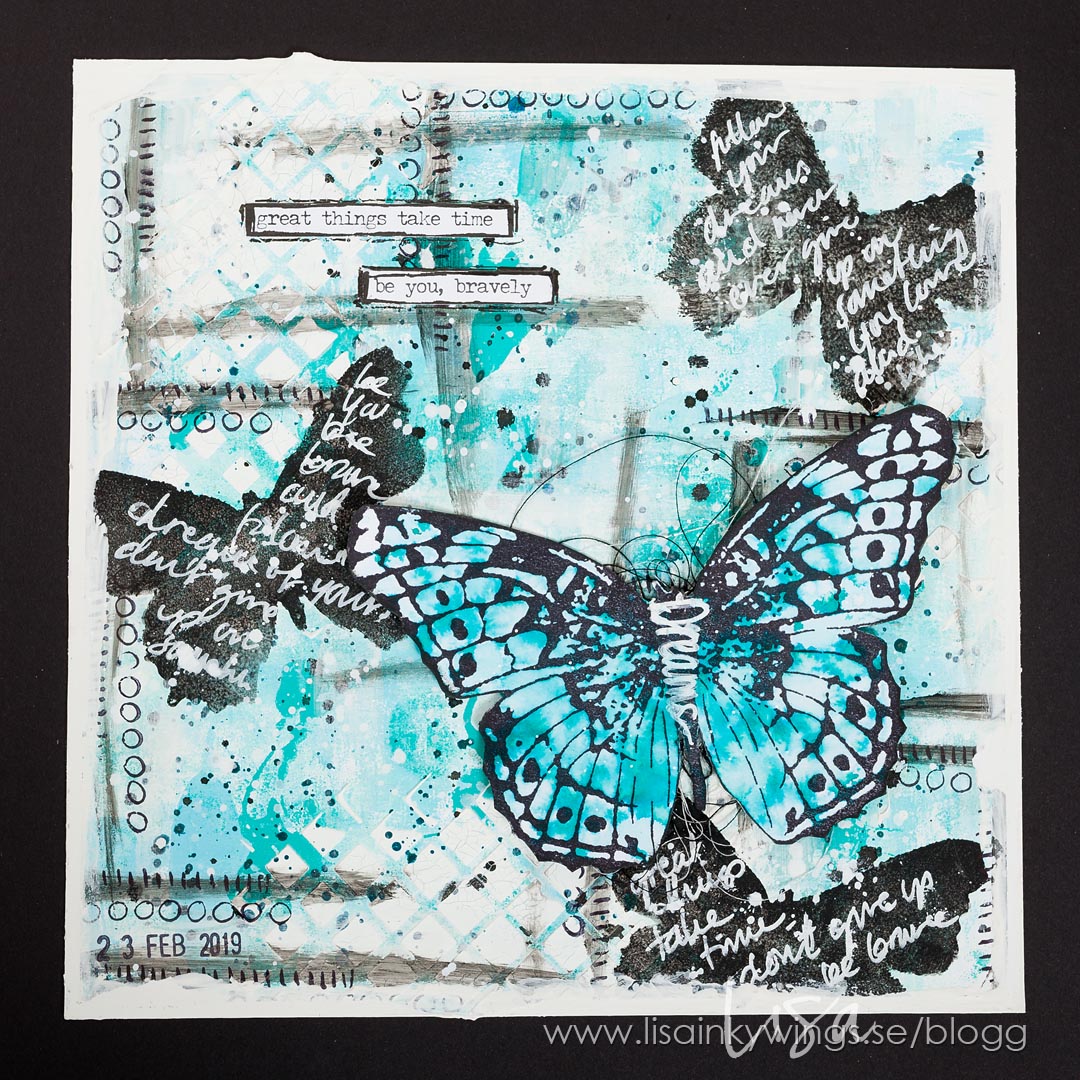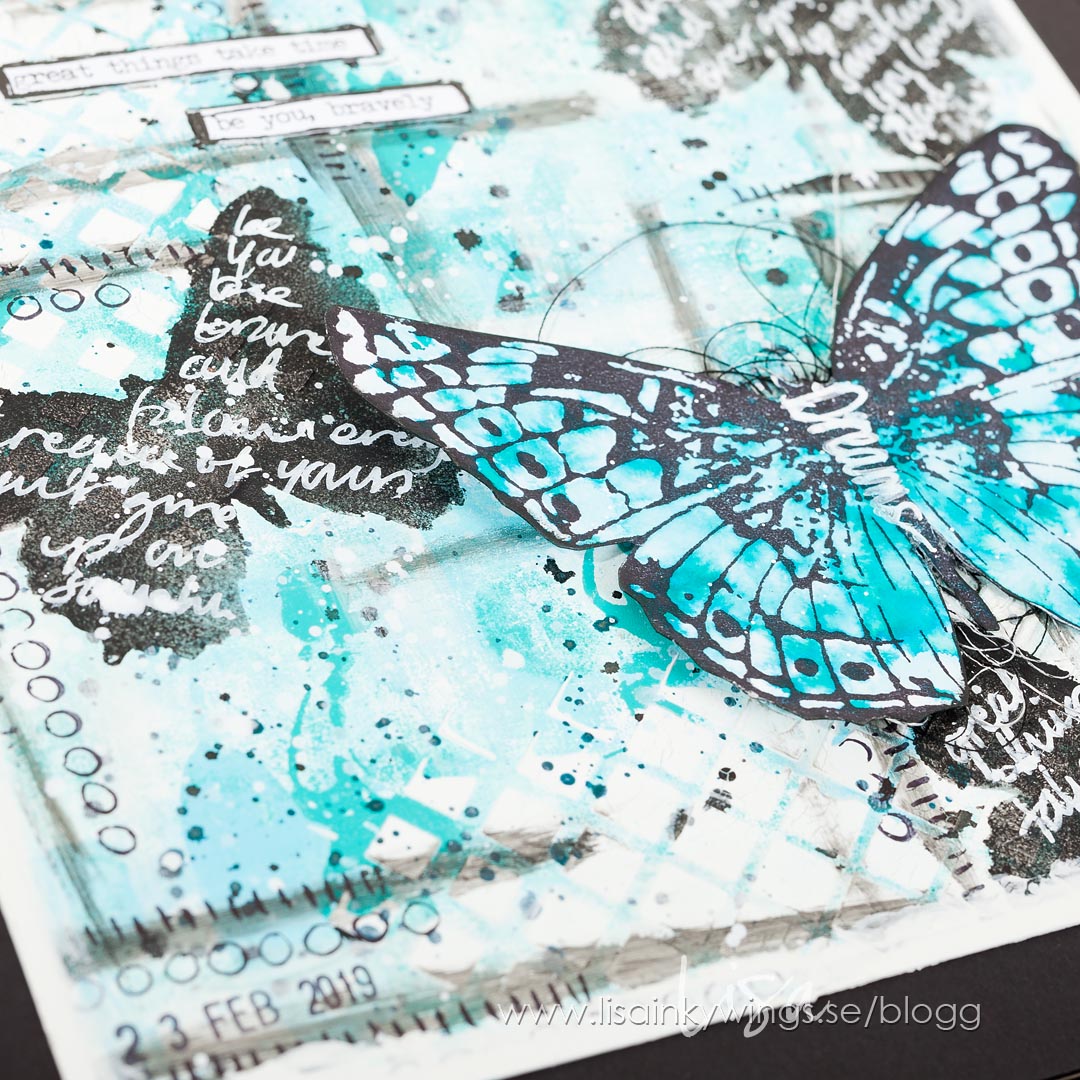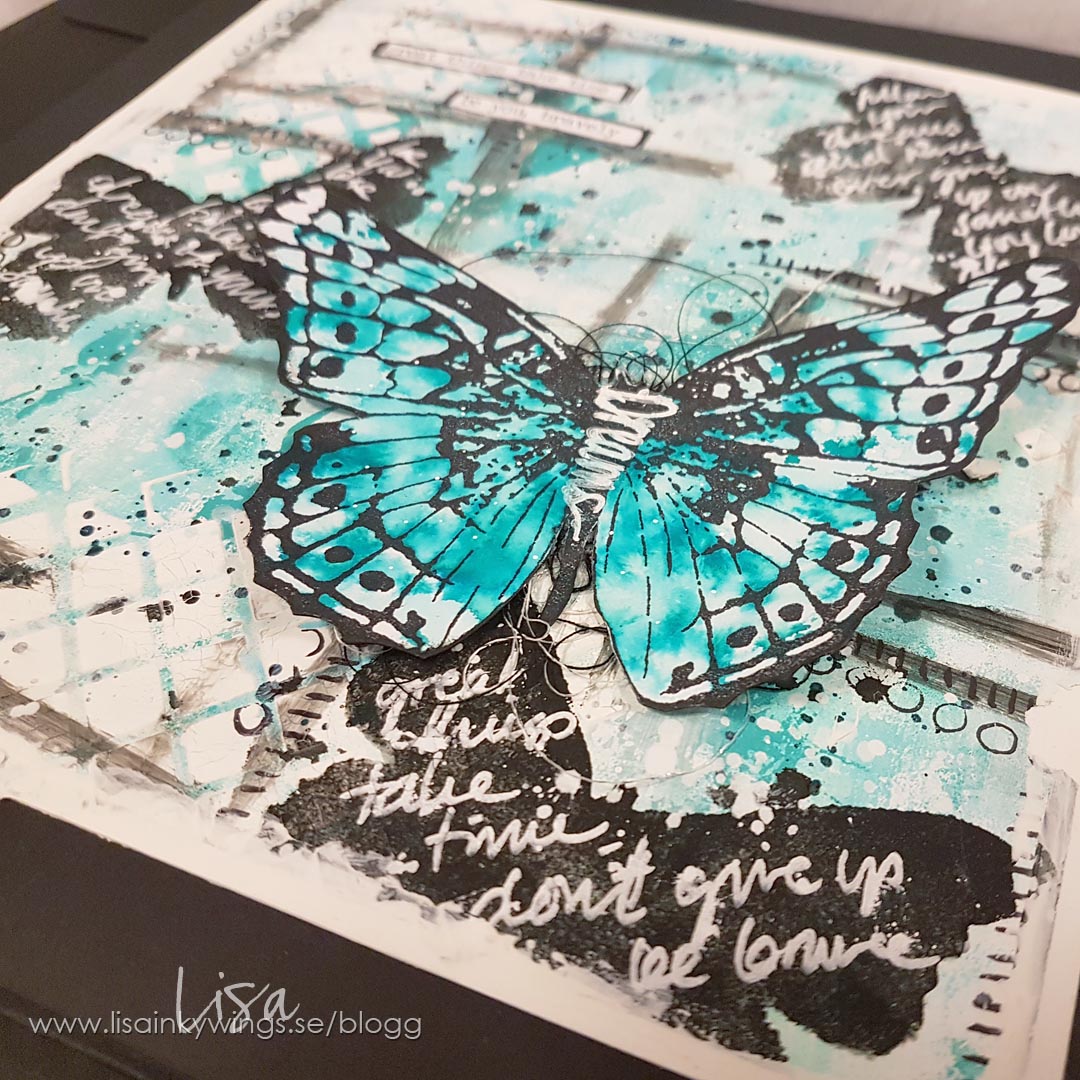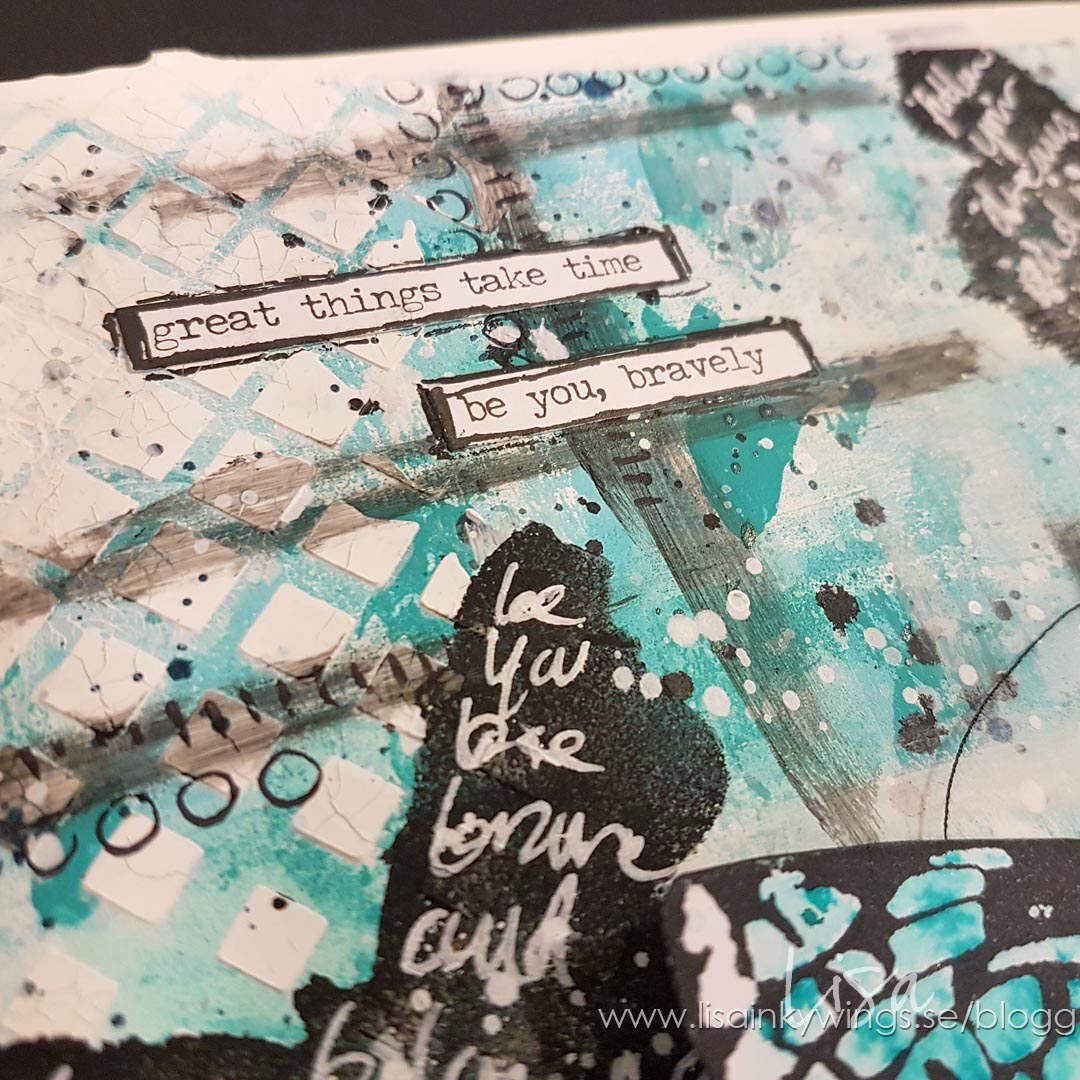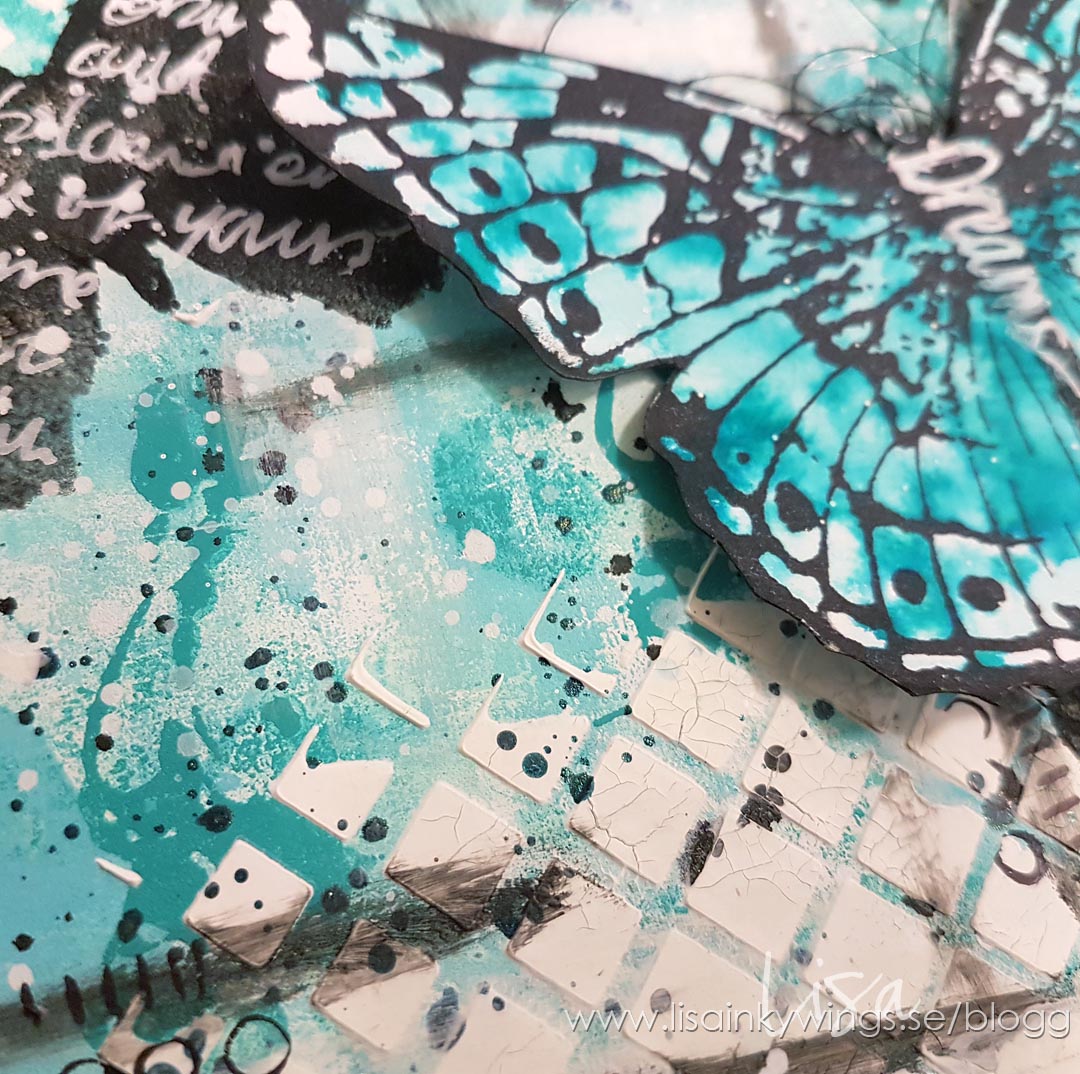 Material used:
Stampendous Cling Stamps – Jumbo Butterfly Trio
Sheena Douglass White Stamping Card Paper A4 – Pack of 60
Prima Finnabair Art Basics Heavy Gesso 250ml – Black
Prima Finnabair Art Basics Heavy Gesso 250ml – White
Prima Finnabair Art Alchemy Impasto Paint 75ml – Mediterranean
Prima Finnabair Art Alchemy Impasto Paint 75ml – Jade
Prima Finnabair Art Alchemy Impasto Paint 75ml – Mint
Tattered Angels Glimmer Mist 59ml – Dragonfly
Tim Holtz – Advantus Idea-Ology Spiral Bound Sticker Book – Small Talk
Tim Holtz Cling Stamps 7X8.5 – Mini Media Marks
Prima Finnabair Art Extravagance Texture Paste 250ml – White Crackle
Hugs Lisa