Hej!   Prima har en hel del olika resins. Här har jag satt Frank Garcias runda resin ram i fokus. Detta tillsammans med de vackra papprena från serien Amber Moon.
Hi!    Love the resins from Prima and here I have used the resin frame from Frank Garcia. The resin frame with the lovley papers from the Amber Moon Collection.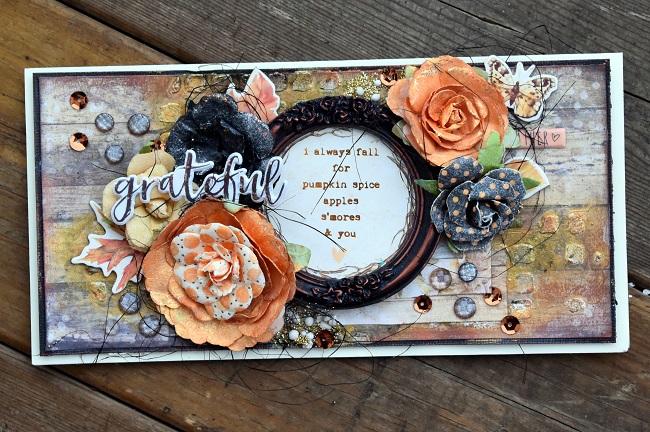 I botten har jag pappret Pumkins Season- vackra plankor passar till det mesta. Ovanpå detta har jag använt en Prima stencil tillsammans med modelingpaste. Sedan vatten och Acrylic Paint i färgen Fresh Orange och så målar jag lite slarvigt på pappret.
The paper Pumkins Season on the card and also used a stencil with modelingpaste to create texture. Some color with Acrylic paint to create shadows.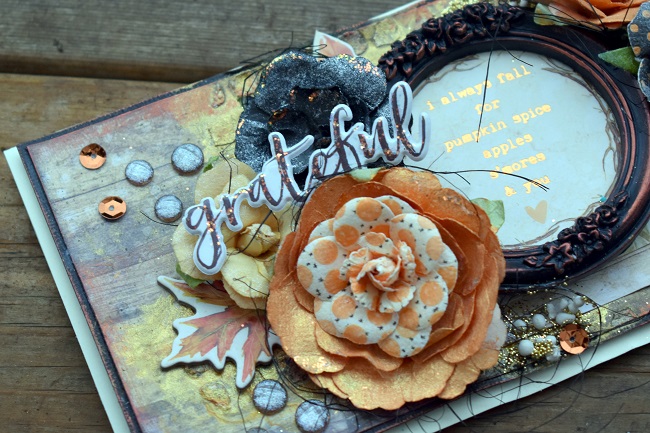 Ramen har jag målat med svart gesso och när färgen torkat så har jag lätt gnuggat på av Art Alchemy wax i färgen Rich Copper. Då framhävs de vackra detaljerna på ramen.
I have painted the resin frame with black gesso and when the gesso is dry I highlight some details with Rich Copper wax.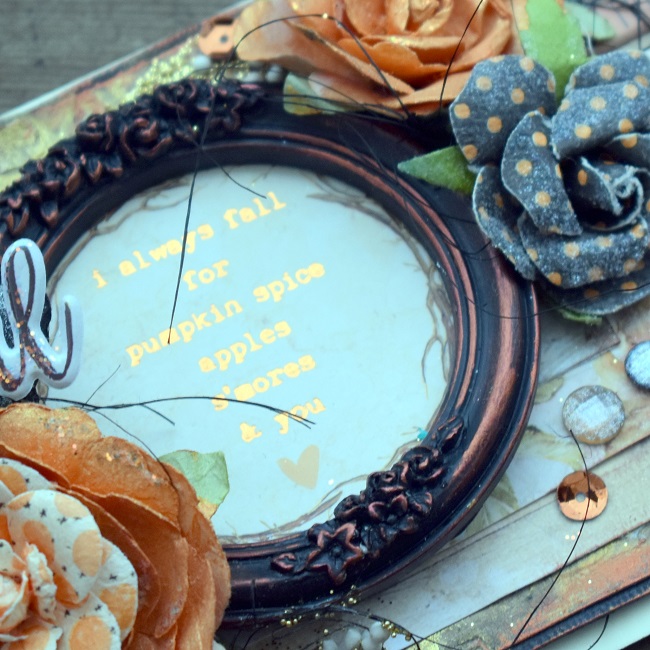 Även de oranga blommorna har jag målat med Fresh Orange. Lite Soft Matte Gel här och var på blommorna och på texten. Texten är en Puffy Stickers. Det är härligt med kontraster av olika ytor.
Also the orange flowers are painted with the Fresh Orange Paint.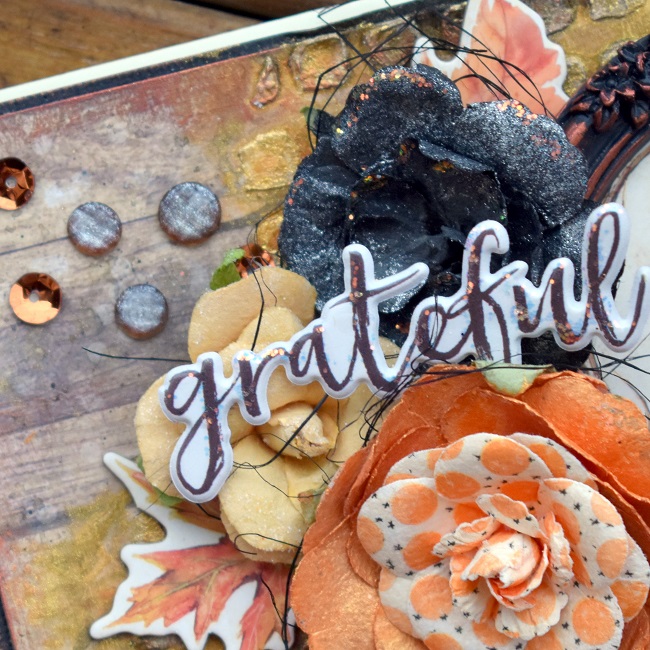 Tack för titten!
See you!
Katja
Material:
Prima Amber Moon Foiled Double-Sided Cardstock 12X12 – Pumpkins Season
Prima Frank Garcia Memory Hardware Resin Frames 2/Pkg – Petite Round
Prima Puffy Stickers – Amber Moon
Prima Ephemera Cardstock Die-Cuts – Amber Moon
Prima Say it in crystal adhesive Embellishments Amber Moon
Prima Word sticker sheet – Amber Moon
Prima Amber Moon Flowers – Woodrow
Prima Amber Moon Flowers – Bramble
Prima Finnabair Art Alchemy Metallique Wax 20ml – Rich Copper
Prima Finnabair Art Extravagance Glitter 6g 6/Pkg – Luminous
Prima Finnabair Art Alchemy Acrylic Paint 50ml – Fresh Orange
Prima Finnabair Art Basics Heavy Gesso 250ml – Black
Prima Finnabair Art Basics Modeling Paste 236ml – Opaque Matte
Prima Finnabair Art Ingredients Art Stones 230ml
Prima Finnabair Art Basics Soft Matte Gel 250ml – Transparent Matte
Övrigt: Sisal