We might call this Wednesday Journals… lol I'm back again with a new spread in my Journal.
This time I've worked with a lighter center of my Art Journal and a focal point from Dina Wakleys stamps.
I've used blue (and silver) acrylics for my background and for the leaves at the edges I've also used acrylics (Leaves are a stencil).
*************
Vi kanske lika gärna ska kalla det här Onsdagsjournalen… Häpp! Jag är tillbaka igen med ännu ett uppslag i min Art Journal.
Den här gången har jag gjort ett uppslag där det blir ljusare och ljusare mot mitten och fokuspunkten är ett stämplat motiv från Dina Wakley.
Jag har jobbat med blå (och silver) akrylfärger till bakgrunden, och även till löven på kanterna (som är en stencil).
Färgen tunnade jag med lite vatten och målade på bakgrunden med en pensel till jag blev nöjd. Ljusast innerst och så fyllde jag på med mörkare och mörkare färger ju längre ut mot kanten jag kom och såg samtidigt till att försöka blanda färgerna lite så det blev gradvis mörkare. Löven stöpplade jag genom stencilen med en liten svamp doppad i akrylfärgen.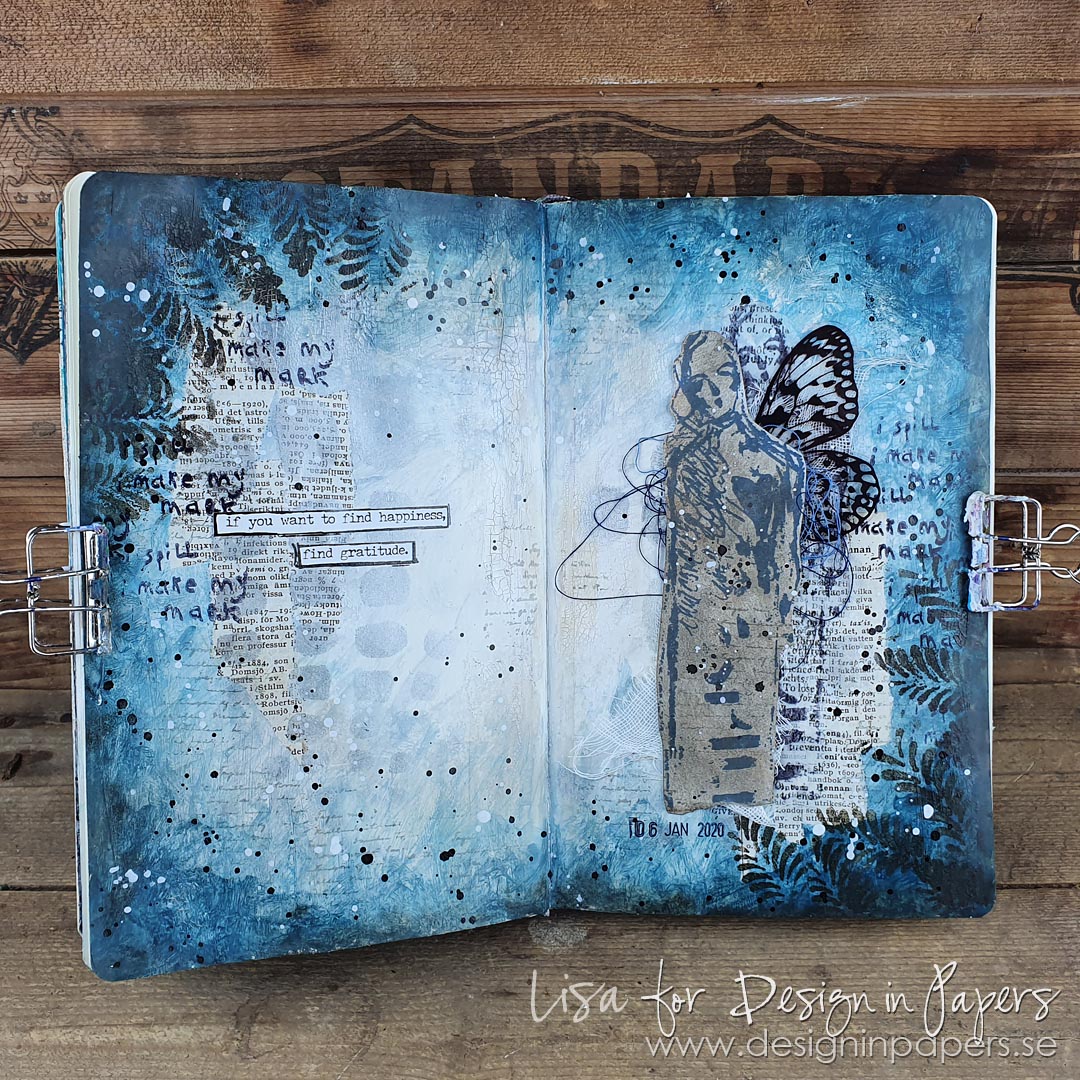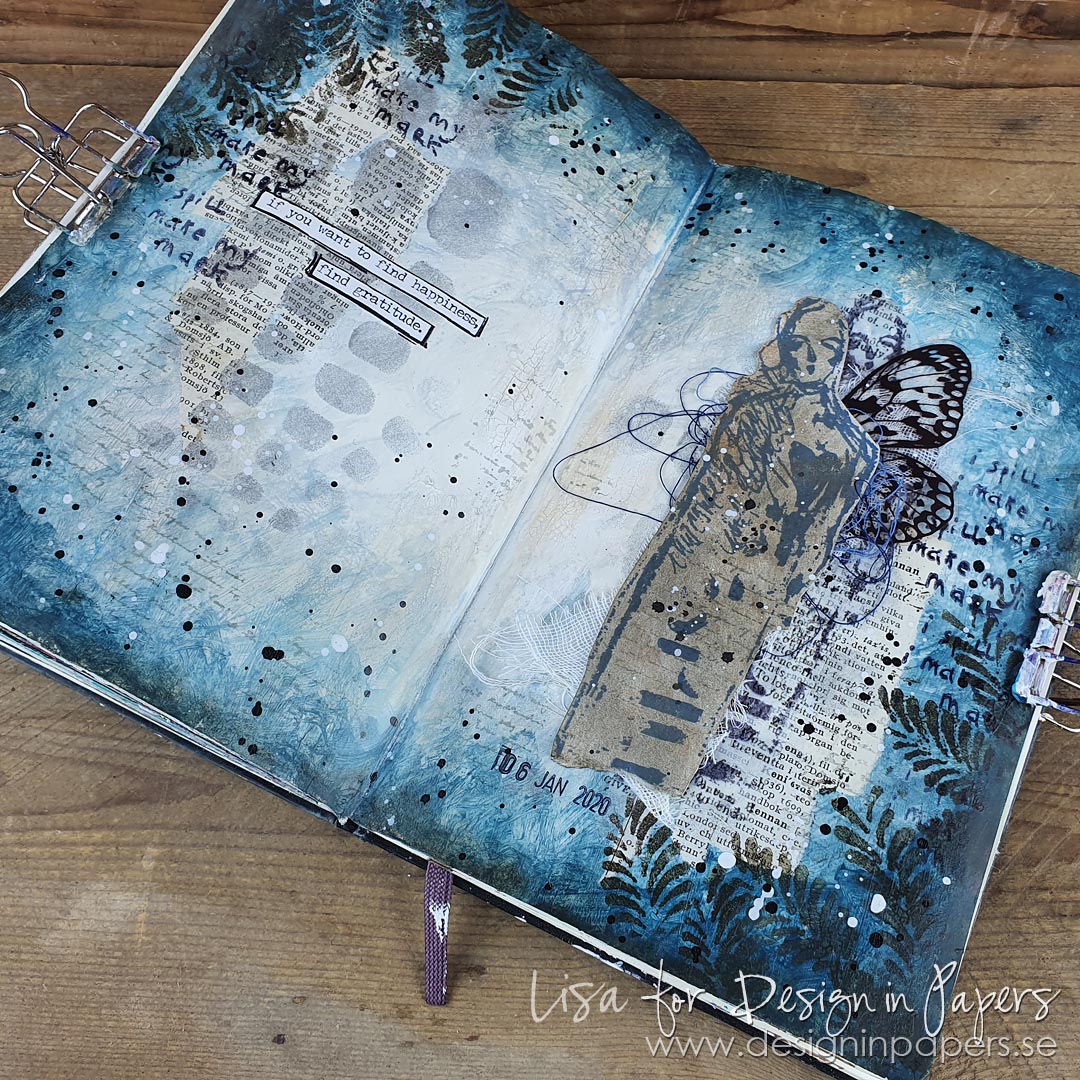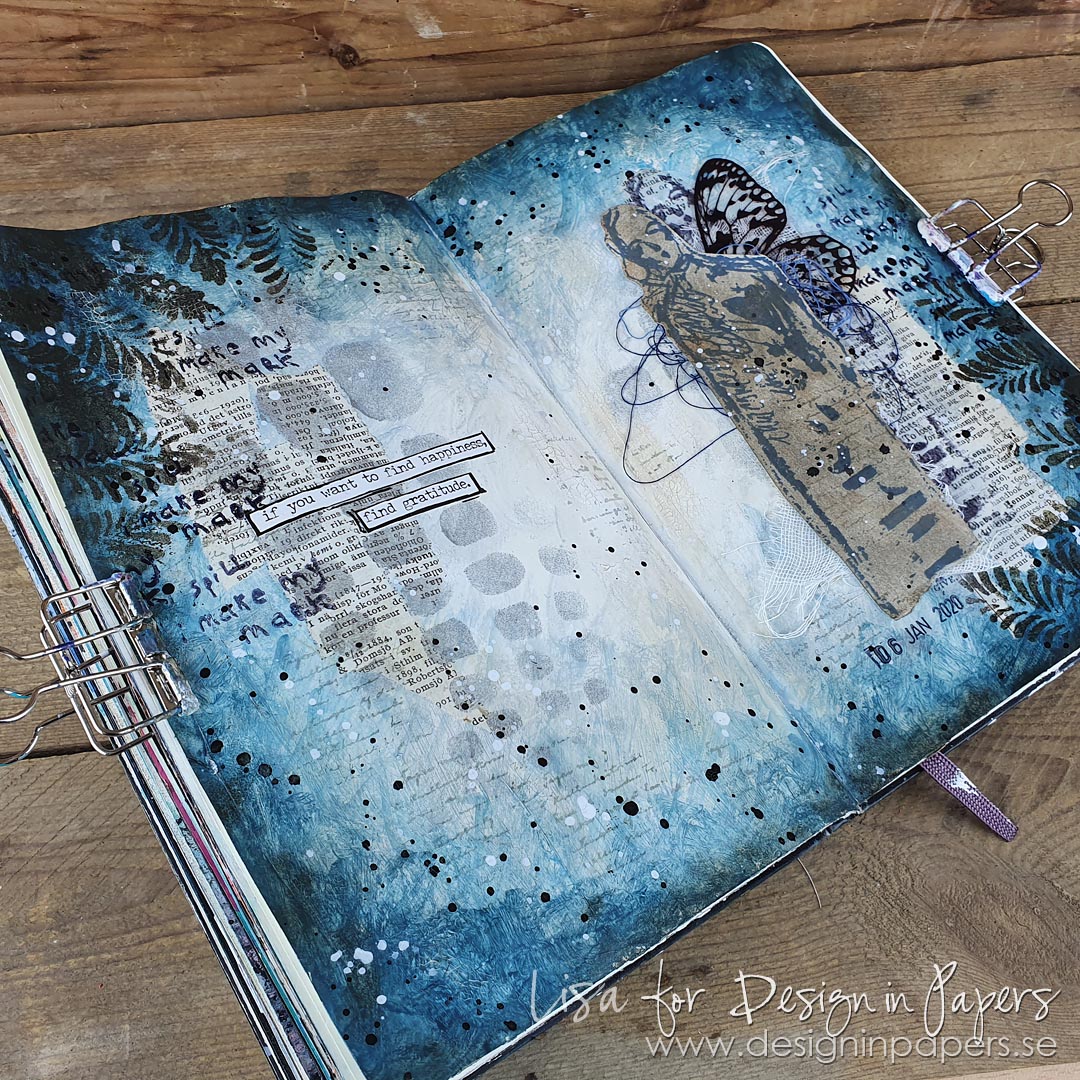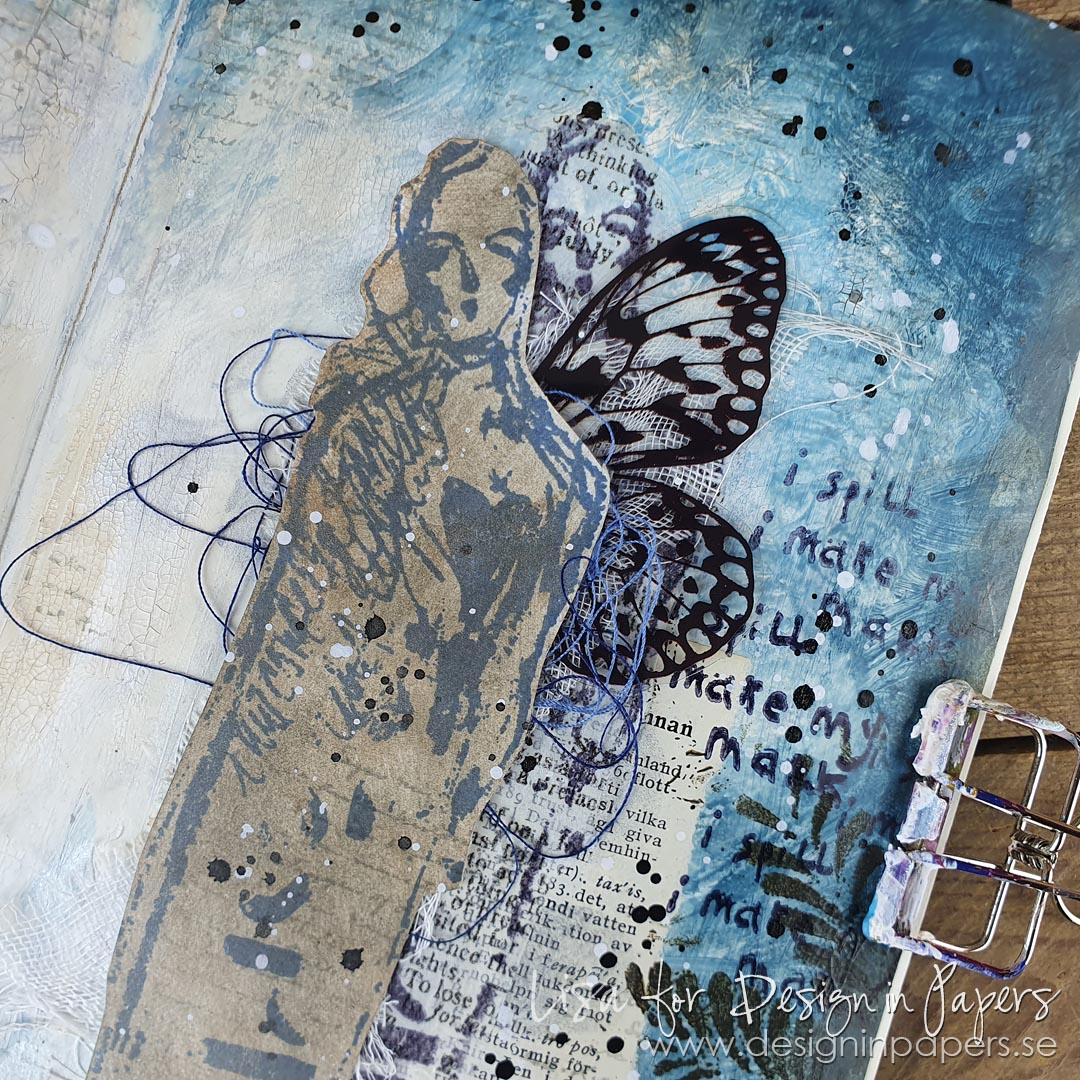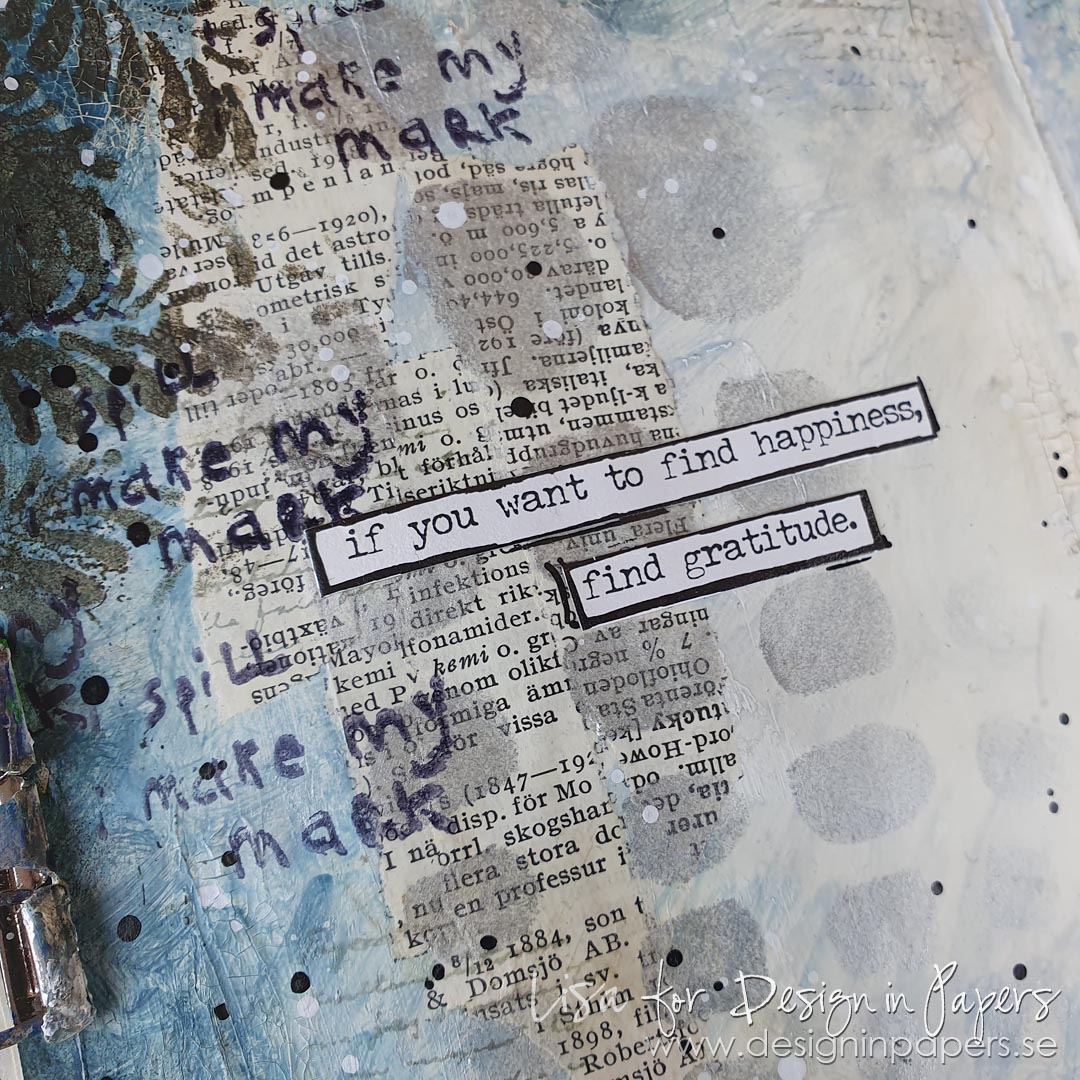 Materials Used:
Dina Wakley Acrylic Paint 29ml – Black
Dina Wakley Acrylic Paint 29ml – Sky
Dina Wakley Acrylic Paint 29ml – White
Dina Wakley Acrylic Paint 29ml – Marine
Dina Wakley Acrylic Paint 29ml – Sterling Metallic
Dina Wakley Acrylic Paint 29ml – Umber
Dina Wakley Acrylic Paint 29ml – Mineral
Kaisercraft Designer Template 6X6 – Fern
Dina Wakley Media Stencils 9X6 – Scales
Dina Wakley Media Cling Stamps 6X9 – I Spill
Tim Holtz Idea-Ology Transparent Acetate Wings 72/Pkg
Tim Holtz Idea-Ology Spiral Bound Sticker Book – Small Talk
Prima Finnabair Art Extravagance Texture Paste 250ml – White Crackle
Dina Wakley Media Gesso 118ml Jar – White
Dylusions Creative Journal Small 5X8
Dina Wakley Media Tape 3/Pkg – Blank
Hugs Lisa