Hello!
Here comes the inside of my mini album from last week. I have used papers from Kaisercraft paper collection-Whisper. Have also cut out details from acetate, used stickers and details from Collectables Cardstock Die-Cuts.
Här kommer insidan av mitt minialbum som jag visade upp förra veckan. Jag har använt papper från Kaisercraft pappers kollektion- Whisper. Har även klippt ut detaljer, som fjärilar, blommor och detaljer från Collectables Cardstock Die-Cuts.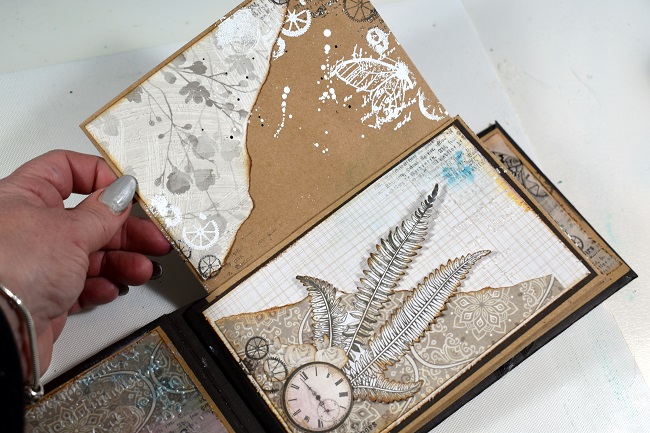 I have also been stamping and embossing on the craftpages. Have used stamp sets from Finnabair, Dream without Fear, Carte Postale and Beauiful Story.
Jag har också stämplat och embossat på sidorna. Jag har använt stämplar från Finnabair.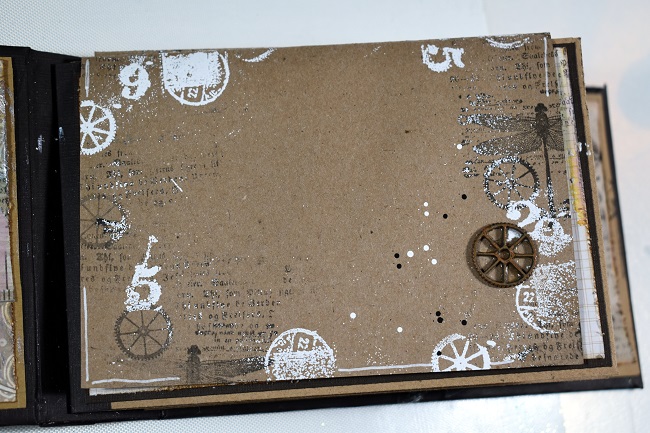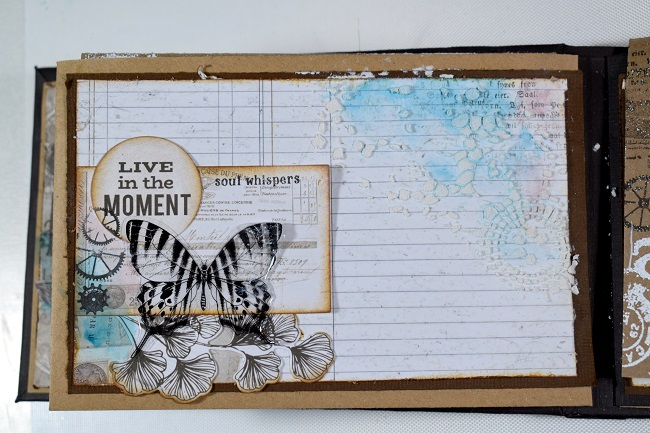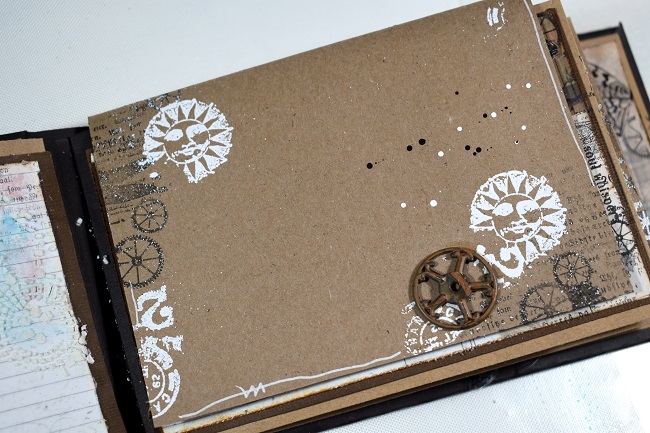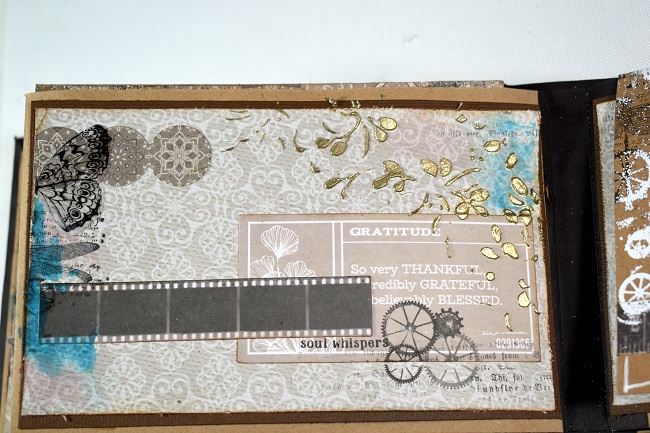 The pages have a little bit of color, to create interest and contrast. I have used Finnabairs Liquid Acrylic Paints in Emerald and Magenta.
Sidorna har fått lite färg med hjälp av  Finnabairs Liquid Acrylic Paint. Lite, lite färg på sidorna för att skapa lite kontrast mot det naturstämda i albumet.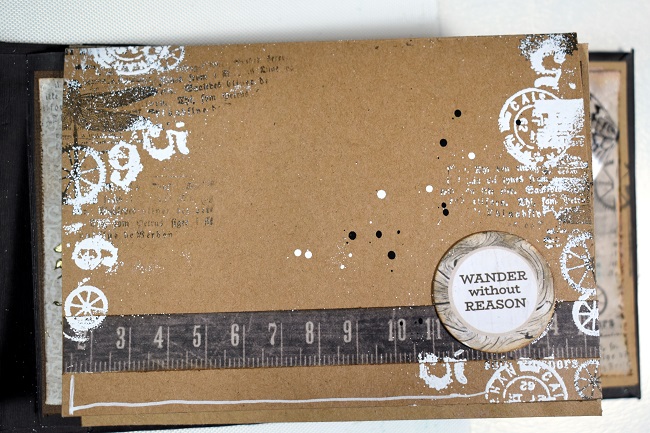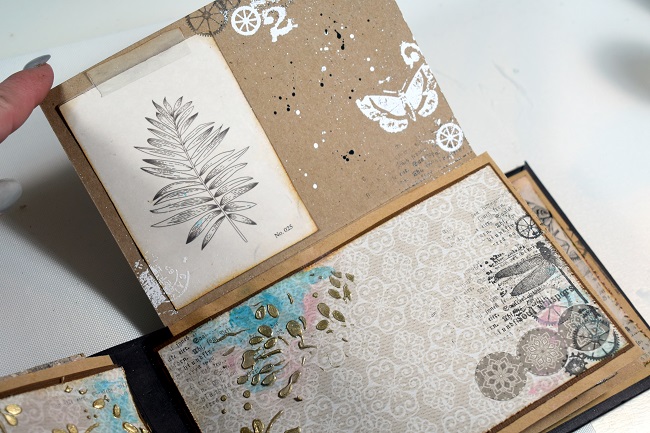 And here is video for you. You can watch me flip through the album.
Material:
Kaisercraft Whisper Double-Sided Cardstock 12X12 – Organic
Kaisercraft Whisper Double-Sided Cardstock 12X12 – Ecru
Kaisercraft Whisper Double-Sided Cardstock 12X12 – Earthy
Kaisercraft Whisper Double-Sided Cardstock 12X12 – Raw
Kaisercraft Whisper Double-Sided Cardstock 12X12 – Bisque
Kaisercraft Whisper Double-Sided Cardstock 12X12 – Buff
Kaisercraft Whisper Acetate 12X12 – Flora & Fauna
Kaisercraft Cardstock Stickers 12X12 – Whisper
Kaisercraft Collectables Cardstock Die-Cuts – Whisper
Prima Finnabair Art Alchemy Liquid Acrylic Paint 30ml – Emerald
Prima Finnabair Art Alchemy Liquid Acrylic Paint 30ml – Magenta
Prima Finnabair Clear Stamp 2.5X2.5 – Gothic Book
Prima Finnabair Cling Stamps 6X7.5 – Beautiful Story
Prima Finnabair Cling Stamps 6X7.5 – Dare To Dream
Prima Finnabair Mechanicals Metal Embellishments – Hardware Accents
Prima Finnabair Mechanicals Metal Embellishments 8/Pkg – Woodland Leaves
Prima Finnabair Mechanicals Metal Embellishments 9/Pkg – Machine Parts
Prima Finnabair Mechanicals Metal Embellishments 4/Pkg – Antique Label
Prima Finnabair Art Extravagance Effect Paste 100ml – Golden Nugget
Prima Finnabair Art Extravagance Paper Paste 250ml
Prima Finnabair Art Extravagance Icing Paste 120ml Jar – Frost/Pearl
Prima Finnabair Art Basics Gesso 250ml – Clear
Prima Art Daily Planner Cling Stamps – Dream Without Fear
Prima Art Daily Planner Rubber Stamps – Carte Postale
Prima Finnabair Stencil 6X9 – Swirly Florals
Prima Finnabair Stencil 6X9 – Manuscript
Prima Finnabair Art Basics Heavy Gesso Tube 59ml – Black
Prima Finnabair Art Basics Heavy Gesso Tube 59ml – White
Prima Finnabair Mechanicals Metal Embellishments – Hardware Accents
Tonic Studios Nuvo Embossing Powder 22ml – Glacier White
Stampendous Stamp-N Stuff Boss Gloss Embossing Ink 59ml – Clear
xoxo Katja