Hi! 2019 is here and I am looking forward to giving you some inspiration. Two layers of tags with gorgeous paper, Moon Child from Prima Marketing. The tags I have primed with clear gesso before I start-  On that some Icing Paste that gives clear and glossy effect when it dries.
2019 är här och jag ser fram emot ännu ett år som jag kan få inspirera. Här två tags med underbara papper med Moon Child från Prima Marketing. Tagen har jag grundat med clear gesso innan jag startade. Sedan haft på Icing Paste som ger en klar och blank yta när det torkar.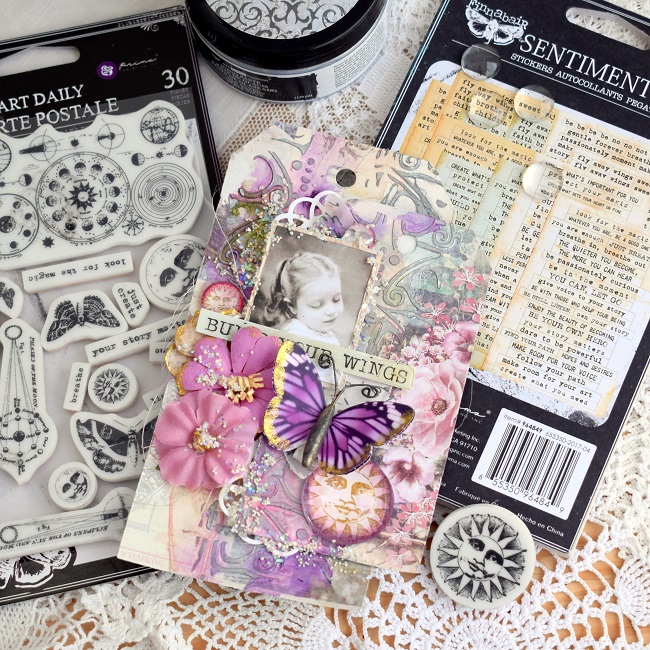 Its so perfect that paper and flowers  matches the paper. That makes it is so easy to create. Here I have also used stamps from the Art Daily collection. So usable small stamps.
Det bästa med Primas papper och blommor matchar så bra med varandra. Det blir enkelt att matcha ihop saker. Här har jag också använt stämplar från Art Daily. Otroligt fina solar och månar som passar till många olika slags projekt.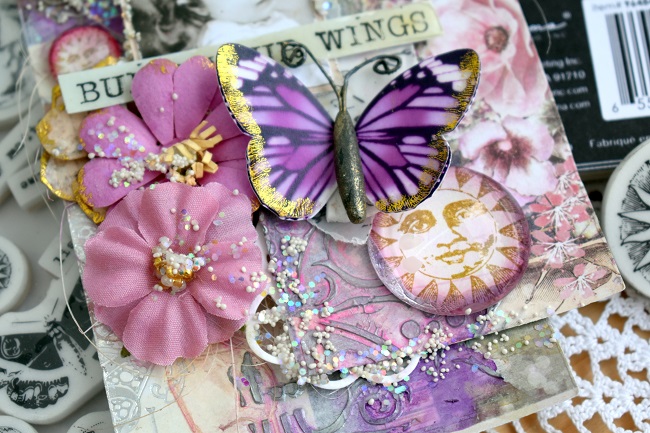 Also, the girl and sentiment come from the Art Daily Collection.
I Art Dailys serie hittar man även söta vintage motiv och mycket använbara texter.
Material:
Prima Art Daily Planner Clear Stamps – Dream Without Fear
Prima Finnabair Art Basics Gesso 250ml – Clear
Prima Moon Child Foiled Double-Sided Cardstock 12X12 – Lunar Peak
Prima Art Daily Planner Sticker Pad 4.5X7.5 12/Pkg – Sentiments
Prima Moon Child Mulberry Paper Flowers 14/Pkg – Light Years
Prima Moon Child Paper Flowers 12/Pkg – First Eclipse
Prima Finnabair Stencil 6X9 – Iris Tapestry
Prima Finnabair Art Extravagance Icing Paste 120ml Jar – Old Silver
Prima Finnabair Art Ingredients Mini Art Stones 230ml
Prima Finnabair Art Basics Soft Matte Gel 250ml – Transparent Matte
Tonic Studios Nuvo Confetti 35ml – Crystal Cloud Circles 1064N
Stix2 Jumbo Roll of Double Sided Foam Tape 15mm x 3mm x 20meter
Prima Confections Watercolor Pans 12/Pkg – Tropicals
Prima Finnabair Art Ingredients Melange Art Pebbles 46/Pkg
Sizzix Thinlits Die – Doily Mask
Tim Holtz Sizzix Framelits Dies 8/Pkg – Tag Collection
xoxo Katja