Här har jag skapar yta med hjälp av modelingpaste, stencil och Art Stones. Så härligt att man kan bevara goda minnen framme som här på en stor tag.
Here I have created texture with modeling paste, stencil and Art Stones. I think is lovely that you can good memories, so you can see it every day.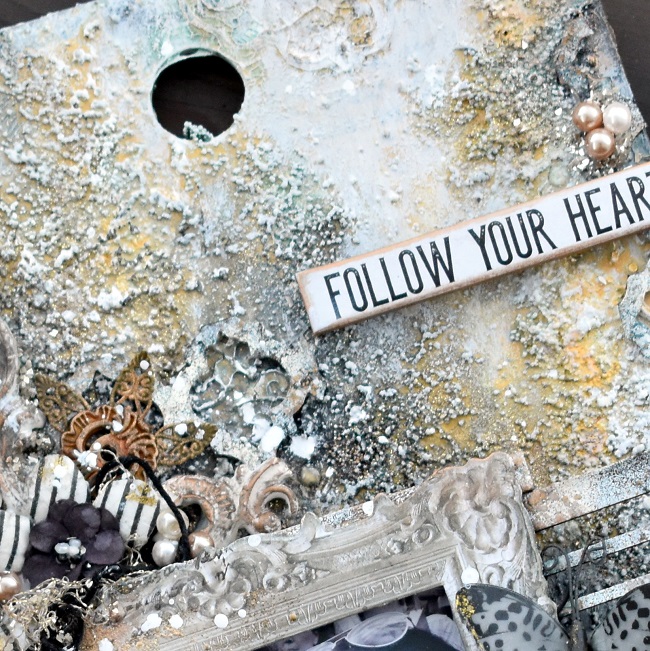 Jag bygger med metalldekorationer, blommor lager på lager för att skapa ett djup. För lite extra uppmärksamhet så har jag lite pärlor här och var. Har färgat in min tag med metallisk akrylfärg.
I built up, with metallics, flowers to create layers. For some extra interest, I have some pearls here and there.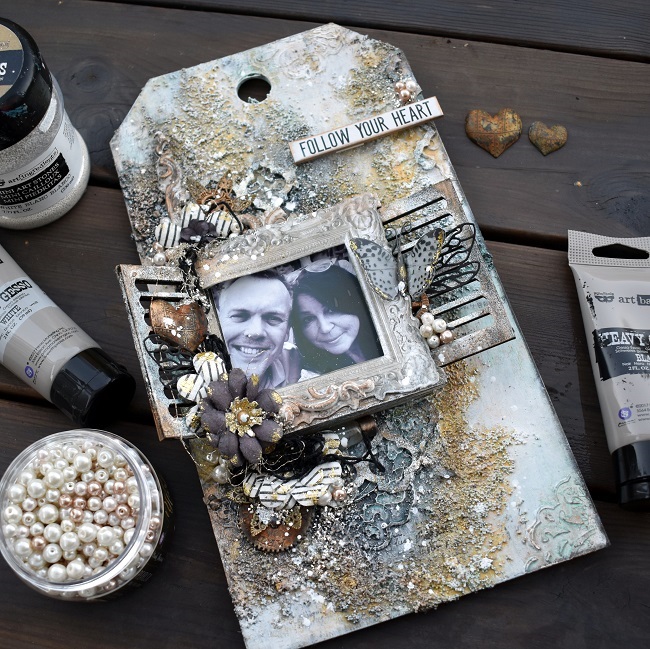 Material:
Prima Finnabair Art Basics Modeling Paste 473ml – Opaque Matte
Prima Finnabair Art Basics Heavy Gesso Tube 59ml – Black
Prima Finnabair Art Ingredients Mini Art Stones 230ml
Prima Finnabair Art Ingredients Art Stones 230ml
Prima Finnabair Art Alchemy Metallique Wax 20ml – White Gold
Prima Finnabair Art Alchemy Acrylic Paint 50ml – Metallique Silver Spoon
Prima Finnabair Art Alchemy Acrylic Paint 50ml – Metallique Gold Rush
Prima Re-Design Paper Clay Bucket
Prima Junkyard Findings Vintage Trinkets – Small Typo Bulbs
Prima Frank Garcia Memory Hardware Glass Pearls – 2
Prima Finnabair Art Basics 3D Gloss Gel 236ml – Transparent
Prima Flirty Fleur Mulberry Paper Flowers 19/Pkg – Minty Sprinkles W/Stencil
Prima Finnabair Mechanicals Metal Embellishments 16/Pkg – Winter Trinkets
Prima Finnabair Mechanicals Metal Embellishments -Hearts
Prima Flirty Fleur Mulberry Paper Flowers 10/Pkg – Take Flight
Prima Finnabair Mechanicals Metal Embellishments 7/Pkg – Rustic Gears
Prima Finnabair Mechanicals Metal Embellishments – Steampunk Gears
Prima Frank Garcia Memory Hardware Embellishments – Venetian Shutters
Tim Holtz Idea-0logy Chipboard Quote Chips 58/Pkg – Word & Phrases
Tim Holtz Etcetera Tag
Memory Box Die – Intricate Bee
xoxo Katja