Nu till Halloween blir det ett kort med en döskalle från Sizzix.
Time for Halloween, and I have made a card with a skull from Sizzix.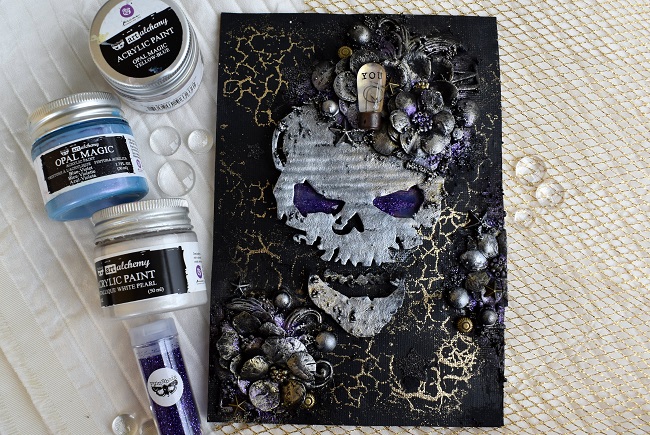 Jag har målat med olika färger Art Alchemy färger från Prima Finnabair. Det som är så härligt är Opal Magic är att det så olika beroende på om man målar på svart eller vitt.
I have used Art Alchemy paints from Prima Finnabair. Just love the Opal Magic Colors because of the versatility of the colors. 
Blommor, metalldekorationer, pebbles allt har blivtit övermålat för att göra det enhetligt. För lite extra detaljer att jag strössla på lite mini Art Stones.
I have painted all the metallic decorations and pebbles. For extra texture, I have sprinkled some mini Art Stones.
Material:
Prima Finnabair Art Basics Heavy Gesso Tube 59ml – Black
Prima Finnabair Art Basics Heavy Gesso Tube 59ml – White
Prima Santorini Paper Flowers – Athinios
Prima Finnabair Art Alchemy Acrylic Paint 50ml – Opal Magic Blue-Violet
Prima Finnabair Art Alchemy Acrylic Paint 50ml – Metallique White Pearl
Prima Finnabair Art Extravagance Glitter 6g 6/Pkg – Mardi Gras
Prima Finnabair Art Alchemy Acrylic Paint 50ml – Opal Magic Yellow-Blue
Prima Finnabair Art Ingredients Melange Art Pebbles 46/Pkg
Prima Finnabair Mechanicals Metal Embellishments 33/Pkg – Mini Knobs
Prima Finnabair Mechanicals Metal Embellishments 26/Pkg – Mini Stars
Prima Finnabair Mechanicals Metal Embellishments 20/Pkg – Mini Hardware
Prima Finnabair Art Basics 3D Matte Gel 236ml – Transparent
Prima Sunrise Sunset Mechanicals Metal Vintage Trinkets – Mini Roman Numerals
Prima Redesign Mould 5X8 – Warrington Framework
Prima Re-Design Paper Clay Bucket
Prima Finnabair Art Ingredients Mini Art Stones 230ml
Stampendous Embossing Powder 5/Pkg 29gr – Glamour
Tim Holtz Sizzix Bigz Die – Sinister
Sizzix Big Shot – White & Gray
Tonic Studios Nuvo Crystal Glaze 50ml
Xoxo Katja