Hej!
Kaisercraft har flera roliga MDF produkter. Här en släde som har blivit ompysslad med Primas Santa Baby blommor och mixedmedia produkter.
Kaisercraft has many gorgeous MDF products. Here I have alter a sled with mixedmedia products from Prima.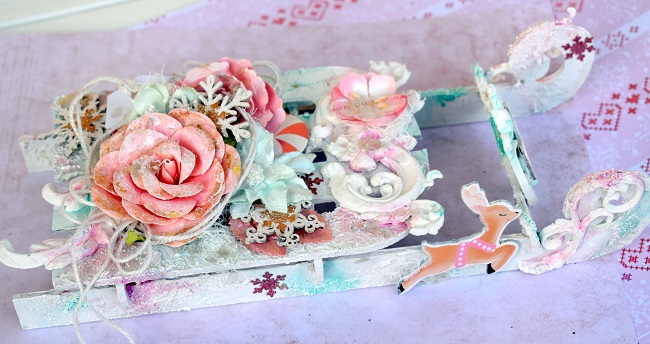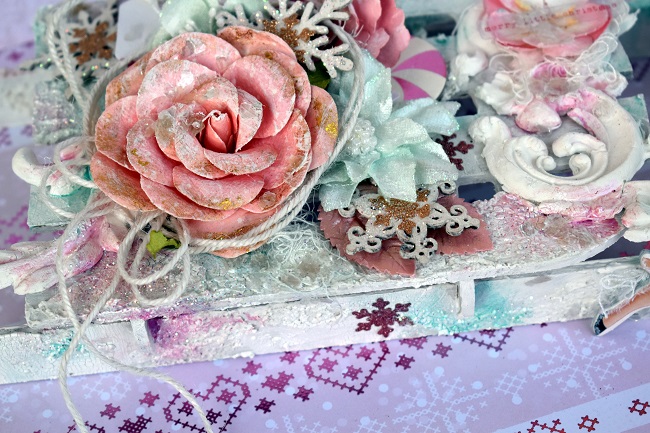 Gesso och snowflakepaste för struktur och Opal Magic för färg.
I have used gesso and snowflake paste for texture and Opal Magic for color.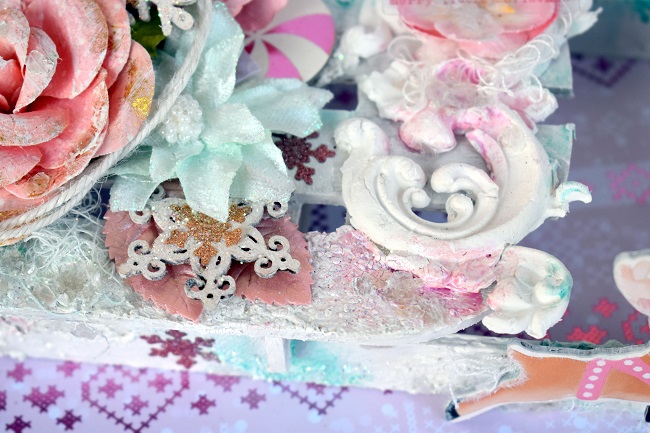 Dekorationer som är gjorda i papperslera och har använt en form från Redesign från Prima.
I have made the decorations of paperclay and have used a mould from Redesign from Prima.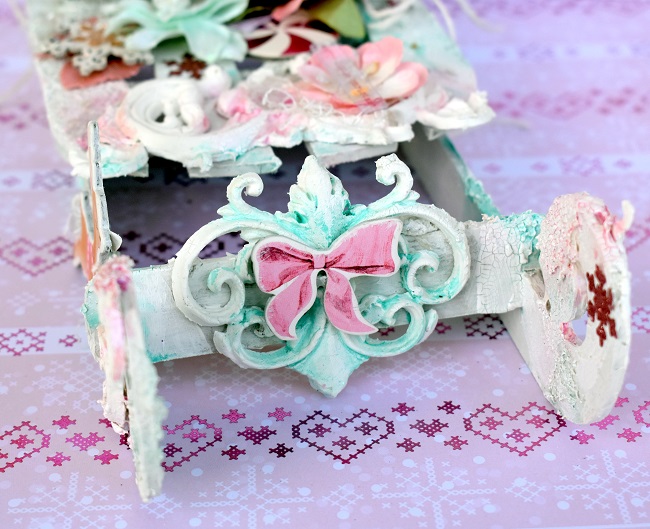 xoxo Katja
Material:
Prima Finnabair Art Basics Heavy Gesso 250ml – White
Prima Finnabair Art Extravagance Texture Paste 250ml – White Crackle
Prima Finnabair Art Extravagance Snowflake Paste 118ml
Prima Santa Baby Fabric Flowers 12/Pkg – Frosted Mint
Prima Ephemera Cardstock Die-Cuts 61/Pkg – Santa Baby
Prima Chipboard Stickers 6X12 2/Pkg – Santa Baby
Prima Finnabair Art Alchemy Acrylic Paint 50ml – Opal Magic Pink-Blue
Prima Finnabair Art Alchemy Acrylic Paint 50ml – Opal Magic Teal-Blue
Prima Redesign Mould 5X8 – Everleigh Flourish
Prima Finnabair Art Basics 3D Matte Gel 236ml – Transparent
Prima Re-Design Paper Clay Bucket
Prima Santa Baby Glitter Stickers – Snowflakes
Kaisercraft Beyond The Page MDF – Sled
Kaisercraft Wooden Shapes 45/Pkg – Snowflakes