Det släpps nyheter hela tiden och äntligen har jag fått nya moulds i mina händer. Vingar och nycklar gjorda i papperslera kan man inte få för mycket av.
News is coming and these wing and key moulds are adorable.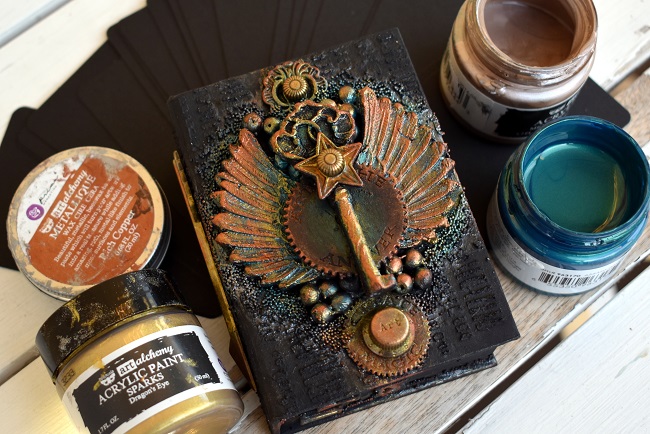 Jag har dekorerat en ATC box. Den har fått textur och även strösslat med pärlor.
I have decorated an ATC box. I gave it texture and also some pearls.
Med akrylfärg och wax så färgar jag in mina dekorationer.
Acrylic paint and wax make some magic on my box.
Har en video så kan ni se hur jag gjorde.
I have a video for you!
Katja
Material:
Prima Silicone Mould – Keys
Prima Silicone Mould – Wing & Locket
Prima Altered Card Set – Black
Prima Re-Design Paper Clay Bucket
Prima Finnabair Art Basics Heavy Gesso 250ml – Black
Prima Finnabair Art Alchemy Acrylic Paint 50ml – Metallique Soft Satin
Prima Finnabair Art Alchemy Acrylic Paint 50ml – Emerald Green
Prima Finnabair Mechanicals Metal Embellishments 5/Pkg – Barn Stars
Prima Finnabair Mechanicals Metal Embellishments 33/Pkg – Mini Knobs
Prima Sunrise Sunset Mechanicals Metal Vintage Trinkets – Mini Roman Numerals
Prima Finnabair Art Basics 3D Gloss Gel 236ml – Transparent
Prima Finnabair Art Basics Soft Matte Gel 250ml – Transparent Matte
Prima Frank Garcia Memory Hardware Glass Pearls – 2
Prima Finnabair Art Alchemy Metallique Wax 20ml – Rich Copper
Prima Finnabair Art Extravagance Paper Paste 250ml
Tim Holtz Idea-ology Metal Adornments 6/Pkg – Arrows
Prima Finnabair Art Alchemy Metallique Wax 20ml – White Gold
Prima Finnabair Mechanicals Metal Embellishments 7/Pkg – Rustic Washers
Tim Holtz Mini Layered Stencil Set 3/Pkg – Set #34