Oh, jag är så förälskad i den vackra kollektionen Santorini från Prima. Blåa fräscha toner, med lite vitt och rosa. Här på mitt album så har jag fokus på det blåa.
Oh, I am so in love in the beautiful collection Santorini from Prima. Blue fresh colors, with some white and pink. Here on my album, I have only blue tones.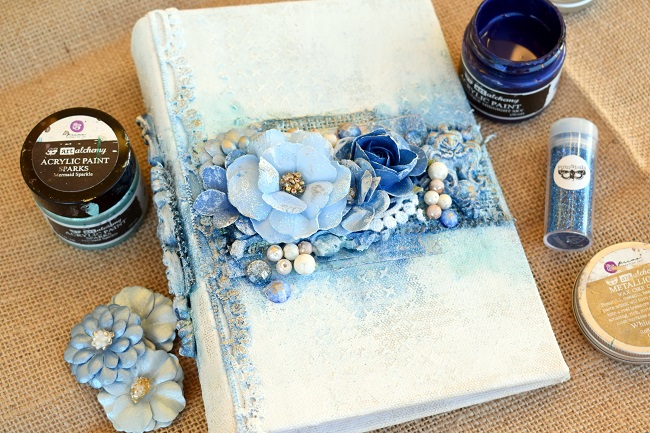 Jag har klätt in en gammal bok med canvas och målat över allt lite slarvigt med gesso.
I have covered an old book with canvas and painted all over it with white gesso.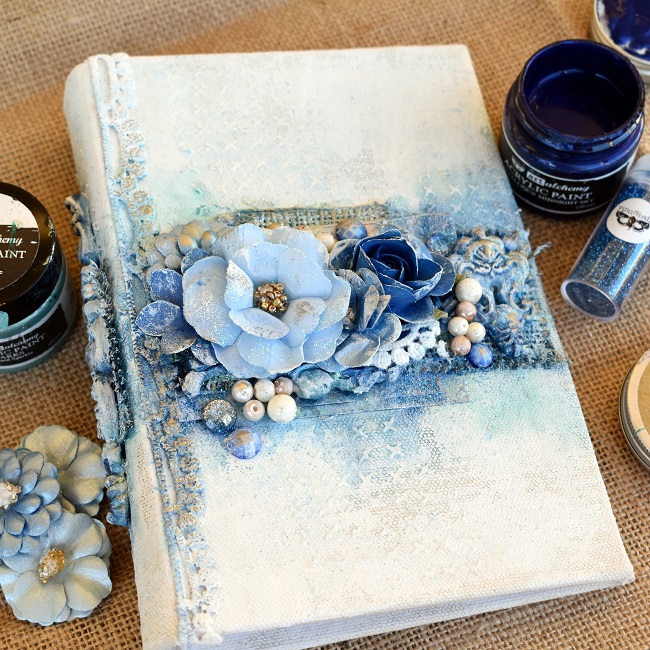 För att skapa lite textur så har jag använt en stencil med små kryss från Tim Holtz. 3 D gloss gel i stencilen och den ger en glansig, lite blank yta med lite höjd.
To create some texture I have used a stencil with 3d Matte Gel.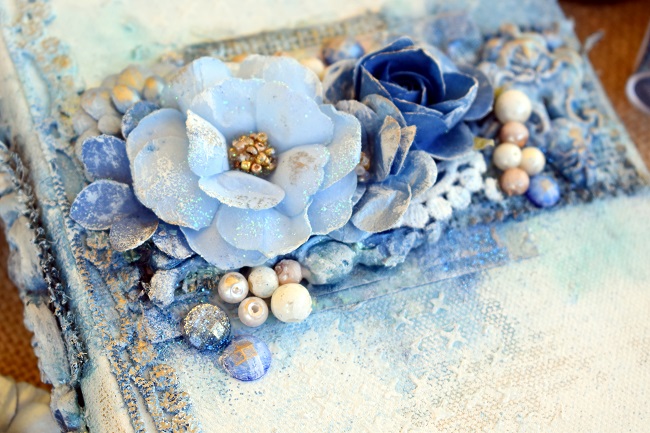 Målat med med Sparks och två olika nyanser av Primas Acrylic paint i Midnight Sky och Royal Blue.
I have painted with Sparks and to different shades of blue of Primas Acrylic paint, Midnight Sky and Royal Blue.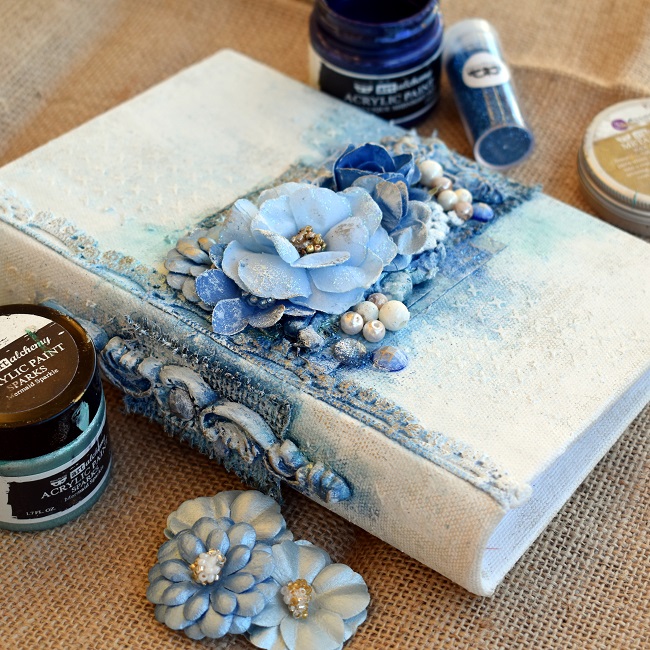 Gillar verkligen att göra egna dekorationer med papperslera och moulds.
Some decorations made with paperclay and moulds.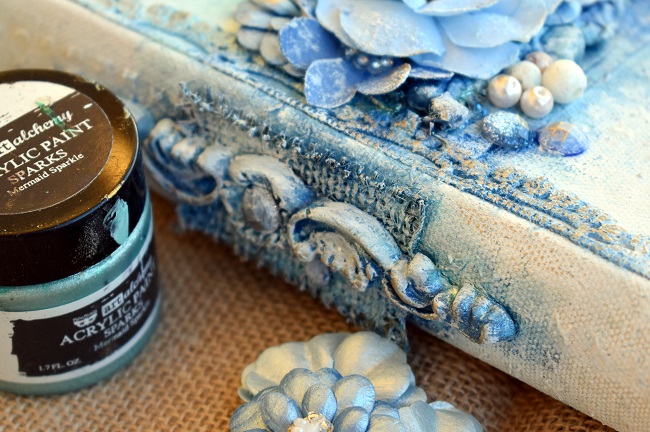 Glaspärlor, rhinestones som sitter i kluster runt blommorna.
Glassbeads, rhinestones are around my flowers.
På toppen av dekorationerna, pärlorna och blommor så har jag lagt på ett tunnt lager av wax- White Gold från Prima.
On the top of my decorations, pearls, and flowers I have added a thin coat of wax- White Gold from Prima.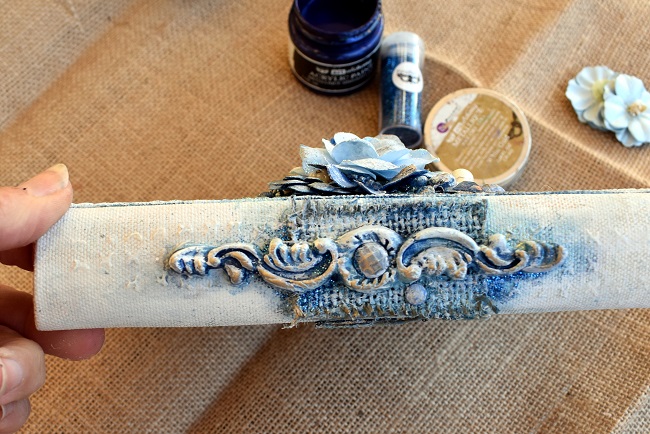 Nästa vecka om ni kikar förbi så har jag några bilder från insidan.
Next week I will show you some pages from the inside of the album.
Vi ses! /See you!
Katja
Material:
Prima Santorini Paper Flowers – Athinios
Prima Santorini Paper Flowers – Akrotiri
Prima Santorini Paper Flowers – Fira
Prima Santorini Double-Sided Cardstock 12X12 – Enjoying The Sun
Prima Finnabair Art Alchemy Acrylic Paint 50ml – Metallique Royal Blue
Prima Finnabair Art Basics Heavy Gesso Tube 59ml – White
Prima Finnabair Art Basics 3D Matte Gel 236ml – Transparent
Prima Iron Orchid Designs Paper Clay 250gr
Prima Iron Orchid Designs Vintage Art Decor Mould 5X8 – Louis
Prima Finnabair Art Alchemy Acrylic Paint 50ml – Metallique Midnight Sky
Prima Iron Orchid Designs Vintage Art Decor Mould 5X8 – Baroque #6
Prima Frank Garcia Memory Hardware Glass Pearls – 2
Prima Finnabair Art Basics 3D Gloss Gel 473ml – Transparent
Prima Finnabair Art Ingredients Art Stones 230ml
Prima Finnabair Art Basic Fabric Pack
Prima Say It In Crystals Adhesive Embellishments – Santorini
Prima Finnabair Art Alchemy Acrylic Paint 50ml – Magical Pond
Prima Finnabair Art Alchemy Metallique Wax 20ml – White Gold
Ken Oliver Vintage Trims 2yards – Scallop Dot
Tim Holtz Mini Layered Stencil Set 3/Pkg – Set #33