Ohoj, den här stooora tagen var det roligaste jag gjort på länge. Det är en Large Tag från Tim Holtz och det bästa av allt den är i thickboard så den passar perfekt till mixedmedia.
Wow, this tag was so fun to create. Its a large tag from Tim Holtz and this tag is made from thickboard so this is perfect for MixedMedia.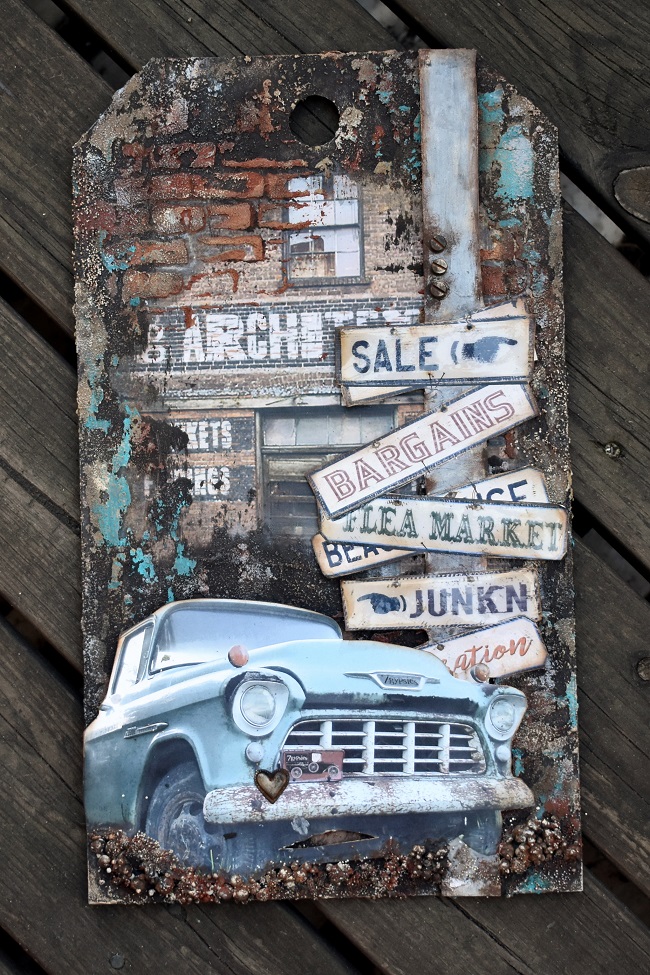 När jag såg det fantastiska pappret, Junk´n från 7gypsies så blev jag förälskad och visste att jag vill gör något med pappret. Så här har jag klippt ner pappret i delar och byggt upp lite struktur för att få allt att gå samman.
When I saw the lovley paper, Junk´n from 7gypsies I just feel in love. Here I have been cutting in parts created some texture around the paper .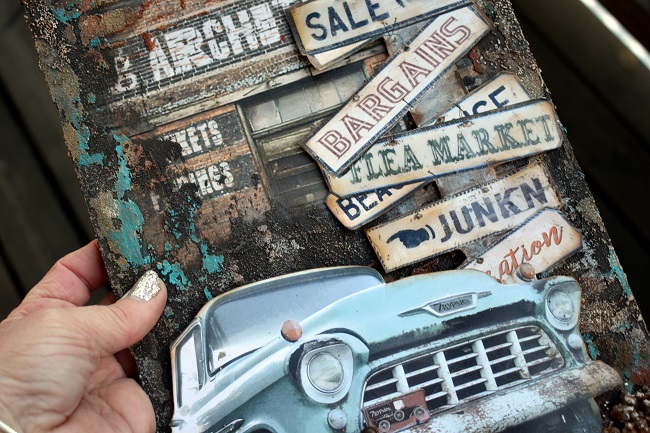 Längst ner på tagen har jag Art Stones med Rust Paste och lite wax på.
On the tag there is Art Stones, Rust Paste whit some wax on.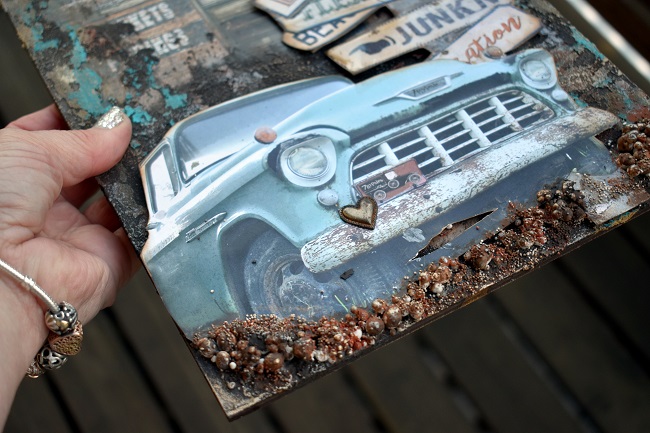 Tagen har fått rostig paste på sig. Har byggt upp det in flera lager. Har även lagt på lite av Patina Effect Pasten. Skuggat allt och fördjupat allt med lite mist från Tattered Angel
I have many layers of Rust Effect Paste. There is also a layer of Patina Paste. I Have made some shimmer and some shadowing with mist from Tatttered Angel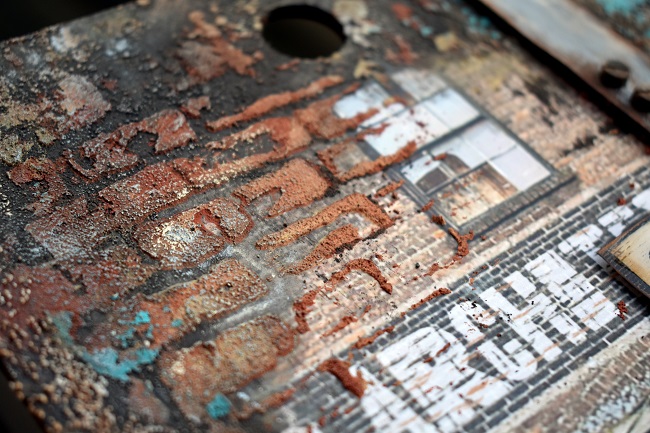 Det sista jag la på var av Art Alchemy waxes. Lagt på i lite olika färger som Rich Copper, White gold och Aged Brass.
On the top of everything, I have used Art Alchemy waxes in Rich Copper, White Gold and Aged Brass.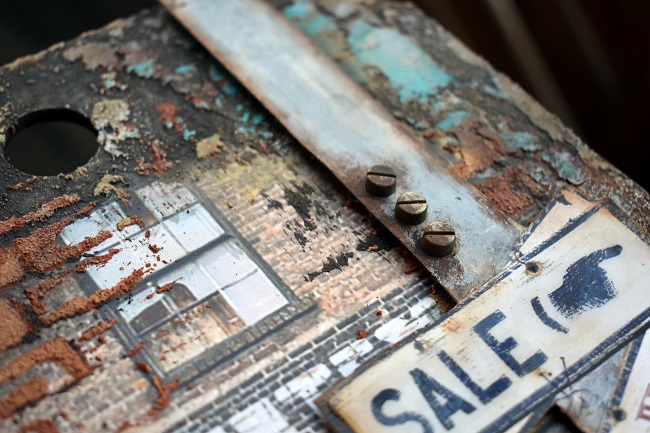 På några av skyltarna och på valda delar på bilen har jag lagt på av Nuvos  Crystal Glaze. Det är min nya favorit. Den är enkel att applicera och ger en blank och fin yta när man lyfta fram något.
On some of the sighns, there is Nuvos Crystal Glaze,
Så hoppas jag kunnat bidra med lite inspiration.
Ses/See you
Katja
Material:
Tim Holtz Etcetera Large Tag 8.25X14.25
7 Gypsies Architextures Double-Sided Cardstock 12X12 – Junk´n
Tattered Angels Glimmer Mist 59ml – Black Magic
Tattered Angels Glimmer Mist 59ml – Tattered Leather
Prima Finnabair Art Basics Soft Matte Gel 250ml – Transparent Matte
Prima Finnabair Art Extravagence Rust Paste Set
Prima Finnabair Art Basics Dabbing Brushes 3/Pkg
Prima Finnabair Art Ingredients Art Stones 230ml
Prima Finnabair Art Ingredients Mega Art Stones 230ml
Prima Finnabair Art Ingredients Mini Art Stones 230ml
Prima Finnabair Art Alchemy Metallique Wax 20ml – White Gold
Prima Finnabair Art Alchemy Metallique Wax 20ml – Rich Copper
Prima Finnabair Art Alchemy Metallique Wax 20ml – Aged Brass
Prima Finnabair Mechanicals Metal Embellishments 20/Pkg – Mini Hardware
Tonic Studios Nuvo Crystal Glaze 50m
Stix2 Jumbo Roll of Double Sided Foam Tape 10mm x 3mm x 20meter