Påsk och gult, javisst. Idag har jag varit generös med den gula akrylfärgen Impasto Paint. Så mycket pigment och härligt lyster.
Yellow with Impasto Paint for an Easter egg. Such much color and pigment.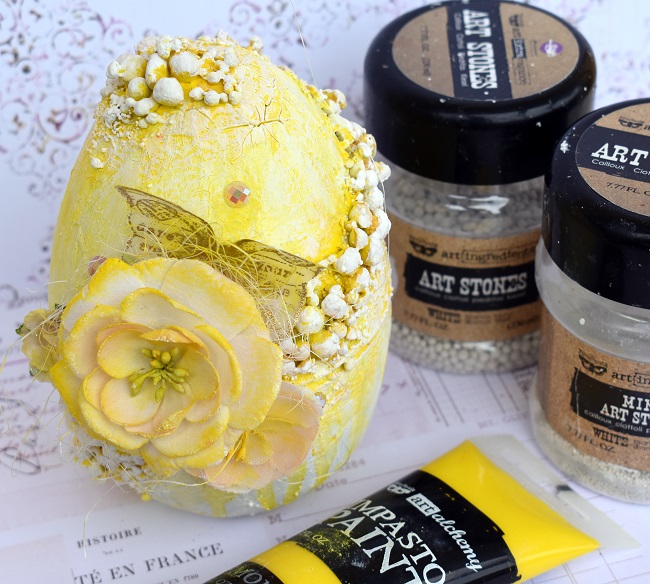 Texture Paste med crackle i botten. Den får finast krackelringar när den får självtorka över natten.
Used Texture Paste with crackles in the background. The paste get the finest crackles if you let it dry over night.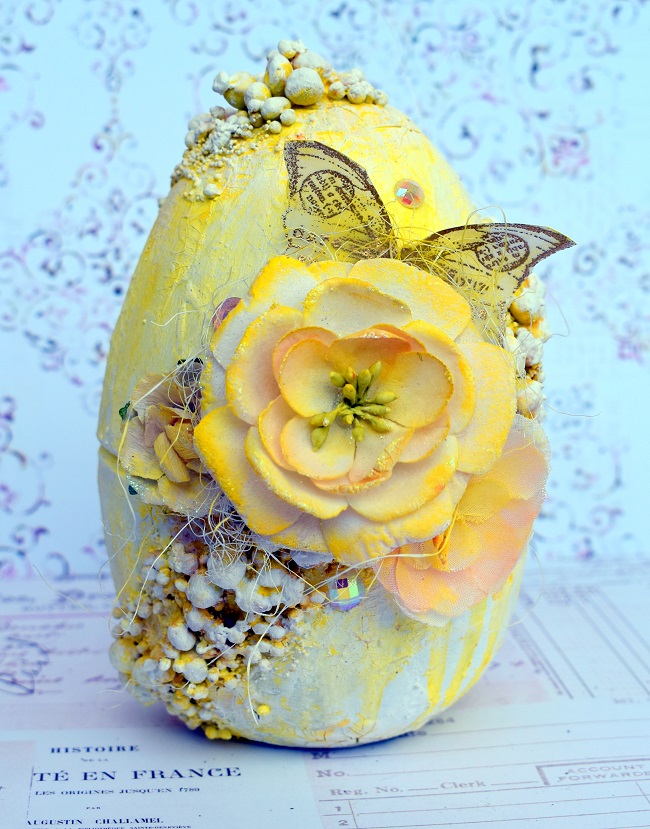 Riktligt med ArtStones som sitter fast med Soft Matte gel. Allt får torka ordentligt innan jag tar på färg. När allt torkat riktigt igen så torrborstar jag med gesso.
Lot of Art Stones and they are glued with Soft Matte Gel. Everything must dry before you paint.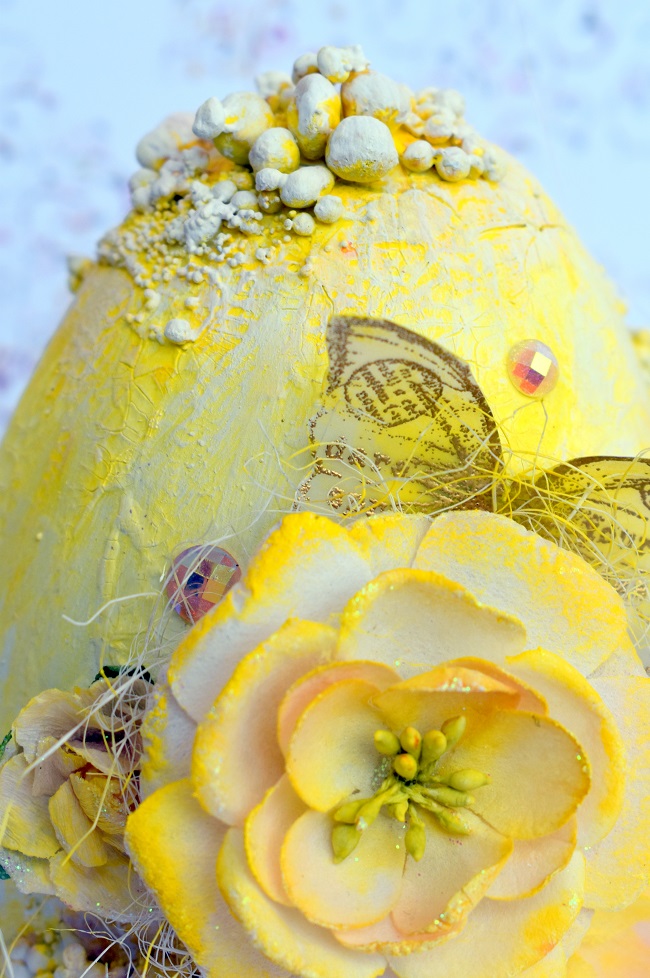 Det finns massor av fina blommor i shoppen, här några gula blommor från Lavender Collection. Även blommorna har fått ta del av den vackra gula färgen.
You find many Prima flowers in the store, and here are some yellow from the Lavender Collection. Even the flowers have some of the lovely yellow paint.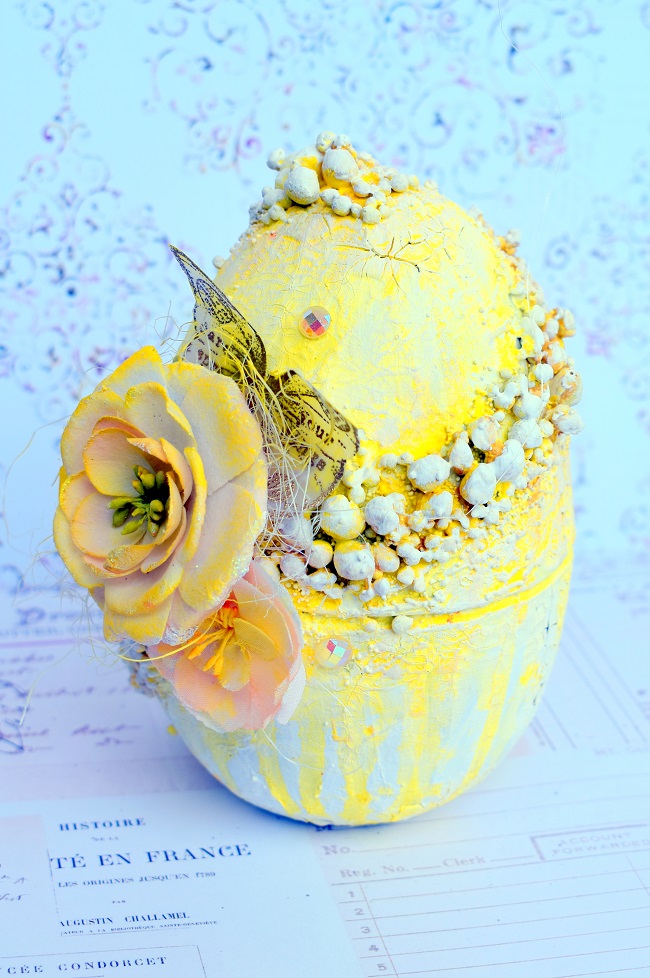 Stämplat med en fjäril från Finnabairs underbara stämplar på Vellum som jag därefter har embossat i guld.
Stamped a butterfly from Finnabairs stamps. Stamped on vellum and I have used embossingpowder in gold.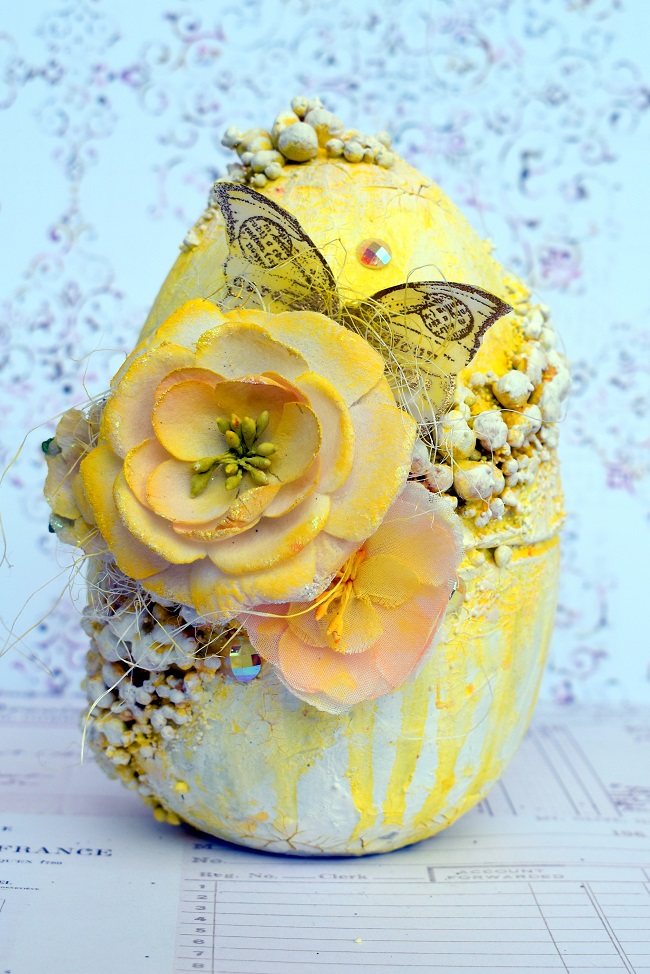 Glad Påsk! Happy Easter!
Katja
Material:
Prima Finnabair Art Alchemy Impasto Paint 75ml – Lemon Peel
Prima Finnabair Art Basics Heavy Gesso 500ml – White
Prima Finnabair Art Basics Soft Matte Gel 250ml – Transparent Matte
Prima Finnabair Art Basics 3D Matte Gel 236ml – Transparent
Prima Finnabair Art Ingredients Art Stones 230ml
Prima Finnabair Art Ingredients Mini Art Stones 230ml
Finnabair Cling Stamps 6X7.5 – Don't Forget To Fly
Prima Lavender Paper Flowers – Giana
Prima Lavender Paper Flowers – Judithe
Bazzill 12X12 29lb – White Vellum
Tonic Studios Nuvo Glitter Embossing Powder – Gold Enchantment 596N
Tonic Studios Nuvo Clear Embossing Marker Pen 103N
Övrigt: Sisal