Hej!
Idag så visar jag er ett lite annorlunda inspirationsalster.  Har använt mina mixedmedia produkter till att måla om en fruktlåda.
Hi! Today I have used my mixedmedia products on a wooden box.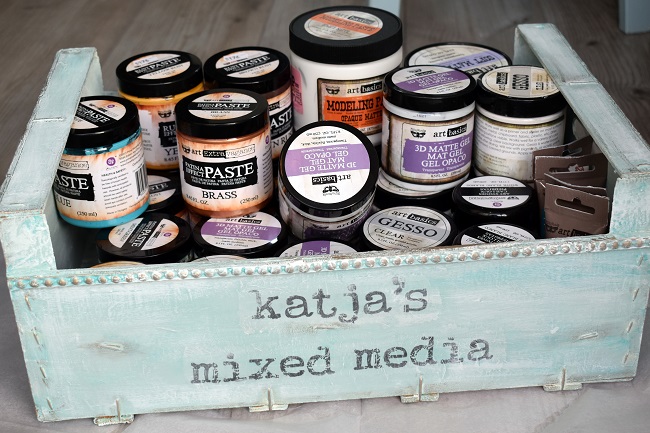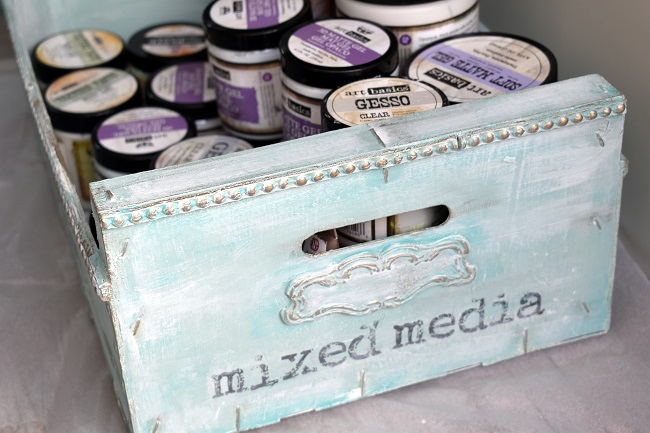 Har dekorerat lådan med Prima Marketing moulds och dessa har jag "limmat" fast med 3d matte gel innan målning.
Have been decoration the box with shapes made with paperclay and moulds. The moulds are glued with 3d matte gel.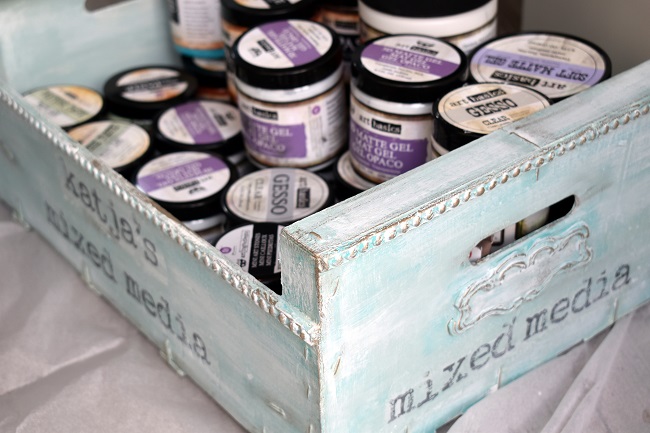 Texten är stämplar från Prima som jag har stämplat på silkespapper som jag därefter har fäst på lådan med med Soft Matte Gel.
Prima has some gorgeous textstamps, that I have stamped on tissuepaper.  I have fasten my text with Soft Matte Gel.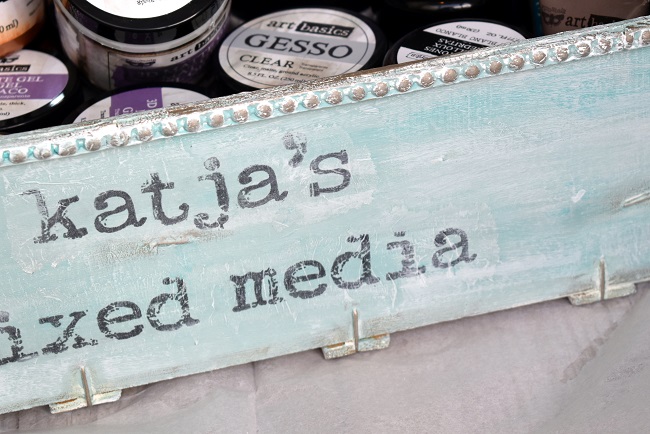 Grundat hela lådan med gesso. Sedan har jag blandat olika färger som Impasto Paint och akrylfärg, gesso och målat i omgångar för att få det utseemde jag vill ha. Toppat vissa valda delar med Primas wax- här i färgen White Gold.
Painted the box with gesso and after that mixed some colors with Impasto Paint and acrylics. I have used wax, white gold to make some high lights.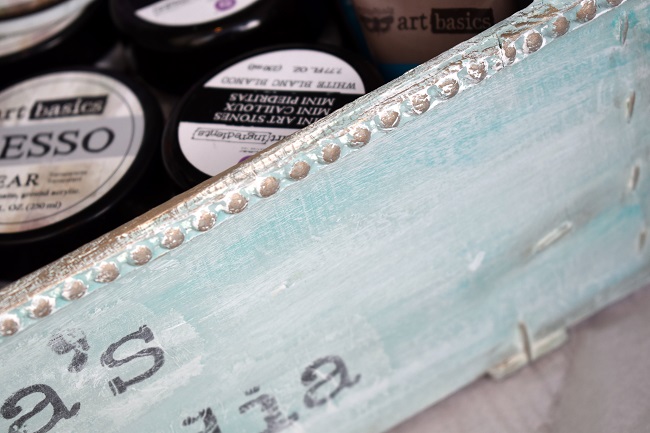 Så våga prova dina produkter på olika sätt.
Vi ses!
See you! / Katja
Material:
Prima Finnabair Art Basics Heavy Gesso 500ml – White
Prima Iron Orchid Designs Vintage Art Decor Mould 5X8 – Moulding 1
Prima Marketing Paperclay
Prima Finnabair Art Alchemy Impasto Paint 75ml – Jade
Prima Finnabair Art Basics 3D Matte Gel 236ml – Transparent
Prima Finnabair Art Alchemy Metallique Wax 20ml – White Gold
Prima Finnabair Art Alchemy Acrylic Paint 50ml – Metallique White Pearl
Prima Finnabair Art Alchemy Impasto Paint 75ml – Snow White
Prima Finnabair Art Basics Soft Matte Gel 250ml – Transparent Matte
Prima Finnabair Art Alchemy Acrylic Paint 50ml – Light Patina
Prima Iron Orchid Designs Decor Clear Stamps 12X12 – Alpha #3
Övrigt: Fruktlåda, silkespapper