För några år sedan gjorde jag flera drömfångare med mina barn. Nu är det dags igen, men denna gång en drömfångare i lite "nyare" tappning. Eller rättare sagt en drömfångare som ser ut som att den har hängt ute länge och rostat.
I do love to create dreamcatchers. This time I made one that looks rusty.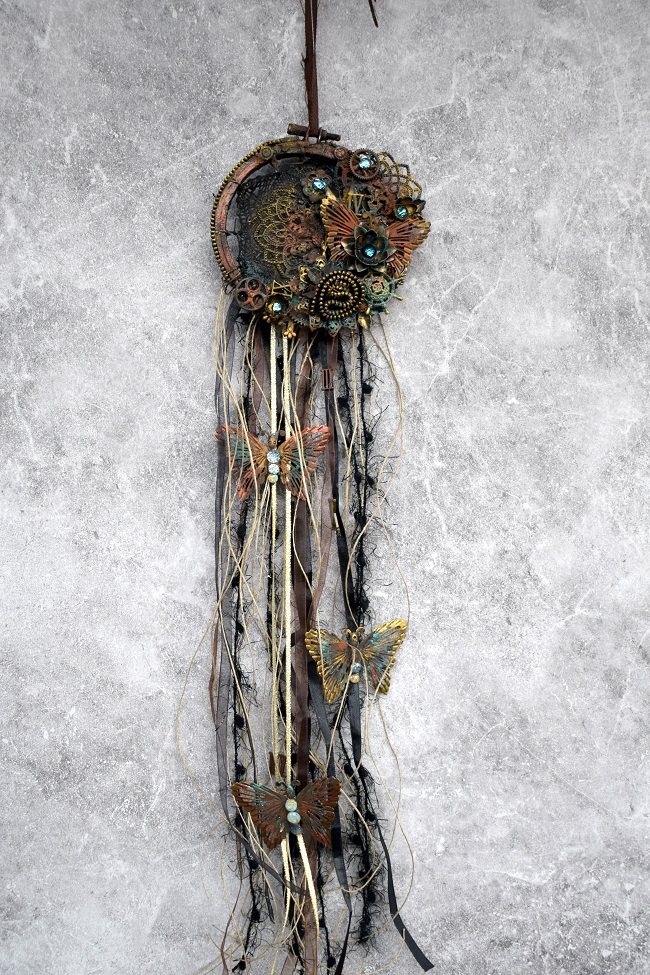 Har gjort drömfångaren i en broderiram och sytt fast en loppisduk. Sedan är det ta fram alla läckra metalldekorationer.
Lot of metallic embellishments from Prima.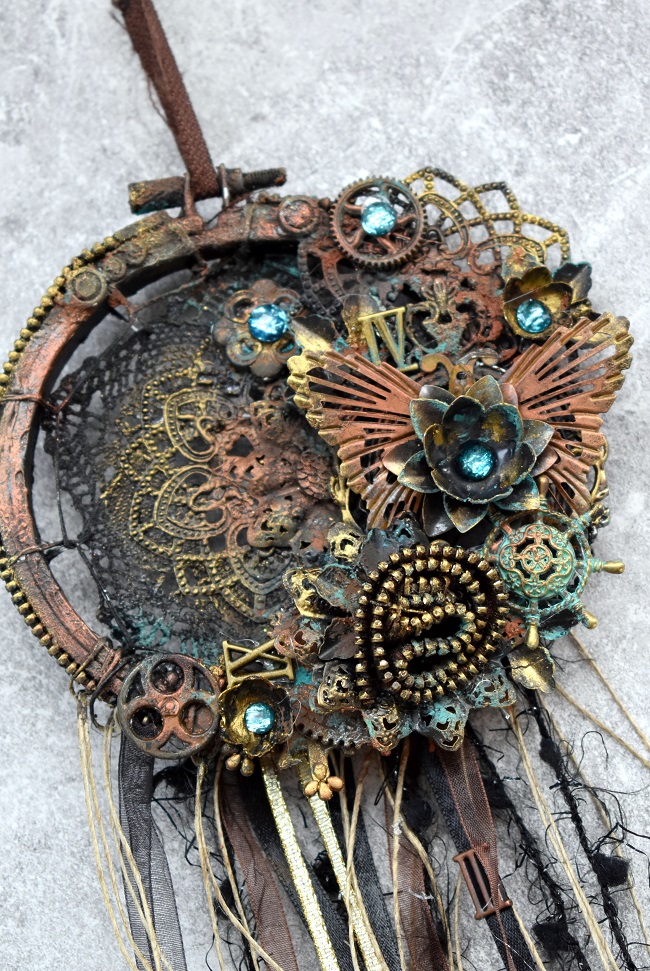 Diverse trådar, garn och barn som hänger ner och istället för fjädrar som har det landat lite fjärilar och vintage trinkets som är små romerska siffror.
Yarn, strings in a mix and insted of feathers I have let some Prima Butterflies landed on the strings.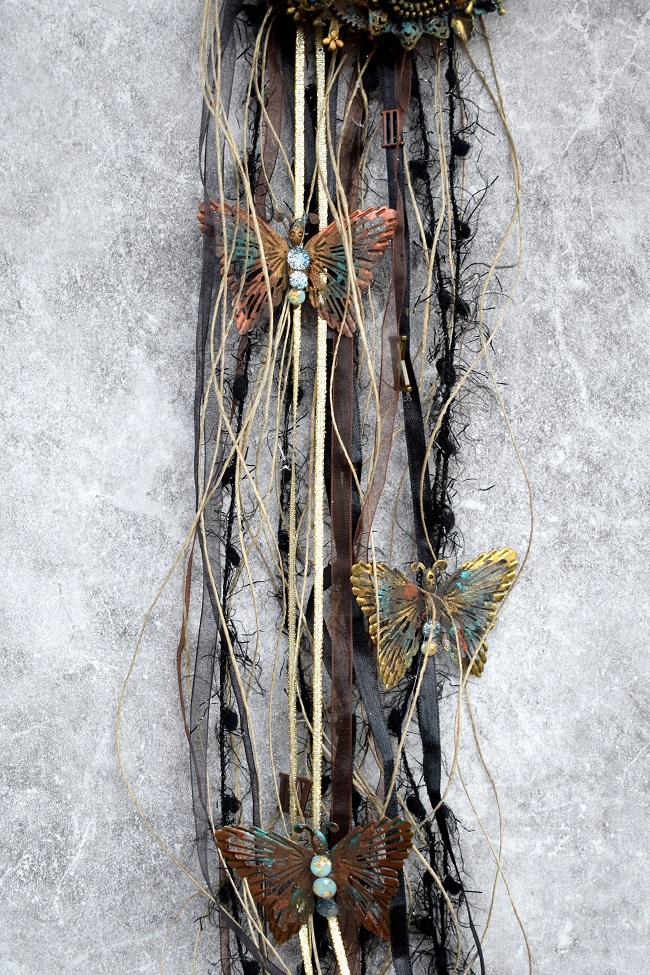 Fjärilarna är målade med Rust Effect Paste och lite akrylfärg och på detta lite wax.
I have painted the butterflies with Rust Effect Paste and acrylic paint and to get som extra shimmer I have wax on the top layer.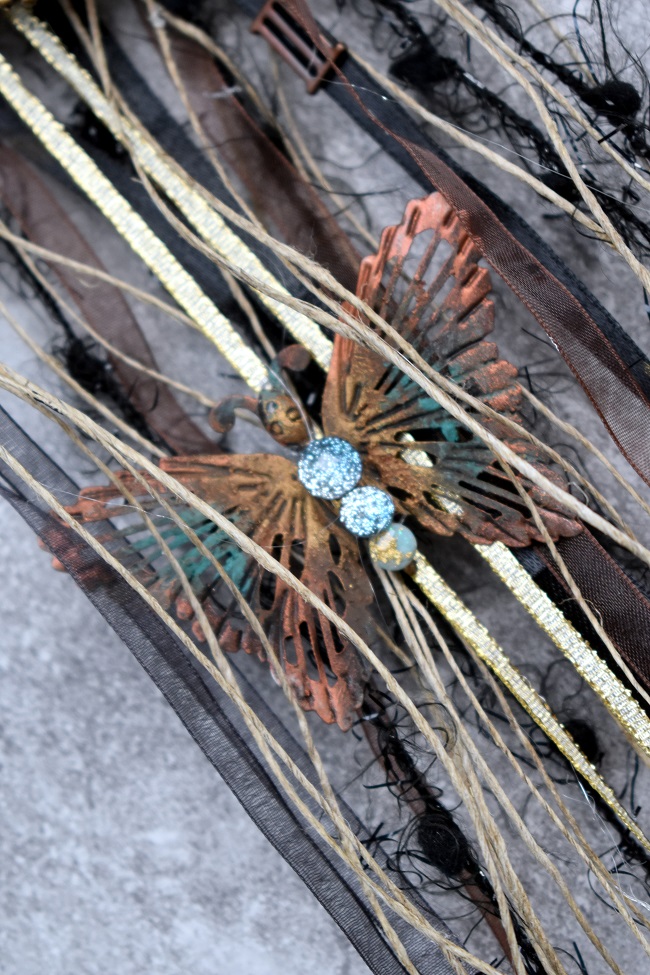 Har limmat alla dekorationer med 3d Matte Gel och när det torkat sitter alla dekorationer superbra.
I glue all the decorations with 3d Matte Gel and when its dry all the decorations is fasten.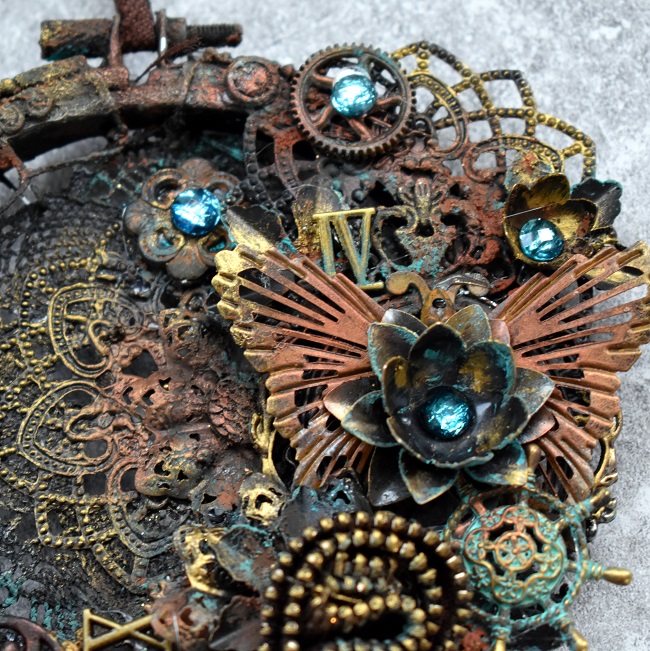 Jag har blandat olika färger av wax för att få fram lite kontraster och de klara turkosa blingstenarna från St. Tropez ger ett härligt blick fång och kontrast mot det bruna och det rostiga.
I mix, different colors of wax to recive some contrast.
Tack för titten!
Katja
Material:
Prima Finnabair Art Extravagence Rust Paste Set
Prima Finnabair Art Extravagance Patina Effect Paste Set
Prima Finnabair Art Alchemy Acrylic Paint 50ml – Metallique Mermaid Teal
Prima Metal Embellishments 10/Pkg – St. Tropez
Prima Finnabair Mechanicals Metal Embellishments 9/Pkg – Lotus
Prima Finnabair Mechanicals Metal Embellishments 9/Pkg – Grungy Butterflies
Prima Finnabair Mechanicals Metal Embellishments 7/Pkg – Rustic Gears
Prima Say It In Crystal Adhesive Embellishments – St. Tropez
Prima Finnabair Art Basics Heavy Gesso 500ml – Black
Prima Finnabair Art Basics 3D Matte Gel 236ml – Transparent
Prima Finnabair Art Basics Soft Matte Gel 250ml – Transparent Matte
Prima Finnabair Art Alchemy Metallique Wax 20ml – White Gold
Prima Finnabair Art Alchemy Metallique Wax 20ml – Rich Copper
Prima Finnabair Art Alchemy Antique Brilliance Wax 20ml – Mystic Turquoise
Prima Sunrise Sunset Mechanicals Metal Vintage Trinkets – Mini Roman Numerals
Övrigt:
Broderibåge
Garn, snöre och olika band